Sustainable fashion is innovating at warp speed these days, and these brilliant fabrics prove that even fashion is stepping things up.
Sustainable fashion has quickly evolved into one of the most technologically innovative spaces in manufacturing.
With an estimated carbon contribution of 1.3 billion tons annually, and massive issues regarding drought from farming inorganic cotton, the textile industry's problems have inspired fashion brands and scientists to join together in our fight to make fashion more sustainable.
Today's innovative fabrics are making use of everything from plastic waste to agricultural byproducts. Together with fashion brands like H&M and Patagonia, these movers and shakers are lessening our impact on the planet for textile production and our dependence on oil for our clothing.
Recycled Cotton
Recycled fibers are the most ecologically friendly option when it comes to sustainable fashion.
Conventionally grown cotton uses so much water that it can cause drought, even drying up an entire sea in the Middle East.
Conventional cotton also requires so many pesticides that it's responsible for consuming 10 percent of the world's pesticides, and 25 percent of insecticides. It's responsible for widespread water contamination in areas where it's grown, and scientists have linked it to all sorts of cancers in surrounding populations.
Not. Good.
That's why brands like Avocado use organic cotton, and clothing companies like Toad & Co use recycled cotton.
The really amazing part?
It takes approximately zero gallons of water to produce a recycled cotton shirt, and no pesticides either. Even Levi's is trying it and reducing their jeans' water consumption by 68 percent in the process.
Silk Made From Sour Milk
Yup. That's right.
Silk made from milk waste is naturally antibacterial, breathable and cool, produces zero waste to make, and is even 100 percent biodegradable.
Called QMILK, this fabric is great for people with sensitive skin and drapes and clings like silk, making it great for everything from dresses to athletic wear.
Recycled Nylon
Nylon is a petroleum-based fabric that takes a ton of energy to produce. However, it's durable, and outdoors and athletic-wear brands frequently favor it for jackets and shoes.
Recyclon is a recycled nylon fabric that eliminates the need for oil, using only preexisting nylon fibers to create the material. It's strong, which makes it great for high-endurance materials, and offsets the need for raw petroleum in the production process.
Patagonia uses Recyclon in 81 percent of their nylon-based products, and it's helped them to offset their carbon emissions by 18 percent.
Coffee Grounds Fabric
Okay, now it feels like I'm just making stuff up.
Seriously though, they're even making fabric out of old coffee grounds.
It's insane, but it works, and, as it turns out, coffee grounds make for some fantastic athletic wear. Called S.Cafe, this fabric is already seeing widespread use with brands like The North Face, Puma, and Timberland.
Its fast-drying capabilities and high rate of UV protection make it ideal for activewear, and it even has the ability to reduce and mask odor (though you may not actually smell like a latte).
Recycled Polyester
Polyester is a super energy and waste-intensive material to produce. It consumes about 70 million barrels of oil every year and produces toxic wastewater from processing.
Recycled polyester puts old polyester clothes to good use and reduces the fashion industry's dependence on oil to create new fibers. Many brands are already quietly incorporating recycled polyester into their clothing lines, including Toad&Co, Patagonia, and TenTree.
SHOP RECYCLED POLYESTER CLOTHES
Recycled Plastic Bottle Fiber
I'm obsessed with how brands are using recycled plastic bottles right now. There are so many brilliant applications out there right now, from toys to mattresses.
REPREVE is a fabric similar to polyester made from recycled plastic waste, and it's being used in numerous ways — from this innovative mattress from Brentwood Home to this stylish activewear collection by GoLite.
SHOP RECYCLED PLASTIC BOTTLE CLOTHES
Vegetable Cashmere
Vegan cashmere is here, and it is just as soft as the real thing.
Made from the plant fibers left behind from soybean fields, vegetable cashmere is soft like cashmere, but easy to care for, vegan, and 100 percent biodegradable.
It's a relatively new fabric, started from a Kickstarter venture back in October 2019, but is now available in a line of clothing that was funded by the project.
SHOP VEGETABLE CASHMERE CLOTHES
What's your favorite eco-friendly thread to rock? Show us what you're wearing on Facebook or Instagram, and tag us in the post! @AvocadoMattress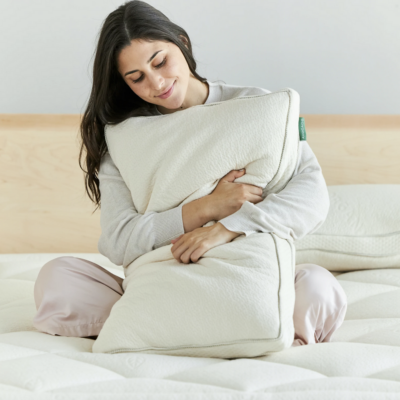 Shop Pillows
The Essential Organic Pillow Collection
Gentle, breathable, non-toxic support.
Buy Now