The best look? Moving away from the world of fast fashion and toward sustainable clothing, especially denim.
The six months I spent living in Granada, Spain, were filled with art history courses, late-night excursions to the discoteca, and an intoxicating amount of apparel stores lining nearly every street. There was a cultism around being fashionable that my 21-year-old found hard to resist. Little did I know that around the same time, Spanish brands were pioneering fast fashion and that my clothing euphoria was very much a result of those brands' ability to cut the time between when a look walked a runway, cycled through production, and hit the racks I was perusing. There was a sort of planned obsolescence at the heart of it all — buy what's on trend now and get rid of it next season.
It took almost a decade to acknowledge how fast fashion had fundamentally changed my relationship to clothing and that I had long been experiencing what psychologists called "transactional utility," the pleasure that comes with getting a good deal. In 2017, I made a pact not to buy anything new for an entire year. I began the slow process of deconditioning myself to shop with trends.
In an effort to pull back the curtain on an industry of which I had long been enamored, I began to research brands and the industry as a whole, which produces between eight and ten percent of the world's CO2 emissions, according to one recent study, and 20 percent of industrial water pollution. Not only is it one of the biggest global polluters, contributing to a rise in greenhouse gases and bursting-at-the-seams landfills, women factory workers, of whom make up 85 percent of the garment factory industry, are largely the most victimized demographic the world over. Sustainability and ethics, I realized, go hand in hand.
Although a good deal can still have a certain allure, knowing a brand's ethics and commitment to sustainability have become the single-most important factors in whether I buy a garment, especially the most resource heavy of them all — denim. Cotton requires colossal amounts of water and is frequently cultivated with harmful pesticides. The chemicals required for staying dyes or creating acid washes, moreover, contain toxic metals that often end up polluting rivers and other sources of water, impacting communities, like Xintang, the denim capital of the world, for generations.
As a denim lover, this is, admittedly, pretty bleak, especially when finding the right fit is already an uphill battle. Finding the right company, though, can feel like a search for the holy grail. But a handful of brands are answering the clarion call for more transparency and a much smaller carbon footprint. Of course, many of them have higher price tags for those of us accustomed to an industry that has made cheapness (in both quality and cost) its bread and butter. That just means really loving something enough to invest in it for the long haul. And considering clothes, and denim in particular, as investments have been a valuable shift in mindset. Now I'm more concerned with how long something will last and not how easily it can be replaced. 
Saitex International
Thanks to sourcing its denim from the Vietnam-based Saitex International, Everlane benefits from the factory's LEED-certified facility, which recycles 98 percent of its water (the rest is evaporated) and uses renewable sources of energy like solar power, hang drying, and recycled heat from already-hot machinery to offset emissions. Madewell (eco edition), JCrew (eco jean), and Eileen Fisher also partner with Saitex International to produce sustainably made denim lines of their own. Everlane, JCrew, and Madewell sell for below or around $100 a pair. Saitex International is, moreover, a certified B Corp and Fair Trade, which means its committed to paying fair wages to employees.
Vertical Supply Chains
In the field of microeconomics, vertical integration is the process by which a company owns its entire supply chain. The denim brands DL1961 and Warp and Weft have just this model for production. Both are family-owned businesses that make their denim from scratch, meaning that there are no middlemen or third-party vendors, and thus added markups, as well as far fewer emissions generated from transport. Both, as a result, are able to oversee immensely sustainable factories right here in the US. DL1961 boasts using 10 gallons of water to make each pair of jeans, compared to the typical 1,500 gallons, while Warp and Weft's facility has an in-house water treatment plant. 
Preloved Denim
There is something ingenious about taking something old and worn and giving it new life. At E.L.V. DENIM, vintage and unwanted denim is sourced from nearby U.K.-based warehouses and transformed into modern cuts. The company takes pride in the fact that the material has zero impact on the environment. In addition, their leather labels are remnants from a local leather company's offcuts. RE/DONE likewise uses vintage Levis to create new styles. Taking apart old jeans at the seams, the L.A.-based company makes four distinct styles that celebrate the erstwhile life of a pair of denim and the potential for newness. And the pair you click on the website is the pair that lands on your doorstep.
What are some of your favorite sustainable denim brands? Share with us on Facebook or Instagram and tag us in the post! @AvocadoMattress and #AvocadoGreenMagazine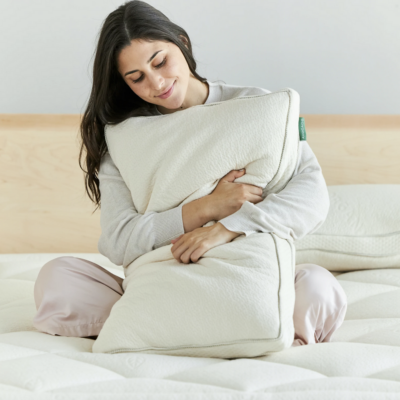 Shop Pillows
The Essential Organic Pillow Collection
Gentle, breathable, non-toxic support.
Buy Now