The climate crisis is devastating the planet, but activists, advocacy organizations, and these latest climate change wins are giving us hope for the future.
Each quarter, we're sharing our favorite environmental wins to help us stay optimistic in the fight against climate change. This is the latest.
The Southwest is experiencing a devastating and historic megadrought, the Pacific Northwest had an unprecedented heatwave, and the Gulf of Mexico caught on fire at the beginning of July. Oregon has a fire so big and so hot its creating its own weather and sending smoke all the way across the continent — causing the worst air quality in New York City in 15 years. And in the past week Germany, China, and India have all experienced devastating, and tragic, floods. When it comes to the climate crisis, we have an incredible amount of work to do. And it's urgent that we keep making progress.
But there are also some wins to celebrate. Positive policy changes, clean energy innovations, and what looks like the beginning of the end for the oil and gas industry. We've been keeping tabs on all the highlights. Here are eight environmental wins giving us hope for the future of our planet.
The rest of the country needs to take notes. In April, the Washington State Legislature passed a cap-and-trade bill that will put a statewide limit on greenhouse gas emissions and incentivizes businesses to cut emissions by allowing them to buy and trade pollution allowances. The law — which is a key part of the state's plan to cut 80 percent of emissions compared to 1990 levels by 2050 — will take effect in January 2023. Meanwhile, the EPA has proposed a landmark rule to ban hydrofluorocarbon-23 (HFC-23), a type of greenhouse gas that is more potent than carbon dioxide, by October 2022. The regulation specifically targets Louisville, Kentucky-based chemical manufacturer Chemors, the largest emitter of HFC-23 in the country. Chemors would be required to cut 99 percent of their HFC-23 emissions.
The Biden administration has officially approved the Crimson Solar Project, a $550 million endeavor that will see solar installed on 2,000 acres of federal land west of Blythe, California, and will have the capacity to power approximately 90,000 homes. But they're not just betting on solar. The administration also recently approved the Vineyard Wind project to spur investment in wind-powered energy. The offshore initiative will install up to 84 turbines in the Atlantic Ocean off the coast of Martha's Vineyard and will have the ability to power around 400,000 homes. And in Oregon, the state's legislature passed House Bill 2021, a groundbreaking climate law that would require the state's two largest power companies to provide 100 percent emissions-free electricity by 2040.
3.
Restoring Wildlife and Ecosystems
In early June, the Biden administration announced it will reimplement protections under the Endangered Species Act that were undone or weakened by the Trump administration. The law is credited with restoring populations of bald eagles, humpback whales, grizzly bears, and more, and is a significant step in helping endangered species from going extinct. In Singapore, land reclamation, coastal development, and seaport activity have devastated native coral reefs. But — with a little innovation and the help of Legos — scientists are rebuilding and restoring the reefs to their original glory.
At the end of May, multinational corporations Shell, Exxon, and Chevron were all dealt crushing blows by the courts and shareholders in what's being referred to as "Black Wednesday." A Dutch district court ordered Shell to cut 45 percent of carbon emissions in the next 10 years — a major shift from its prior commitment to cut its "carbon intensity" by 20 percent by 2030 — and to reduce its production of oil and gas by at least a million barrels a day. As for Exxon, shareholders voted to replace two board members with candidates proposed by Engine No 1, a newly founded activist hedge fund that will push the company to lessen its carbon footprint. And at Chevron, more than half of the oil giant's investors voted in support of a resolution from Dutch campaign group Follow This to require the company to reduce its emissions. This all went down in less than 24 hours.
Oil and gas companies will no longer be able to drill on a 19.6 million-acre refuge in Alaska. The Biden administration, in June, reversed a Trump-era drilling program, effectively suspending all oil and gas leases in the refuge and providing needed protection for native wildlife like polar bears, caribou, and snowy owls. And in two other monumental developments, the Keystone XL pipeline, which would have transferred oil from Canada's tar sands to the U.S., was canceled following the Biden administration's decision to revoke a critical permit for the project. Following suit, Byhalia Connection LLC walked away from a plan to build a 49-mile crude oil pipeline through Tennessee and Mississippi following months of protests by activists and community organizers.
6.
Stepping Away From Fossil Fuels
In our last environmental wins article, we spotlighted colleges and cities that had committed to divesting from fossil fuels. Now, Maine has become the first state to do the same. This is huge. According to the order, signed on June 16, the state treasury and public employees' pension fund worth $17 billion have until 2026 to divest from any fossil fuel holdings.
7.
Clean Drinking Water Is a Right
More than two million people in the U.S. live without access to drinking water and sanitation services, including safe drinking water, at-home plumbing, and wastewater removal and treatment, according to a 2019 report cited by Grist. That's what makes the Senate's bipartisan 89-2 passage of the $35 billion Drinking Water and Wastewater Infrastructure bill so important. The legislation is aimed at improving water quality and aging infrastructure, removing lead pipes in schools, and updating infrastructure to deal with severe weather due to climate change. Of the funds, 40 percent would go to underserved, rural, and tribal communities. The bill is still awaiting a vote in the House.
8.
Combating Light Pollution
If you live in a city, you're very familiar with light pollution. It's the main reason you can't see the stars very well, even on clear nights. In Colorado, however, there's been growing momentum to limit light pollution and establish dark sky reserves. And it seems to be working — three more towns Naturita, Nucla, and Crestone just received their dark sky designation, with Crestone marking the world's 31st Dark Sky Community.
Have some positive climate news to share with us? Sending us a message or tag us @avocadomattress on Instagram or Facebook.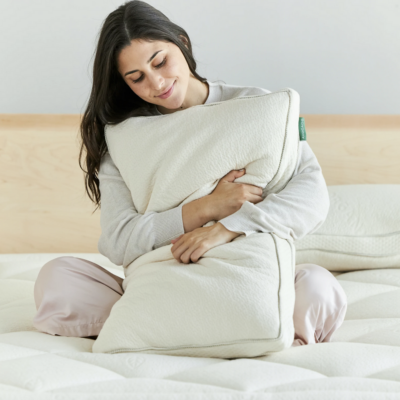 Shop Pillows
The Essential Organic Pillow Collection
Gentle, breathable, non-toxic support.
Buy Now