Planning to clean up your beauty routine? You may want to start with your perfume. Here are our favorite clean perfume brands.
Synthetic fragrances include chemicals that can be detrimental to both our health and the environment. In fact, about 4,000 chemicals can be used to scent products, from cleaning detergents to perfumes, and a single item could contain between 50 and 300 different chemicals.
While not all chemicals are bad, some can cause skin irritation, allergic reactions, or worse. One study of more than 100 scented products, including several popular perfumes, found that they contained chemicals linked to cancer and hormone disruption, among other health risks. And well-known fragrance companies have a history of remaining tightlipped about what they include in their formulas, making it difficult for consumers to make informed choices.
Then there's the environmental concerns. A 2018 study by the National Oceanic and Atmospheric Administration showed that, when taken together, emissions from scented products rivaled those from vehicles as a pollution source in greater Los Angeles. The study included a range of scented items, from detergents to body perfumes.
So, does that mean you should ditch fragrances altogether? Not necessarily. Not all perfumes include ingredients harmful to your health or the environment. Brands like Dossier and the Nue Co. take steps to formulate natural fragrances without components known to be harmful. But finding a fragrance you like — a tedious process all its own — is more difficult when you limit your selection to cleaner options. To help, we selected a few scents from brands that have taken steps to omit dangerous ingredients from their fragrances.
Here are four clean perfume brands we love.
Read more: Why You Should Detox Your Home of Synthetic Fragrances
1.
Maison Louis Marie
We stumbled upon this perfume brand after searching for the fragrance of choice for Kristin Cavallari — a self-proclaimed "clean" beauty guru and a household name to anyone who entered their teen years in the early 2000s (ahem, Laguna Beach). We figured we could trust her recommendation, and we weren't disappointed. These naturally derived perfumes come in a range of scents, from floral and fresh to earthy and woody. The brand's founder, Marie du Petit Thouars, grew up experimenting with scents in her mother's greenhouse — and this botanical history still informs many of her fragrances today. Importantly, her perfumes are void of many of the ingredients linked to health and environmental harm, including phthalates, parabens, and sulfates. This fragrance earns extra points for packaging made from recyclable bottles.
2.
Dossier
Priced between $29 and $49, Dossier perfumes are as friendly on the wallet as they are on the planet. What makes this brand stand out is its affordable scents are inspired by pricier perfumes, including Chanel's N°5, YSL's Black Opium, and Tom Ford's Noir. This approach is purposeful — the brand's mission is to make premium fragrances available to more people.
Like other perfume brands on this list, Dossier is committed to using eco-friendly, non-toxic ingredients. According to its website, the brand follows FDA and OEHHA Proposition 65 regulations (a California regulation that limits the use of harmful chemicals). Additionally, it lists all ingredients used in each perfume, giving the customer full transparency — and the packaging is recyclable.
3.
The Nue Co.
At the Nue Co., fragrance is about more than smelling nice — it's about instilling a sense of calm, balancing the mood, or sharpening focus. The brand creates fragrances meant to promote these cognitive benefits, and they make their formulas based on research from places like University of Geneva's Brain and Behaviour Laboratory. Take Nue Co.'s Functional Fragrance, for instance. With ingredients like green cardamom, bergamot, cilantro, myrrh, and palo santo, this scent is meant to promote relaxation.
And all of the brand's perfumes — known as "fragrance supplements" — are meant to be worn long-term in order to reap their full benefits. Our favorite part, though, is that Nue Co. has an extensive list of potentially harmful ingredients that will never be found in its perfumes, like formaldehyde, mineral oil, parabens, phthalates, and aluminum compounds.
4.
Pacifica Beauty
For the person who likes to switch up their signature scent — floral notes for summer, woody aromas for winter — this fragrance line has you covered. Its options run the gamut, from citrus and fresh aromas to spicy and herbal blends. Its line includes not just perfumes, but body and hair mists, too. You know, for when you want just a hint of fragrance.
You won't find things like phthalates, parabens, propylene glycol, polycyclic musks, and nitromusks, either. Plus, the scents are 100 percent vegan. Excuse us while we place an order for a new perfume (or three).
Read more: Non-Toxic Nail Polish We Trust
Have feedback on our story? Email [email protected] to let us know what you think!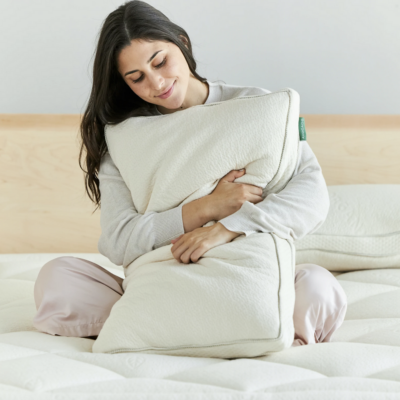 Shop Pillows
The Essential Organic Pillow Collection
Gentle, breathable, non-toxic support.
Buy Now