Younger generations are turning to birding for its stress-reducing mental health benefits. You can, too.
I have a friend who, in the last year, has steadily gotten into birding. In April, I stopped by her house and had barely gotten over the front door's threshold before she began filling me in on her latest endeavor: changing the food in her feeders to attract goldfinches. I was skeptical that a simple seed switch would entice the bright yellow-hued species to come calling, but I followed her into her office to watch the feeders anyway.
We sat. We waited. Within 10 minutes, the goldfinches arrived, perching on the edge of the feeder to gobble up the seeds. We were transfixed, giddy even. We observed the birds for a solid 45 minutes, giggling with delight every time a goldfinch hopped to another branch or a new one swooped in.
Surveying the tiny goldfinches enjoying an afternoon snack was magical — it felt like we were getting a glimpse of their lives we wouldn't normally be clued into. As it turns out, there's a scientific reason the activity brought us so much joy (aside from cuteness overload).
Studies show that everyday encounters with birds can improve overall well-being and reduce feelings of depression, anxiety, and stress. Birdsong, in particular, can increase concentration and help with stress recovery. Birding outside and with other people is also great for our mental health, cognitive function, and physical fitness. In a society with an always-on mindset, the pastime offers a free and easy way to slow down, decompress, practice mindfulness, destress, and get out in nature.          
So it makes sense that while birding is commonly associated with older, retired folks, younger individuals are picking up the hobby in droves. These days, it's not out of the ordinary for me and my millennial friends to exchange weekly texts about rare sightings, to become engrossed in conversation about which species are visiting our respective neighborhoods the most, or to schedule a bird-watching walk. This December, I even plan to participate in the Audubon Society's Bird Count — the nation's longest-running community bird science project — alongside my friend who introduced me to the activity via goldfinch watching. 
Want to join in the bird-watching boom? Here's how to get started.
Read more: How Birdability Makes Nature Accessible 
Invest In a Field Guide 
A field guide is the ultimate bird-watching companion. For true beginners, The Kaufman Field Guide to Birds of North America is your best bet. If you're looking for a more comprehensive guide, check out The Sibley Guide to Birds. There are also a handful of apps, like IBird Pro, Merlin Bird ID, and Audubon Bird Guide, which help with identification and allow you to record sightings.
Buy Binoculars 
If you want to see birds at a distance, binoculars are a must. You can certainly splurge on a $500-plus pair, but I suggest starting with a more affordable set and upgrading from there. Binoculars are categorized by their magnification and lens size — and the best ones for birding offer eight to 10 times magnification and between a 32mm and 42mm lens size. If you choose a set of binoculars with these specifications, you'll enjoy the brightness, portability, and ease of use required for a good birding sesh. We recommend these waterproof binoculars from Nordic Provisions.
Know When to Go
Springtime will offer you an eyeful of diverse sightings. But the optimal time to go is actually in the winter when there aren't leaves to camouflage less vibrant birds and there are fewer hanging around. Less competition for your attention means you'll have an easier time identifying species that are in the area year-round.
Once you can tell your common starling from your American crow and common grackle, you'll be able to identify more rare species like the black-throated blue warbler. Oh, and when in doubt, go close to dawn or dusk when most birds are out and about no matter the season.
Know Where to Go
Stick close to home. Take the opportunity to walk the neighborhood or a local park. Wetlands, streams, and woodsy trails are also a haven for our feathered friends and offer the chance to enjoy the places you're already familiar with. After you get the hang of things, you can start expanding your birding bubble.
Join a Bird Watching Group
Hobbies are always better with friends. So instead of heading out solo, join a local bird-watching group and plan your next excursion. Not only will you enjoy the company of others, you'll have the opportunity to swap sighting stories, learn about under-the-radar spots to go birding, and find out which species are known around the area.  
Read more: How Park Prescriptions Improve Health
Have feedback on our story? Email [email protected] to let us know what you think!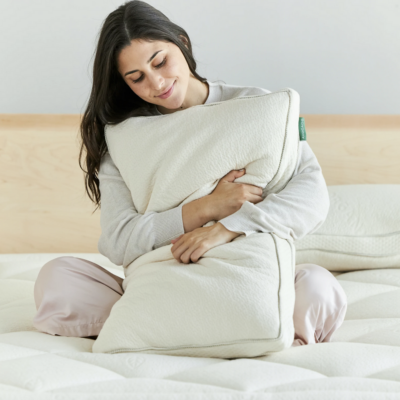 Shop Pillows
The Essential Organic Pillow Collection
Gentle, breathable, non-toxic support.
Buy Now