Advocacy
The Baird's Tapir Is Essential. This Man Is Saving Them.
Re:wild's Esteban Brenes-Mora is helping save the Costa Rican Baird's Tapir, an essential ancient megafauna species.
This is the third article in our Earth Month series offering an in-depth look at our 1% For the Planet partner, Re:wild, and the wildlife and wildlands they're working to restore and protect. Read our first two articles in the series: How a Salamander Ignited a Search For Lost Species and From Ridge to Reef: Rewilding The Galápagos.
Sitting on a porch in northern Costa Rica, the jungle behind Esteban Brenes-Mora teemed with life. Cicadas chirped incessantly, monkeys roamed nearby, a sloth lazed in a nearby tree. And the night before, he had an encounter with his favorite animal since boyhood — the inimitable Baird's Tapir. For Brenes-Mora, the senior associate of Mesoamerica for Re:wild, and the founder of Costa Rica Wildlife Foundation and Nai Conservation, the wildlife of Costa Rica is home — and protecting it is his life's work.
Through Re:wild, Nai, and the Baird's Tapir Survival Initiative, Brenes-Mora helped inspire a cultural shift around the endangered tapir, the largest mammal of his local forests and an ancient megafauna species that's essential to ecosystem health. Tapirs are known as the gardeners of the forest because they eat and spread the seeds of more than 200 species of plants. Once over-hunted and suffering from habitat loss, the tapir is now celebrated across the region and slowly making a rebound in a country that has emerged as a leader in conservation and the fight against climate change.
JD: How did you become passionate about wildlife?
EBM: I think every human being, deep down, is passionate about wildlife. But the system ruins it all, ruins that passion for wildlife and animals. We are part of that, as humans. Being passionate about our surroundings — nature — is part of survival.
As a kid, my parents used to take me to national parks. My Dad had an old Land Rover, and by the age of eight, I had visited most of Costa Rica's national parks. My grandpa was also into Nat Geo, and I would stay with my grandparents and they'd bring out magazines and come out with stories. That's how I met tapirs, which are my favorite animal.
JD: Why tapirs?
EBM: In a photo in Nat Geo, I saw an image of a tapir being killed by a tiger. I was talking to my grandpa and I just got obsessed with that animal. I found out they were in Costa Rica. We went to Corcovado National Park, and I have no idea if I saw one or felt that I saw one, but the feeling increased my attachment to the species. It was an underdog — people weren't paying attention to it. Now we have the largest Baird's Tapir program in Costa Rica and probably all of Central America.
JD: Why are tapirs important?
EBM: The reason why I love tapirs is because they look weird and they are super important for the planet, for reforestation. I love dinosaurs and megafauna, and the tapir is the closest species we have from that era. And we have them right here in my backyard.
I had a face-to-face encounter last night. It's super weird, but there's this peace and calm and hope that they transmit. Yesterday, I actually wasn't feeling great — but they are mood changers. When I see one, everything goes away. It's a kind of meditation.
JD: What are the challenges they face?
EBM: The main threat historically has been habitat loss. Cattle farming has destroyed the land for the species. That's why we have lost over 85 percent of the species' habitat, with declining populations and less than 5,000 remaining in the wild. Where habitat is still suitable, other threats are poaching — it's the largest tropical animal, with a total weight of 500 pounds, which means a lot of meat. Since tapirs are recovering, they go across farmland, so there's conflict with some farmers and retaliation killing.
JD: How is the Baird's Tapir Survival Alliance helping?
EBM: When I started in the conservation world, the lack of collaboration really bothered me. It was obvious that without collaboration we were not going anywhere. If we keep on stepping over other people's work, we reduce our chance of success.
We realized there was a set of wonderful organizations trying to save the same species, and we needed to learn to collaborate with each other. Conservation leaders from Mesoamerica started the Baird's Tapir Survival Alliance with the target to cover the habitat threats for the remaining population. We try to lift each other up, learn from each other. It's been a wonderful quest.
JD: Are attitudes about the tapir changing?
EBM: When I started Nai in 2016, tapirs were not on the map. They were not out there. Then we started communication and outreach and education work and visiting schools, plus social media, to make tapirs cool. Now there are images of them everywhere. Through a program called Salva-Dantas, we created a program where kids themselves are in charge of saving tapirs. So far we have over 650 Salva-Dantas youth in Costa Rica.
"We're in the middle of this crisis, and we need to take action right now. There's no point in dreaming about a future when your house is burning."
JD: Why is it important to enlist local ambassadors?
EBM: Right now we are in a world crisis. It would be ideal if we could have a generation ready for the future we are trying to save. That's why we are trying to work with kids. We understand the big influence kids have on their parents. Poachers stop poaching because of their kids. But we're in the middle of this crisis, and we need to take action right now. There's no point in dreaming about a future when your house is burning. In Costa Rica, we're working closely with farmers that coexist in the landscape where the tapirs need to move.
JD: How do you make tapirs important to others?
EBM: More and more, I'm exploring the value and impact of compassion and empathy when it comes to conservation. When working with local communities, you are working with people, and they have their needs, their emotions, their problems. You can say, 'hey, you got to save tapirs,' but why should they care if tapirs are destroying their crops? The way we work with farmers is in a really empathetic way. We listen, listen, listen, then we develop solutions. We want to empower local communities with the tools to protect biodiversity. NGOs come and go. Local communities remain forever.
JD: How can individuals help?
EBM: I always start with my plate: cut down on beef. Beef is the main threat for mesoamerican forests, the main threat for the planet and for biodiversity. If you can control what you're eating, it's a big statement. If you can, start supporting an NGO or local community, research, or conservation organization, through funding or volunteer work. We have artists, they donate art to our work. Everyone can give something.
"We want to empower local communities with the tools to protect biodiversity. NGOs come and go. Local communities remain forever."
JD: How has Costa Rica emerged as such an environmental leader, and what does the future of conservation look like?
EBM: We were never colonized by the U.S. In the 70s and 80s, when the U.S. was "spreading democracy" across Central America, they placed dictators throughout the region except for Costa Rica. We got rid of our army in 1949, so we didn't have the infrastructure to support a dictator. When, in the 70s, people were fighting against the dictators, we were creating the first national parks. Back then, everyone was laughing at Costa Rica. We were the first country to stop incentivizing the destruction of the forests — in the 80s and 90s, the government would pay you to cut down a forest for cattle to "make it productive." Now, we are a carbon capture pioneer, incentivizing the protection of forests. We use 99.9 percent carbon-free, green energy, and nearly 30 percent of our land is protected and 30 percent of our oceans are protected. A lot of enterprises are moving their companies to Costa Rica because they made commitments to be net-zero — Google, Microsoft, Intel. Back in the day, we needed cash, and some people were smart enough to say we need cash, but we also need to protect nature for the future.
As long as we can start generating economical value to those forests, through tourism or carbon markets, we're going to win. The moment that a hectare of forest provides more than a hectare of cows, we can get rid of the cows that are killing the planet and we'll have more forests and tapirs. We'll rewild the planet.
Have feedback on our story? Email [email protected] to let us know what you think!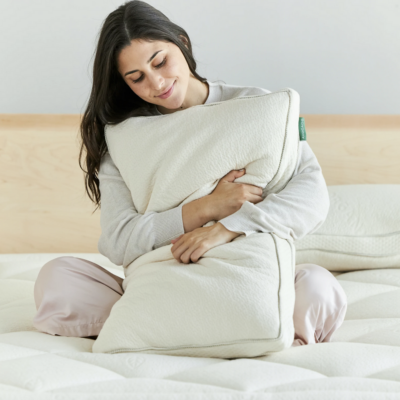 Shop Pillows
The Essential Organic Pillow Collection
Gentle, breathable, non-toxic support.
Buy Now