Celebrate Asian and Pacific Islander food by following these plant-based influencers sharing delicious meals inspired by their heritage.  
Culinary traditions are often deeply intertwined with cultural heritage. Much of what we eat and how we eat is informed by our surroundings, including our families and the places we call home. Asian countries, for instance, have a long and rich history of vegetarian and vegan cooking — long before seitan became a trending health food in the West, it was eaten by Buddhist monks in China. So it should come at no surprise that many Asian American food bloggers and influencers are plant-based.    
In honor of Asian American and Pacific Islander (AAPI) Heritage Month, we're spotlighting recipe developers, cookbook authors, and chefs who use their platforms to share enticing vegan and vegetarian food we can't stop thinking about.
Many of these culinary creatives draw from their cultural roots, using meat-free ingredients and techniques to rework traditional fare. Some share stories of their personal journeys and those of their families. All of them celebrate the beauty and versatility of Asian-inspired plant-based cooking.
Here are six AAPI plant-based influencers we love.
Read more: 7 AAPI-Owned Brands We Love
1.
Hannah Che (@hannah.che)
When Hannah Che decided to go vegan in college, she worried that she'd drift apart from the culinary traditions of her Chinese family. Instead, she uncovered a world of vegetarian fare that not only kept her well fed, but inspired her to dive deeper into China's storied history of plant-based cooking. Her blog, the Plant-Based Wok, shares recipes and techniques she has picked up along her journey, which at one point took her to China and Taiwan to train at the Guangzhou Vegetarian Culinary School. Che published her first cookbook, "The Vegan Chinese Kitchen," in 2022 and recently launched a vegan pop-up restaurant called Surong. If you're ever in Portland, Oregon, definitely book a reservation.
2.
Priyanka Naik (@chefpriyanka)
Priyanka Naik grew up in a vegetarian household, but found her calling as a plant-based recipe developer many years later. The self-taught chef rose to fame after winning Food Network's Cooks vs. Cons in 2017 and went viral for recipes like giant fusilli with spinach jalapeño pesto. In 2021, she released her debut cookbook "The Modern Tiffin," which features vegan dishes inspired by her travels and Indian American background. Through it all, she's maintained her signature cheerfulness and a clear culinary vision: to share plant-based, low-waste recipes that'll inspire others to eat more sustainably.
3.
Jasmine Briones (@sweetsimplevegan)
Going vegan at 18 led Jasmine Briones to start her blog Simply Sweet Vegan. It was originally a way for her to document recipes for friends and family, but has since grown across platforms onto YouTube and TikTok — and even includes Briones' partner and fellow food blogger Chris Petrellese. Briones, who grew up in a Filipino-Ecuadorian household, has adapted many family favorites to be vegan-friendly, including barbecued "pork" made with soy curls and pancit bihon, a rice noodle dish that Briones says she could eat alone for the rest of her life.
Read more: The Meal Delivery Service Prioritizing Postpartum Nutrition
4.
Remy Morimoto Park (@veggikins)
While Remy Morimoto Park is now known for the plant-based recipes and wellness advice she shares on her blog Veggiekins, she was was not always this focused on her well-being. As a teen, Park suffered from anorexia in addition to substance and alcohol abuse. Going vegan not only improved her physical recovery, but also helped Park forge a stronger positive relationship with food and build an approachable path to mindful living. And these days, she's super into matcha. Word to the wise — don't sleep on her strawberry matcha cookies.
5.
Joanne Molinaro (@thekoreanvegan)
Joanne Lee Molinaro is as well known for her vegan Korean recipes as she is for her captivating storytelling. The lawyer-turned-award-winning cookbook author started the Korean Vegan in 2016, doing, as she acknowledges, the opposite of what was recommended. Instead of bright, well-lit food photos, she posted dark and moody shots and rather than share recipes in the captions, she told stories. Both her food — plant-friendly versions of Korean classics, plus some fusion fare — and her calming voice overs detailing vulnerable stories about her childhood and relationships, captivated audiences and continue to do so.
6.
Samah Dada (@dadaeats)
Her followers may recognize her from on-screen appearances on the TODAY show, but Samah Dada actually got her start behind the scenes: She was a production assistant who, like many of us, enjoyed posting photos of what she was eating and cooking on Instagram. Her food caught the attention of producers at work, who started booking Dada for plant-based cooking segments. She has since gone on to host her own digital series on Peacock called #Cooking and write a cookbook called "Dada Eats Love to Cook It" that features mostly vegan, mostly gluten-free recipes, some of which are inspired by her Indian heritage.
Read more: Easy Red Thai Curry Noodle Soup Recipe
Have feedback on our story? Email [email protected] to let us know what you think!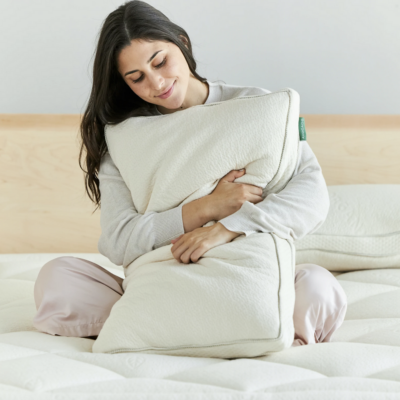 Shop Pillows
The Essential Organic Pillow Collection
Gentle, breathable, non-toxic support.
Buy Now