Get the perfect wellness gift for any budget with these six ideas that promote health without breaking the bank.
This holiday season looks a little different than what we're used to. Instead of glittering parties and big family gatherings, many of us are hunkered down with those nearest and dearest to us.
As we settle into a winter with plenty of time at home, give gifts that make the house feel inviting and cozy, and that make self-care simple. A thoughtful present doesn't have to break the bank: Here are our six favorites under $60.
#1 — Rowdy Mermaid Kombucha
After the fizz and merriment of holiday cocktails, give the gift of a settled stomach with Rowdy Mermaid Kombucha ($47.00/case of twelve). If you're not familiar, kombucha is a fermented tea with a funky, refreshing flavor that's packed with live probiotic cultures. Those probiotics are great for gut health, and emerging research indicates that a healthy gut may be tied to all sorts of other benefits, including better mental health, better athletic performance, and even clearer skin. But we really love Rowdy Mermaid's products because they taste great. Unique flavors like Strawberry Tonic, Alpine Lavender, and Savory Peach balance fruitiness, floral notes, and just the right amount of sweetness for a beverage that scratches the soda or cocktail itch, all with organic ingredients and a low sugar content.
Read more: The Brands On Our Christmas List This Season
#2 — MINERAL Cleanse CBD Facewash
For the skincare fanatic in your life, consider sending a spa-quality product — MINERAL Cleanse CBD Facewash ($55) — which may just help ease the loss of facials and other services during the pandemic. This milky foaming cleanser smells like a spicy chai latte and makes the simple chore of washing your face feel like an experience. While the research behind CBD's many purported benefits is still in its infancy, the hemp-derived ingredient is widely believed to be an effective anti-inflammatory, whether applied topically or taken orally. Acne — among many other tricky skin conditions, including eczema — is an inflammatory response, so it tracks that the CBD (and CBC, and CBG, two other hemp-derived compounds in Cleanse) would be a helpful ingredient. But even if you're a CBD skeptic, this facewash is packed with other helpful, fragrant botanicals like Tulsi basil, which is naturally purifying, and tangerine, which helps brighten and clarify skin tone.
#3 — Apotheke Charcoal Candle
If your loved ones are going to be spending the winter staying in, help them make home feel like a sanctuary. Brooklyn-based fragrance brand Apotheke is known for clean, simple smells and high-quality products. They got their start selling handmade soaps at farmer's markets, and have always created well-balanced scents. The matte black Charcoal candle ($38) is intoxicating — warm and cozy, with grounded, earthy notes like sandalwood and cedar, balanced with sweeter, spicier oud and amber. Their hand-poured candles burn strong and well — just be sure to let it burn for three to four hours on the first burn, to avoid tunneling.
#4 — Thera Cane Massager and Lacrosse Balls
It's a hard time to book a loved one a massage with your favorite therapist, so give the achy athlete in your life the tools they need to get at their tight spots at home. The Thera Cane, a funny-looking firm plastic cane with a variety of knobs and handles, has a cult following. Their massager ($31.88) the perfect shape and size to put pressure on trigger points and muscle knots without the help of a partner in hard-to-reach places like shoulders, hamstrings, and the mid-back. Lacrosse balls ($10) are similarly useful: roll out a yoga mat and lie down with the ball underneath tight glutes, calves, shoulders, and more. It's not quite as relaxing as a professional deep tissue massage, but it can be almost as effective.
#5 — Harmless Harvest Raw Coconut Water
We know, another beverage. But what better gift to give amid a Covid winter than a tasty hangover cure, post-workout recovery beverage, and cocktail-replacement, all in one? If you've ever heard someone complain about the flavor of coconut water, odds are good that they've never tried Harmless Harvest Raw Coconut Water ($56.59/pack of twelve). The occasionally-pink, ethically harvested beverage is lightly sweet, nutty, and tropical, and it's better than any other coconut water on the market (ok, in my humble opinion). It's a little on the pricier side, so it's a great one to gift someone in your life who grocery shops on a budget.
#6 — Moleskine Cahier Journal, XL
For the overthinker, the planner, the writer, or the dreamer in your life, Moleskine's Cahier Journals (in a size XL) ($19.95/three) are the famous brand's sleeper hit. Writing your thoughts down is good for the brain, whether as a part of a daily habit, a creative writing exercise, or simply to help yourself remember the little things. But it's easy to get hung up when you're staring down a leather-bound notebook—they seem to demand serious, thoughtful prose, instead of the half-formed thoughts that often make up a genuinely cathartic writing practice. The Cahier notebooks are lovely, clean, and modern, but they aren't so fancy they'll leave you worrying about scribbling out a few lines, making a dumb doodle, or ripping out a page or two.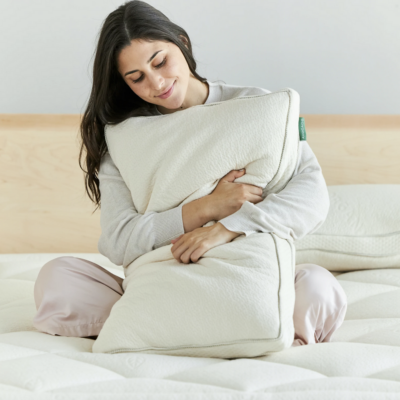 Shop Pillows
The Essential Organic Pillow Collection
Gentle, breathable, non-toxic support.
Buy Now