Fireworks. Cookouts. Trips to the beach. Summer is here and, hopefully, you're in full relaxation mode with a few afternoons on the shore planned. Whether you're a fan of bikinis, one-pieces, full coverage or shorts and a tee, there's certainly a wide range of swimsuit styles to choose from these days. But if the thought of donning a conventional swimsuit is stressing you out — we're here to help. If you're thinking, "wait, wait… why should my swimsuit stress me out?" You might want to read the label. Spandex, nylon, polyester — these fabrics may be commonplace, but they pose a serious problem for our environment.
The Problem with Conventional Swimwear
Swimwear may seem innocuous, especially when you're looking at an itsy-bitsy bikini, but that cute suit causes a serious – and surprising – amount of harm. Why? First, let's go back to the fabric that two-piece is created with. Virgin spandex, nylon, and polyester. These are the most common fabrics used to create swimwear… they also happen to be made from petrochemicals. AKA: Plastic. Which is made from petroleum. Which must be drilled for. You see where this is going, right?
As demand for plastics and synthetic fabrics rises, offshore drilling increases and puts our oceans and our entire environment at risk. Not to mention, those fabrics are about as biodegradable as a plastic bottle, meaning when you finally wear out your conventional suit, it'll be around WAY longer than you might like to think. And with fast fashion retailers churning out styles at a rate we can't keep up with, more and more of that excess is ending up in landfills.
A Better Choice
The good news? As public understanding of the dangers posed to our environment has grown, so too have our options for gorgeous and eco-friendly swimwear! Crafted from recycled and eco-friendly fabrics, made ethically in well-maintained factories, and utilizing recycled materials, these are styles that give you good reason to fall in love with them. Ready to suit up for summer? The four brands below offer a little something for everyone, so you can find a suit that "suits" you, no matter your style. Happy shopping!
#1 — Hackwith Design House
Made in Minnesota, Hackwith Design House has carved out a name for itself with a simple, clean aesthetic and wide range of pieces — from swim to sweaters. Made with women's bodies in mind — that is, the everyday woman of many different shapes and sizes — HDH pieces are easily mixed and matched and suit a variety of needs and styles. Most designs are made to order, meaning there's little to no excess that could end up in a landfill. Additionally, many of the fabrics used are sourced locally, from a family-owned fabric store that specializes in run off and secondhand fabrics. HDH also strives to use only biodegradable fabrics and any excess or waste is dropped off at a fabric recycling center — meaning you can swim with confidence in your comfy new suit!

Wear: to your favorite secret swimming hole
#2 — Bikini Empire
Canadian brand Bikini Empire is part of a growing force of ethical brands coming from our neighbors to the North. All materials used in Bikini Empire's chic swim styles — from elastic to zippers — are sourced ethically. Suits are made from Eco Luxe, a high-quality, body-hugging fabric made in a solar-powered factory certified by the European Energy Certificate System (EECS) that also supports the WWF by helping to preserve areas around the world for wildlife habitat. Additionally, Bikini Empire strives to pay workers fair wages — their workers are paid 50 times more than the average factory worker — and representatives regularly make unscheduled visits to the Canadian factory to ensure working conditions meet their high standards.

Wear: to cannonball into the Ace Hotel Palm Springs' pool
#3 — Vitamin A
Designed and produced in California, home of Vitamin A's founder, Amahlia Stevens, Vitamin A swimwear marries sustainability with style. After being told there was no market for swim styles crafted from recycled materials, Stevens set out to prove the industry wrong, crafting suits from EcoLux: "the first premium swim fabric made from recycled nylon that combines sustainability and technology". Now, it's Stevens that's setting the industry standard, with her celeb-loved suits that fit like a sexy, second skin.
Wear: For a sexy vacay in Tulum with your honey
#4 — Reformation
If you read our recent profile on LA-based Reformation, you'll be delighted to learn the it-girl brand also creates gorgeous swim styles that also happen to be very friendly for the environment. In a wide range of styles — from adorable high-waist bikinis to smocked floral one-pieces — there's a suit to suit nearly everyone, and the smaller carbon footprint adds something to smile about. Like all of Reformation's sweet styles, the environmental impact of each suit is listed on the landing pages with the "Ref Score" so you can see exactly how your fashion is impacting the earth.
Wear: for a girl's weekend in the Hamptons
What are you wearing to the beach this summer? Share with us by tagging us with @AvocadoMattress or #AvocadoGreenMagazine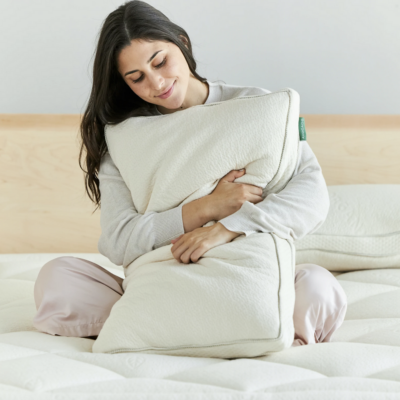 Shop Pillows
The Essential Organic Pillow Collection
Gentle, breathable, non-toxic support.
Buy Now