It's something you don't hear much about when sustainability is the topic of discussion, but the unpleasant truth is that fashion and textiles are one of the biggest burdens on the planet today. Companies around the world are looking to change that though. This month, we're proud to shed a little limelight on one brand that's making big waves with high-fashion looks rooted in leaving a better world behind.
The Impacts of Fast Fashion
In an era where we buy clothes one year and replace them the next, fast fashion is what the industry of cheap, readily available clothing has been coined. Styles, trends, and limited lifespans dictate how quickly our clothes are spun out of our rotation and replaced, and it's having a huge impact at the environmental level.
Cheap, flimsy fibers mean our clothes are wearing out quicker, drumming up more demand than ever to replace them at the same price point and quality level. It's an endless cycle of consumption and waste, producing more used clothes than even impoverished third world countries know what to do with.
The true cost of these cheap clothes can be found in the far-flung factories where they're produced, where workers work impossible hours for next to nothing in an unsafe work environment. Flame retardants, dyes, and other manufacturing chemicals are in constant contact with workers, who in addition to poor pay and no healthcare, face unsafe working conditions that put their lives at risk.
Deteriorating factories packed with employees have collapsed on workers who were threatened if they didn't come into work, and barred windows to prevent theft have trapped employees during fires caused by poorly maintained equipment and facilities.
Fast fashion paints a bleak picture, and that $10 shirt has a higher cost than you can imagine.
Thankfully, more than a couple brands are stepping up to the plate to provide options across a wide range of prices without compromising people or planet, and Reformation is one of them.
What Reformation Is Doing
Carbon Offset
Reformation owns who they are from the start — their manufacturing process isn't perfect, and they're constantly looking at ways to produce a more sustainable product. For now, their focus is on offsetting the environmental impacts of their products, including water consumption and carbon production.
Reformation offsets their water consumption footprint by investing in clean water solutions and technologies, and their carbon footprint by planting trees and purchasing landfill gas offsets.
Packaging
When it comes to packaging, Reformation uses as little of it as possible:
Plastic-free packaging
Packaging made from 100% recycled paper
Garment bags made from 30% recycled plastic
Recycled paper hangers
Reusable totes instead of plastic bags
The Offices
Reformation is primarily an e-commerce based business which uses about 30% less energy than traditional retail. However, they even go so far as to offset the energy consumed by the servers that power the e-commerce side of their biz. Now that's commitment.
Reformation's stores are built with an impressive amount of eco-consciousness, from rammed earth construction to 100% renewable energy sources. They recycled about 75% of their waste and donate textile scraps whenever possible. When they can't donate fabric scraps, they recycle them into an insulation material!
People
Reformation recognizes that a big part of sustainability is care of people, and they take good care of theirs. They provide their team with a full range of health benefits and even incentivize public transit (to minimize carbon footprints of work commutes) with free Metro passes.
When it comes to their suppliers, Reformation maintains strict standards of transparency and quality to ensure that no human rights violations occur. Currently 80% of their products are created in the US, but they work tirelessly to ensure that even far-flung factories they work with are paying their employees living wages and operating with safe working conditions.
Materials
Though their materials aren't as sustainable as they'd like them to be, Reformation still holds their products to a higher standard when it comes to the safety of those who produce and wear them. OEKO-TEX is a certification process that carefully tests textiles for harmful chemicals, and Reformation's fabrics pass the test.
Additionally, Reformation is working to utilize safer, more sustainable dyes and uses a system known as Bluesign that uses safe chemicals and monitors their environmental footprint closely.
Giving Back
In addition, Reformation offers their employees one paid day off per month for volunteer work and frequently organizes group community service efforts like beach cleanups.
The coolest part might be that they celebrate employee birthdays by donating to TreePeople, an organization that supports urban forests in LA by planting a tree in their name.
Reformation is a women's fashion brand offering some of the most jaw-dropping cuts and sweeping silhouettes in women's clothing. Their roots in sustainability run deep — this is a brand that is honest about what they do and always looking to improve.
Fashion with Focus
We all need to wear something, and we love that Reformation is putting such a strong focus on sustainability and ethics while still creating cuts and silhouettes that look like they could have been slinking down a runway.
This is fashion that doesn't care to compromise, and we dig it.
Have you ever shopped from Reformation before? What did you buy, and how much did you love it? Tell us on Facebook or Instagram and tag us in the post! @AvocadoMattress or @JointheReformation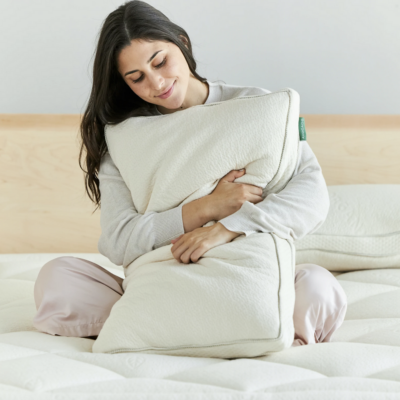 Shop Pillows
The Essential Organic Pillow Collection
Gentle, breathable, non-toxic support.
Buy Now