Ready, set… shop? With Thanksgiving in the rearview mirror, this is the time of year that many of us focus on finding a good deal and checking items off our Holiday gifting lists — whether you shouldered your way through Black Friday or scored big on Cyber Monday (and hopefully, shopped local on Small Business Saturday).
However you spend the holidays, it's hard to avoid the messaging we receive to shop — and yes, this is a smart time to find a good deal on a big ticket item you may need. But there's one day in this holiday shopping kick-off week that shouldn't be ignored: Giving Tuesday (or as some may write #GivingTuesday).
Founded in 2012 by the 92nd Street Y and the United Nations Foundation, Giving Tuesday was started as a response to the overwhelming push toward shopping in the days following Thanksgiving. Always the Tuesday following Thanksgiving (and following Black Friday, Small Business Saturday, and Cyber Monday), Giving Tuesday is a day to give back through charitable donations, volunteer hours, or even through shopping with 1:1 brands if you need some essentials. Before you make the argument that giving and being charitable should be focused on throughout the year, we agree with you, but consider this: in 2018 nearly $400 million was raised on this single day, through donations and matching programs sponsored by PayPal, Facebook, and others. So yes, charity and giving are qualities we should all strive for, but it's also a smart move to optimize your donation on a day when it could be matched or even tripled. If you're new to Giving Tuesday or looking for a new way to give back, we're sharing nine ways to participate!
#1—Make a donation
The simplest and most hands-off way to participate in Giving Tuesday? Simply make a donation to an organization you care about. Whether it's an animal welfare org, a local shelter for people in need, or an international organization, there are plenty of opportunities to give back — and to optimize your donation. Look for matching opportunities where a company or individual pledges to match donations to a particular dollar amount.
#2—Pay it forward
Giving Tuesday doesn't just have to be about donating to charity. Spread the warm fuzzies with random acts of kindness, like paying for someone's coffee or sandwich, writing encouraging notes on post-its and sticking them in unexpected places, hosting a party to write holiday cards to troops and first-responders, baking cookies for a local home for the elderly, and purchasing items off Amazon wishlists for local organizations (check their websites for information). There are so many ways to brighten the days of the people around you. Why not start on Giving Tuesday and continue the practice year-round?
#3—Volunteer your time
Can't give money on Giving Tuesday? Why not give your time? Volunteer with a local shelter to serve food to the homeless, spend time with shelter pets, help pack care packages for children in the hospital, sing carols to people in hospice — the options are endless when it comes to volunteering and it's a totally free way to give back. Just be sure to fill out any necessary paperwork beforehand to ensure you're authorized to volunteer. Can't get out of work? Ask your HR department if there are ways to mobilize your coworkers!
#4—Fundraise & spread the word
If there's a particular organization you're passionate about, why not take your giving one step further and help raise funds? Fundraising helps spread the word about a specific non-profit and can make a huge difference, especially for smaller orgs or for those just starting out. Contact the organization you're interested in boosting to find out the most useful ways of spreading the word.
#5—Donate a portion of sales
If you're a business owner, a simple way to give back while boosting sales is to donate a small portion of sales to a particular charity. Even a number as small as 1 percent can make a difference.
#6—Shop with 1:1's
Have gifts to give? Shop with brands that give back to make your purchases even more meaningful. Brands like TOMS, Warby Parker, and Bombas all give products to people and communities in need when customers purchase items from them, creating a one-for-one model.
#7—Make your money count
If you don't have much to give on Giving Tuesday, optimize your donation by looking out for matching offers from partner companies and other organizations. Don't think it'll make a difference? In 2018, Facebook and Paypal pledged to match up to $7 million in U.S. donations starting at 8 AM… by 9 AM they already hit that threshold. Matching programs can stretch your donation further, turning $50 into $100 and $100 into $200!
#8—Challenge your coworkers (or friends & family)
Get your coworkers, friends, and family involved by challenging them to give back or host a drive at your office for coats, toys for children in need, socks for the homeless, and more. Choose a cause and work with your officemates to take action.
#9—Plan a community cleanup
Want to spend Giving Tuesday outdoors? Plan a community cleanup or beach cleanup to tidy your streets, shores, sidewalks, and beaches with your neighbors before the snow flies. Giving back doesn't have to mean a slimmer wallet — and let's be real, donating to charities isn't always feasible for all of us — but you can still make a difference in your community by showing you care.
How are you giving back this Giving Tuesday? Share your ideas with us on social by tagging @AvocadoMattress and #AvocadoGreenGiving!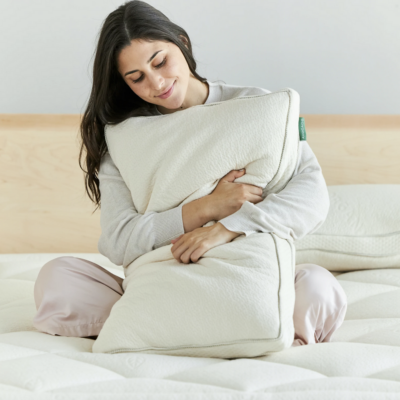 Shop Pillows
The Essential Organic Pillow Collection
Gentle, breathable, non-toxic support.
Buy Now