Look, fluoride or no fluoride, at the end of the day, you've gotta brush your teeth. The problem is, toothpaste tubes are not recyclable and, like most plastics, take in the ballpark of 500 years to freaking decompose.

Five hundred years. For a tube of toothpaste. That you use for a month.

Seriously.

The world is so over single use plastics, but they're not over oral hygiene (and hey, I don't blame them).

That's why I was so excited to learn that toothpaste tablets are totally a thing, and they're kicking those plastic tubes to the curb.
Introducing Waste-Free Toothpaste Tablets

One billion toothpaste tubes enter landfills every year—that's a lot of plastic. But in the wake of a rise in consciousness among consumers and brands alike, tooth brushers around the world are rallying around alternative options.

Zero waste dental hygiene is a tough one. On the one hand, it's a non-negotiable if you want to avoid dental disease and expensive interventions. On the other, it almost always comes in a plastic package.

Homemade baking soda pastes and peroxide rinses aren't always recommended as a substitute to standard dental hygiene best practices, especially for teeth that consume a modern diet.

Thankfully, toothpaste tablets are here, and they're better than a mint and a tube of Colgate put together.
What Are Toothpaste Tablets?

Toothpaste tablets are the dry components of toothpaste in tablet form. Just put it in your mouth, wet your toothbrush, and use the bristles to agitate the tablet like you would a bar of soap. The ingredients bubble up as you work it around, and BAM—dental hygiene just got naked.

Toothpaste tablets come in a staggering variety (despite being so new), from tooth-blackening charcoal to refreshing mint varieties that more closely resemble a conventional formula.
We Tried It: Bite Toothpaste Tablets

Bite toothpaste tablets are one of the coolest brands on the market, so I was really stoked when they decided to send me a couple of bottles of theirs to try.

Bite toothpaste tablets come in these cute little glass bottles with a cork stopper, packaged up in an adorable, 100% biodegradable mailer sleeve. From the moment they arrived on my doorstep, I could tell Bite were my people.
At first, I'm not going to lie—I stumbled through using toothpaste tablets. My crooked smile and general lack of coordination made it difficult for me to balance the tablets between my teeth as I put my electric toothbrush against them.

After a few tries though, I got the hang of it, and quickly fell into a muscle memory with them.

Bite sent me their natural whitening tablets and charcoal toothpaste tablets, both of which had a nice, super mild minty flavor. What I really loved about these tablets is that they were 100% water soluble. I've never cared for oil-based toothpastes, and these are coconut oil-free.
After a couple of weeks, my teeth are looking bright, I'm not having any adverse reactions like tooth sensitivity, and I really can't get over how zero waste this toothpaste option is.


Is this the toothpaste of the future? Share your thoughts with us on Facebook or Instagram, and tag us in the post! @AvocadoMattress and @BiteToothpasteBits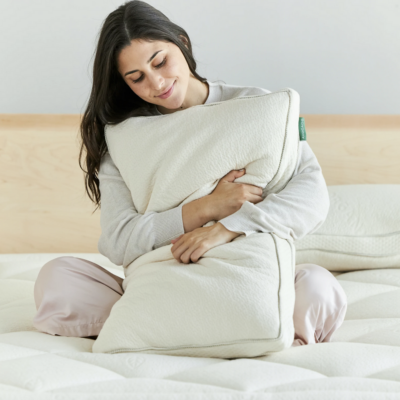 Shop Pillows
The Essential Organic Pillow Collection
Gentle, breathable, non-toxic support.
Buy Now