Free leggings? For the cost of shipping alone? You may remember those ads when they first surfaced on Facebook in 2016, and frankly, for many of us the offer sounded too good to be true at the time. On top of that, they promised to be the best leggings ever created. "Sure, yeah right…," so many of us legging connoisseurs thought to ourselves. But still, the promise of fantastic — best-of-the-best even — leggings was enough to make us cross our fingers and place our orders… and wait patiently by the mailbox for the little brown package to arrive.
Not long after, the reviews started pouring in, and those reviews were glowing. Turns out, the publicity stunt pulled by then brand new Seattle-based startup Girlfriend Collective — purveyors of aforementioned leggings — was well worth the expense and risk of offering up their inaugural style, a pair of classic black high-waisted leggings crafted from recycled materials, for free (minus the cost of shipping, of course).
View this post on Instagram
Since then, the brand has only grown, expanding from their initial basic black 'Girlfriend' legging to a rainbow of hues and a variety of styles, in sizes to give just about every body some love — whether the wearer is an XXS or an XXXL. Because let's be real, these days almost everyone is living in athleisure and each and every one of us deserves to feel amazing in our clothes.
Running, climbing, practicing yoga, hiking or couch surfing, those of us who love a good pair of leggings (or seven… or ten) understand the struggle to find options that actually do their job. That is, stay up, wick away sweat, and move with the body… and make you look darn good in the process (is that so much to ask?).
It sounds simple, but all too often we're left with leggings that pill, roll down, pinch, pull, and sometimes even showcase the tattoos and underthings worn beneath them when they're meant to be opaque. No one likes shelling out their hard-earned money for something that doesn't work or doesn't feel good, but ask just about any person who wears athletic clothes and they'll probably admit they have a whole drawer full of the stuff at home. That's no good for our wallets or the planet.
View this post on Instagram
The Environmental Cost of Athleisure
But the cost of purchasing sub-par athletic wear doesn't just hit our bank accounts hard, it can cost the planet as well. Manufacturing the materials that make up most athletic clothes — spandex, nylon and polyester — from their initial state involves creating raw materials from petrochemicals and other toxic ingredients. These materials take a ton of energy to produce, create noxious gasses while in the production process, and once finished, are the farthest thing from biodegradable.
But even "recycled" fabric can have a dark side. According to Girlfriend Collective, even brands who label themselves as sustainable might purchase unused water bottles to turn a better profit. It's a grim reality, but knowledge is power as they say, and Girlfriend Collective provides about as much knowledge of their own manufacturing processes as one might want. And those processes bring the idea of sustainability to a whole new level.
Putting the 'Fair' in Fair Trade
When searching for information on Girlfriend Collective's manufacturing processes, one only need look as far as the company's 'About' page. There, everything from the why, how, and by whom is covered, and we really do mean everything. Want to know where the pieces are manufactured? Girlfriend Collective will tell you (Vietnam) and they'll also tell you why they chose Vietnam as their manufacturing headquarters.
Want to know how the fabric is made? Girlfriend Collective explains not only how the fabric is made from start to finish, but also how it's dyed, because even the dying process matters. Want to know more about their SA8000 certification (SA stands for Social Accountability and includes child labor laws)? Girlfriend Collective has included every bylaw SA8000 puts forth. That's right, every one. The list is exhaustive, but it's the kind of list — one that includes plenty of information on child labor laws and working hours guidelines — you wish you could see from every company you purchase from.
A Lovelier Legging
But what about the product itself? Could leggings and athletic pieces made from garbage — literally old fishing nets, plastic bottles and other refuse that would otherwise end up in landfills and waterways — really be that great? To put it simply, heck yes it can. In fact, these leggings not only look great, but they're priced great, too.
Compared to other sustainable athleisure companies out there, Girlfriend Collective's offerings, most clocking in under $80, are far more affordable, especially when you consider your hard earned money is going towards a great product, made by people who are paid fairly and given easy access to healthcare. Ready to hit the ground running and stock up on workout wear for fall?
Our 5 Favorite Pieces from Girlfriend Collective
#1 — Paloma Bra
If you're looking for a sports bra that can do double duty as your go-to top, the Paloma Bra is the sports bra you've been searching for. In a classic long-line silhouette, this sleek top pairs perfectly with the high rise leggings, ideal if you've been wanting to eschew bulky tops at the gym but aren't quite ready to go full midriff (hey, we all have our comfort zones).
#2 — Compressive High-Rise Legging
View this post on Instagram
The colorful version of Girlfriend's classic black legging, the Compressive High-Rise Legging comes in a rainbow of shades so you can choose a hue to match your mood (or activity). In an ultra high rise and thicker fabric, these leggings work for workouts and kicking around town, and make a perfect outfit paired with the Paloma bra and cute sneakers.
SHOP THE COMPRESSIVE HIGH-RISE LEGGINGS
#3 — Bike Shorts
View this post on Instagram
Whether you actually bike or just like to look like an #influencer, bike shorts are having a moment, and the Classic and High-Rise Bike Short options from Girlfriend look great either way. Wear them with the Cherry Red Frances Tee and a blazer for a coffee run, then trade your blazer for a spin bike to sweat the day away.
#4 — Silverlake Bodysuit
View this post on Instagram
Transition from the studio or gym to real life even faster with the Silverlake Bodysuit. At home on its own, or under leggings or jeans, this sleek bodysuit was made with dancers in mind but can be worn for everything from fitness classes to fashion week (here's proof).
#5 — Margot Wrap Top
View this post on Instagram
Get cozy after you hit the mat in the Margot Wrap Top. Layered over a bodysuit or sports bra, this ballet-inspired top lends classic style to any outfit — for the gym, for date night, or for lounging!
Images courtesy of Girlfriend Collective.
Have you tried Girlfriend Collective? Share your favorite workout wear with us by tagging us on social with @AvocadoMattress and #AvocadoGreenMagazine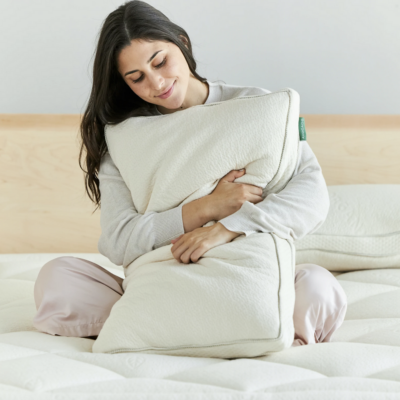 Shop Pillows
The Essential Organic Pillow Collection
Gentle, breathable, non-toxic support.
Buy Now