Don't let the cold weather keep you from working up a sweat. Here's how to keep your winter fitness routine interesting.
With darker winter days and frigid temperatures, most of us sleep in a little longer, cozy up under a warm blanket, and break ties with our fitness routine. But regular workouts are essential for your mind and body, particularly during the dreary winter months when many struggle with seasonal depression. 
Getting your heart rate up a few times a week not only releases mood-boosting endorphins, it's also associated with improved sleep, more energy, and better brain health.
But we've all fallen victim to a winter exercise rut. Don't let it get you down. The key to staying motivated is switching things up.
Here's how to establish a winter fitness routine.
1.
Opt Outside 
Fresh air is good for us, even if that fresh air is only 30 or 40 degrees. When you exercise outdoors in the winter, your heart doesn't have to work as hard as it does in the summer, so it's a great opportunity to build your endurance. You don't have to go hard, either. A bike ride or walk around the neighborhood will do the trick. Just make sure you're wearing a hat, gloves, and warm layers.
Exposure to sunlight — a natural source of essential vitamin D — also eases symptoms of Seasonal Affective Disorder, a type of depression that occurs during winter. If you're feeling down or experiencing anxiety, going for a jog or hitting up a walking trail is sure to lift your spirits — and help you work up a sweat.
Read more: How to Stay Active Outdoors in Winter
2.
Try Something New
Winter sports offer a break from the treadmill or weight room, are an excellent source of cardio training, and allow your body to work out muscles you may not normally target. Maybe you've always wanted to try snowboarding. Or perhaps you've been skiing the bunny slopes for a few seasons and are ready to try out a cross-country trail. This winter, why not give it a go? You'll gain a deeper appreciation for cold, snowy weather, and, who knows, you may even discover a new hobby.
3.
Get to Class
More of an indoor type when the flurries fly? Winter is a great time to gather a group of friends and hit the fitness studio. ClassPass, an app that allows you to book classes at a handful of studios at an affordable rate, is the perfect option for those looking for variety. Or check out local gyms and studios for new member or new year specials that allow you to test out classes while you find your faves — all within a temperature-controlled environment (because even the heartiest winter-lover needs an indoor day every now and then).
Scheduling time to work out with friends will help you stay accountable and supports the opportunity to socialize during a season when many of us find ourselves hibernating a bit too much.
Read more: Our Favorite Online Yoga Classes
4.
Make It a Date
Can't bear the thought of another Friday night dinner-and-a-movie combo? Tired of meeting friends for coffee or cocktails? Plan a fitness date instead. Head out for a wintertime hike with your bestie or schedule some quality time with your sweetheart at your favorite yoga class. Bundle up and head to the beach for a brisk walk — with a thermos of hot chocolate as your reward — or lace up your ice skates and come up with an (almost) Olympics-worthy routine.
If your goal is to meet new people, start a winter run club and end each run at a new location (brunch or breweries are always a hit). Or, see if there's a November Project in your area. The nationwide free fitness group meets when the sun comes up for an outdoor bootcamp even on blustery winter mornings.
Have feedback on our story? Email [email protected] to let us know what you think!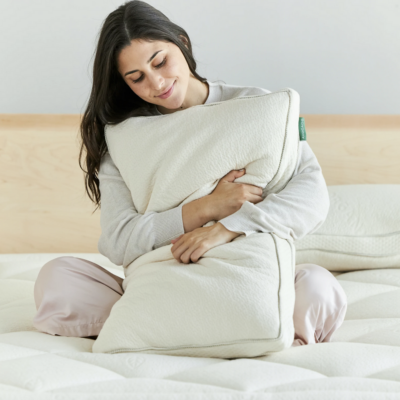 Shop Pillows
The Essential Organic Pillow Collection
Gentle, breathable, non-toxic support.
Buy Now