I remember when I first started commuting to work on my bike, back in my days of actually having a commute. Hot summer days, trying to pack everything I needed into a backpack. Arriving covered in sweat, having narrowly dodged the apparently oblivious traffic running parallel to me in the streets.

Riding your bike to work safely is a challenge, and for someone like me who only did it for a really short period of time, it was really intimidating at first.
There are a lot of things you really don't think about that complicate getting on the road with a bike:

Getting enough momentum at a green light to move uphill after being at a dead stop.
How to let drivers know you're going straight when a right turn is available to them (helllllo, t-bone).
Getting your lunch, purse, and everything else to the office with you.
Not to mention arriving to work a sweaty, hot mess.
But with electric assist, or e-bikes, a lot of these concerns are gone. You have horsepower help, more speed, and less recovery time between hills. In some cases, you even have cargo spacewinning.
What Are Electric Assist Bikes?

Electric bikes and electric-assist bikes are a little different. While e-bikes give you a fully electric bike that you only have to twist the throttle to ride, electric-assist bikes provide you with just that—some propulsion when you need it, and a chance to pedal.
The Best Electric-Assist Bikes for Beginners
We talked to a couple of the best e-bike brands in the country to get their recommendations for electric assist bikes. We wanted bikes that were user-friendly for people who weren't necessarily mountain bikers or bike-to-work evangelists.

Here's what they suggested for the average beginner e-biker:

#1 – The RadCity Electric Commuter Bike

Cost: $1499 (dammmmmn!)
Type: Pedal assist + throttle
Charge Time: 5-6 hours
Distance Per Charge: 25-45 miles
Top Speed: 20 mph
This RadCity electric bike is crazy approachable price-wise, and perfect for beginners. This bike features an electric-assist option if you're a fan of occasionally breaking a sweat and a throttle for when you're not.

When you're on an electric bike, you're essentially a part of traffic, so you need some functionality that conventional bikes just don't have. The RadCity Commuter has a headlight, but also a brake light for when you're bumping elbows with traffic.

It also comes equipped with a small, out of the way engine, and an LCD display that shows you your watts, miles, and speed at any given time.

The engine in this thing isn't meant for mountain biking, but it's more than powerful enough to get you over even the steepest hills without you having to break a sweat. What's more, the built-in cargo rack has a 60 lb weight capacity—if you can tie it down, you can take it home with you.

#2 – The RadWagon Electric Cargo Bike

Cost: $1499
Type: Pedal assist + throttle
Charge Time: 5-6 hours
Distance Per Charge: 25-45 miles
Top Speed: 20 mph
The RadWagon Cargo bike is just the electric commuter with mucho, mucho more cargo capacity. What we really love about this bike is that it's made for daily use, but has so much cargo capacity, you could realistically use it to haul anything you can balance on the frame.

With a 350 lb total payload capacity and extra-long cargo rack, you can strap a couple of large crates to this or mount a rack that can haul whatever you have the horsepower to carry.

#3 – Pedego City Commuter Electric Bike

Cost: starting at $3295
Type: Pedal assist + throttle
Distance Per Charge: up to 60 miles
Top Speed: 20 mph
Pedego bikes are made with comfort and style in mind, and their look is so, so polished. This particular electric bike from Pedego comes in seven colors, depending on the size that you get.

What I really love about these bikes is that they're made with the same kind of care that a family vehicle is, with functional features like a Bluetooth app and fenders with mud flaps to keep your pants clean on the way to work.

The Pedego City Commuter is a bit on the pricier side compared to the RadBikes line but comes with creature comforts like a handlebar bell and balloon tires for an extra smooth ride.

Have you ever ridden an electric assist bike? Share your pics with us on Facebook or Instagram—we want to know your expert tips! Tag us in the post with @AvocadoMattress, and tag our buddies over at @Pedego and @RadPowerBikes!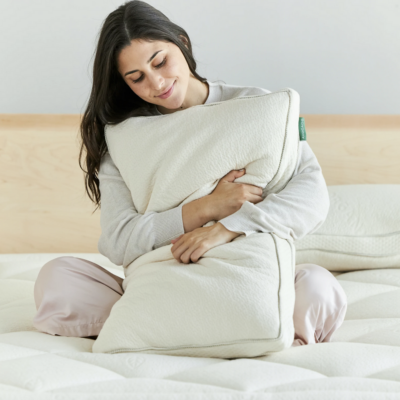 Shop Pillows
The Essential Organic Pillow Collection
Gentle, breathable, non-toxic support.
Buy Now