Democracy needs our help. Sign up to support a fair and safe election today.
I fondly remember the first time I voted. I had just turned 18. I was living in Oregon, where they've conducted universal vote-by-mail elections for nearly 30 years (with virtually zero cases of fraud). I carefully and proudly penned in my choices from the kitchen of my parents' home.   
EASILY REGISTER TO VOTE/CHECK YOUR REGISTRATION HERE.
Back then, I never could have imagined America would be a place where facilitating a fair and safe election would be in question. But here we are.
Now we have to worry about foreign nations, not to mention our own government, undermining the election process. There's also a ruthless infectious disease going around that will make voting more dangerous and matters worse for our already critical shortage of poll workers. In the 2018 general election, 58 percent of election volunteers were over the age of 61, and 27 percent were over the age of 70. In other words, the age group most at-risk to Covid-19.
That's why I'm volunteering to be an election worker for the first time. I'm lucky. I'm low-risk to Covid-19 — I'm in my 30s and don't have immunocompromising conditions. And my employer, Avocado — ever civic-minded — is even paying employees while they vote and volunteer on Election Day. With democracy on the line, I have no excuse not to help. But more healthy, young people need to step up, too.
Today is National Poll Worker Recruitment Day, established by the U.S. Election Assistance Commission, which makes signing up to be a poll worker in your own community simple (just go here and answer a couple of questions). The federal campaign helps America vote and addresses the critical shortage of poll workers while strengthening our democracy, inspiring greater civic engagement and volunteerism, and helping ensure free and fair elections in November.
Volunteers are essential to an accessible election process. They set up polling places, check-in voters, answer questions, and show folks how to use the voting machines.
Of course, while volunteering at your polling station is a start, I'm under no illusion that it's going to solve America's systematic disenfranchisement of minorities or the gutting of the Voting Rights Act. To counter aggressive voter suppression tactics and gerrymandering, we need elected officials who stand up for equal voting rights. We can also get involved with organizations like the League of Women Voters and the American Civil Liberties Union that protect the rights of all voters.
The idea of a nationwide vote, of representative democracy, is beautiful. We all get a say in what is best for our country. But it only works if it's actually representative — if everyone, especially our most marginalized communities, have the opportunity to cast their vote easily and fairly. That's no longer something we can afford to take for granted, or just expect. Democracy takes work. And right now, it needs our help.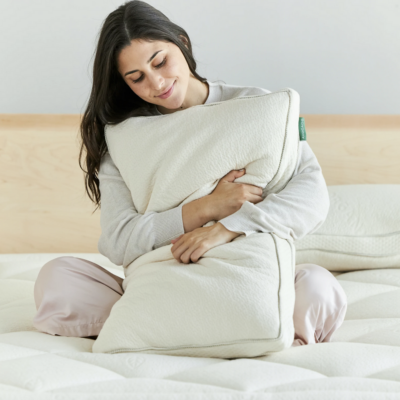 Shop Pillows
The Essential Organic Pillow Collection
Gentle, breathable, non-toxic support.
Buy Now