Sleep disorders affect millions of people. We spoke to two sleep specialists to find out if your sleep routine could be the problem and when it's time for a sleep study.
Sleep doesn't come easily for me. I'm a tosser, a turner. I wake up in the middle of the night. And if I nap midday — I may as well throw in the towel on a good night's rest.
The only time I've ever had sleep come quickly is when I had a solid bedtime routine. Once upon a time, my habits supported easy slumber: I turned my phone off an hour before winding down for the night. I climbed into bed and rose from it at the same hours every day. I rarely napped. But once the pandemic began, I let these habits slip. And once again, it became a monumental struggle to fall asleep. Still, when my primary doctor suggested I see a sleep specialist, I doubted his advice. I thought to myself: Can't I remedy this problem by getting back to my good bedtime habits?
I'm not alone in my nightly battle. Nearly half of Americans say they feel tired during the day, and about 35 percent of people report getting fewer than seven hours of zzz's per night, according to the Sleep Foundation, an extension of the National Sleep Foundation. That's not great news when you consider that a good night's rest is about much more than feeling alert during the day — it's connected to long-term health, too. Adults who slept fewer than seven hours in a 24-hour period were more likely to report chronic health conditions compared to those who got the adequate amount, according to the Centers for Disease Control and Prevention. This includes heart attacks, asthma, and strokes.
But how do you know if, like me, you need to see a sleep doctor, or if your bedtime habits could simply use a little sprucing? I chatted with two sleep specialists — Abhinav Singh, medical director at the Indiana Sleep Center and Kimberly Hutchison, associate professor of sleep medicine and neurology at Oregon Health and Science University — to answer this and other questions, including what counts as good bedtime hygiene, habits to avoid if you want a solid slumber, and the most common sleep disorders in the U.S.
Read more: How Sleep Affects Metabolic Health
SG: What is sleep medicine?
AS: Sleep medicine is an evolving field that aims to answer the basic questions of why we sleep, why sleep is important, and what sleep disorders are. It also attempts to understand the relationship between sleep and overall health. Sleep medicine is usually broadly divided into research and clinical applications. Where research helps us learn newer aspects of the science, the clinical aspect helps us treat individuals suffering from sleep disorders.
SG: What are the most common disorders that sleep specialists treat?
AS: Common conditions that sleep specialists treat are insomnia, snoring, sleep apnea, hypersomnia, narcolepsy, circadian rhythm disorders, and restless leg syndrome.
SG: How are sleep disorders most often treated?
AS: After a thorough evaluation and possible sleep study, treatments may include behavioral and lifestyle modifications, sleep-related breathing devices, oral appliances, nasal appliances, and medication therapies, among others.
Read more: 5 Ayurveda Principles for More Balanced Sleep
SG: When should someone see a sleep specialist?
KH: Someone should see a sleep specialist when they're not sleeping as well at night, so they're having a hard time falling asleep or they're waking up in the middle of the night. Other reasons would be excessive sleepiness during the day, so they're not able to get through afternoon meetings or they feel like they want to nap or they're falling asleep inappropriately during the day or they may be too tired to do what they were previously used to doing.
Not everyone who sleeps poorly needs to see a sleep medicine specialist, but if there's concern about breathing during sleep, loud snoring, pauses in their breathing, waking up and not feeling refreshed even if they get a full night's sleep, then they might want to talk to their doctor.
SG: How can someone distinguish between a sleep problem that requires a sleep study by a specialist and one that can be remedied with better bedtime habits?
KH: Start with improving your sleep habits. After that, if you're still experiencing negative symptoms that are interfering with an acceptable quality of life, then I would get input from your doctor. I would start with your primary care doctor. I wouldn't necessarily start with a sleep doctor.
SG: What does good sleep hygiene look like?
KH: The most important component is having a regular sleep routine that would include a lie-down routine, so you're doing the same thing every night at roughly the same time. Your bedtime and wake time should be roughly the same seven nights a week within an extra half hour to an hour on the weekends. You're training your brain to sleep at the same time every night.
And you should listen to your body when you start to get sleepy. You should try to create your routine sleep schedule around your body's natural clock. Avoid screens for an hour before going to bed. Do relaxing activities. Maybe some stretches or deep breathing or meditation. Maybe reading with some light coming from behind you to feel sleepy.
Try to be as active as you can during the day, exposing yourself to sunlight, getting exercise, and avoiding naps. If you need to nap, try to nap early in the afternoon for about 20 minutes. But if you have a bad night's sleep, the best recommendation is to be active and try to stay awake, so your sleep pressure increases and you're able to fall asleep the next night.
Read more: How Food and Alcohol Affect Sleep
SG: What are some sleep habits people should avoid?
KH: The worst habit is if you wake up in the middle of the night and you grab your phone. That light that you're exposing to your eyes, even if it's on night mode, can decrease your body's melatonin production and make your body think it's daytime and time to get up.
You also shouldn't do other activities, like get up and do laundry or watch television. You can get out of bed and sit quietly and listen to calming music until you feel sleepy.
This interview has been edited and condensed.
Have feedback on our story? Email us at [email protected] to let us know what you think!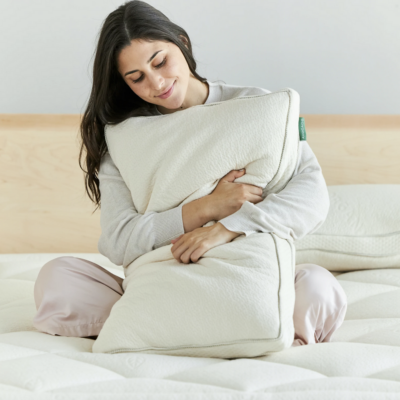 Shop Pillows
The Essential Organic Pillow Collection
Gentle, breathable, non-toxic support.
Buy Now