Parents have got to be some of the hardest people to shop for, and I'm not talking about you, parents, I'm talking about your parents.
You know, your dad who has every tool under the sun, your mom who long ago stocked her kitchen with better cookware than you could ever dream of having? It's hard to buy for our parents, because honestly, they seem to have everything!
I can't tell you how badly your dad needs a new pair of work boots or how long it's been since your mom's had a pedicure, but I can tell you that the things parents need for the holidays are very seldom needs.
Think in terms of what will make their lives easier, more comfortable — not what latest tech you can confound them with or giving them something they already have. This list is all about giving to those who probably don't give to themselves often enough, in ways that are thoughtful, practical, and create memories — not clutter.
Luggage to Come Visit You
That is, assuming you want them to come visit.
Kidding. (But not really).
But seriously, new luggage is usually one of the last things most people buy themselves, especially our parents, so send two messages at once with a gift that gives them something nice and practical, with a card that says 'For the next time you come to visit'.
I promise, they're going to love it. I particularly adore this 3-piece set by McBrine, which is actually made from 70% recycled materials!
New Pillows
Because seriously, when was the last time your dad replaced that sad old pillow of his? Pillows aren't a luxury item, and are critical to getting a good night's sleep on a healthy neck, so get them a fresh set this holiday season.
Naturally, we love Avocado Green Pillows. They're luxe without being too spendy, filled with crazy.stupid.soft kapok fiber and latex ribbons, and encased in 100% organic cotton. It's a gift they'll love, and one you can feel good about giving.
The MightyFix Subscription Box
If you've been talking to your parents about things you can do and buy to live more sustainably, this monthly subscription box is a great way to get them started (without being too pushy). Each month, MightyNest will send the recipient one unique household item that will help them live a lower impact lifestyle. Gift three months of the MightyFix for as little as $30!
Great Moisturizers
As we get older, our skin becomes less efficient at replacing key nutrients that keep us moist and supple. It's a natural part of life, but in the winter especially, all of that dry air can be especially hard on our parents' hands.
Get them a moisturizer that isn't too heavy on perfumes, but gets the job done in terms of nourishment. For dads with working hands, Badger Balm is great for soothing those hard-working hands. For those that prefer a lighter formula, I love Annmarie's Radiant Skin Silk — it's lightweight, highly effective, not too perfume-y, and made with some wonderful natural ingredients.
Gift an Experience
A simple suggestion, but a great one to avoid buying more stuff for the people who have everything; Experiences can bring you two together, give your parents some time with their grandkids, or a much-needed night on the town together.
Gift certificates or pre-paid packages to spas, paint and sip places, or even just a great restaurant is a fantastic way to make them treat themselves, without having to add one more thing they'll never need to their home.
A Framed Photo
An oldie but a goodie, photos make great gifts, especially for parents scattered around the country. Get something funny from your childhood your parents might have forgotten about blown up onto a canvas for them, or get them a digital photo frame to save on the environmental impacts of printing.
I particularly love this WiFi-Enabled Digital Frame from Nixplay — it allows you to sync up the frame directly to your favorite cloud storage account, and with access to those folders, you can actually update your parents' photo selection automatically!
Computer Glasses
A lot of people use screens less as they age, simply because all of that blue light exposure is hard enough on your eyes as it is. Computer glasses come with and without magnification, so you can get your mom or dad a pair that's tailored to their needs.
I'm on my second pair from J+S Vision, and I absolutely adore them!
Kindle Paperwhite
If your parents are big readers but aren't crazy about e-readers because of the eye strain issues mentioned above, consider getting them the Kindle Paperwhite. Though it's still ideal to wear a good pair of computer glasses with it, it's frontlit instead of backlit, which greatly reduces eyestrain.
What are you getting your parents for the holidays this year? Tell us on Facebook or Instagram and tag us in the post! @AvocadoMattress or #AvocadoGreenMagazine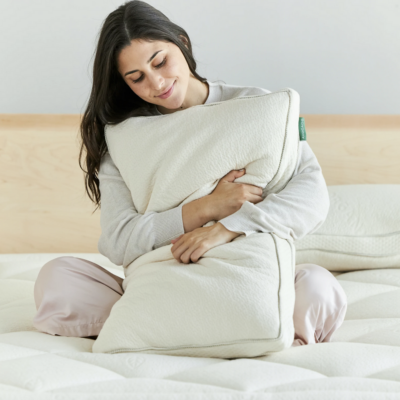 Shop Pillows
The Essential Organic Pillow Collection
Gentle, breathable, non-toxic support.
Buy Now