People spend thousands on RV vacations touring national parks during the summer — but what if that vacation was your LIFE? We chatted with a couple who took a leap of faith and gave up their roots for tires, spending 16 months on the road in an RV.

Meet Nik and Allison

When modern life got a little too mundane and boring of a prospect, Nik and Allison made a massive shift in their lifestyle. They bought a 1989 26 ft. motorhome, gutted it and remodeled it, and hit the road, touring the western United States and Canada, before finally putting down roots once more.
How long did you live in an RV?

We started in May 2016 and stopped in September 2017. We spent the winter in the middle in an apartment while I worked at a ski resort (November 2016 – April 2017). So all added up, a year or a year and a half, depending on how you count it!
How did you come to make the decision to do it?

The seed was first planted when Nik [my husband] got a job working remotely. Suddenly, we (or he, at least) could be location independent. We brainstormed a whole list of ideas, and ultimately RV life felt like the best fit.

I'm a teacher, so it was a little harder for me. I finished grad school, and there was sort of a natural break when I needed some time to recharge. We figured that was a great opportunity, timing-wise, and we went for it.
Where did you go and what was one memory that REALLY stands out to you?

Oh wow, we saw so many amazing things.

We started in Colorado, then worked our way up through Wyoming (Grand Teton and Yellowstone National Parks) and Montana (we spent a long time outside of Glacier National Park).

We kept going up into Canada, where we explored Banff, drove the Icefields Parkway, and listened to the elk bugle in Jasper. We swung back over to the Pacific Northwest, where we went sea kayaking and foraged for blackberries.

The next summer, we went west from Denver and explored the western slopes of Colorado, and then spent a lot of time exploring the southwest (Arizona, New Mexico, and Utah).

For me, learning to canyoneer in Zion stands out the most. The gorgeous desert scenery and slot canyons of the southwest is so mind-blowing to me.
What was an unforeseen complication of RV living?

I had to learn to be much more flexible. Things break, weather happens, and life (good and bad) messes with the "plan." We were much happier once we learned to slow down and savor each place rather than getting frustrated by trying to stick to a strict schedule.

It was also difficult that Nik was working 9-5 each day and I was working very part-time, so we couldn't always explore together.
Why did you stop?

We missed having a community nearby that we could just call up to go out for drinks or to hang out. I was also ready to get back to classroom teaching.

In short, we were ready to be a little more rooted once again. I think if we did it again, we would be more intentional about linking up with events like the Xscapers Convergences early on. I think that would have helped us to find friends traveling similar routes as we were.
What advice would you give to nomads considering the RV lifestyle?

Make it your own. You don't have to have the fancy RV and stay in luxury RV parks if that's not you, and you don't have to do the vanlife thing and camp in the wilderness, either.

We did a ton of national parks, but other people travel the country visiting breweries or whatever else you can think of. Figure out what you want out of the experience, and make it happen. (And don't worry if you aren't handy with fixing things, you'll get comfortable very quickly. 😉 )
Would you live in an RV and travel the country if you had the chance? Tell us on Facebook or Instagram, and tag us in the post! @AvocadoMattress and @TheRecklessChoice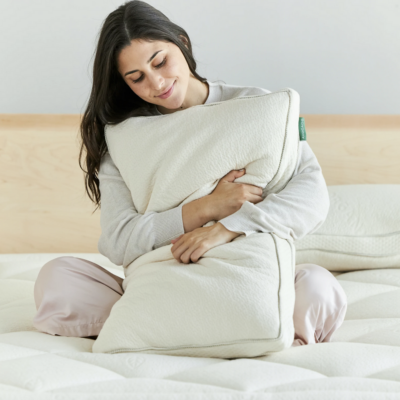 Shop Pillows
The Essential Organic Pillow Collection
Gentle, breathable, non-toxic support.
Buy Now