Beauty bloggers, wellness gurus, Crossfit junkies, your mom, all of Instagram… it seems everyone these days is talking about and taking collagen in some way, shape or form.
From powders to gummies, this super popular supplement has been one of the most talked about ingredients in the wellness world and beyond for a couple of years now, but what is collagen, exactly? And what makes collagen so worthy of all the buzz? If you've been wanting to jump on the collagen bandwagon but are still scratching your head as you confront the options available at your local health and wellness store, today we're pulling back the curtain.
What is collagen?
Believe it or not, collagen is the most abundant protein in the human body and plays a major role in a wide variety of biological processes – from skin wellbeing to joint health. Collagen is what keeps your skin looking youthful, your nails healthy, your hair shiny and strong, and your ligaments and tendons supple and responsive. The body produces collagen naturally, but as we age, collagen production begins to decline (isn't that always the case?), which can lead to aging skin and achy everything. Supplementing collagen can support the body's ability to produce its own and help keep everything running in tip-top shape.
It shouldn't come as much of a surprise to learn that lifestyle factors can also affect collagen production in the body. Factors like sugar intake, smoking and secondhand smoke, and too much sun exposure can lead to a decline in collagen production, which can lead to premature aging. On the flip side, living a well-balanced health-focused lifestyle can support natural collagen production. Foods rich in vitamin C, vitamin A, proline and anthocyanidins, like blueberries, eggs and nuts, can help your body produce its own collagen – supplementing is simply that, supplementing what's hopefully already happening in your healthy body.

There are over 12 different types of collagen and naturally, each type has its own specialty. Collagen types 1, 2, and 3 are the most abundant and, collectively, they're responsible for the health of our teeth, skin, bones, tendons, and cartilage. This is why you'll often see collagen types listed on supplement packaging — but while these three are the most abundant, all collagen types are vital.
With the availability of collagen supplements, like powdered collagen peptides and protein blends, collagen's accessibility has fed its popularity — and the benefits are compelling.
The Benefits of Collagen
Gut health
There's a lot of talk about collagen and what it could do for the health of the gut and microbiome. While research is still being done, it's believed that the amino acids present in collagen, like glycine and glutamine, could support digestion and reduce inflammation.
Joint and bone health
The collagen we produce naturally plays a major role in the health and resilience of our bones, connective tissue and joints. People who suffer from conditions like certain kinds of arthritis and those who's natural ability to produce collagen is declining may benefit from taking a collagen supplement.
Skin health
If beautiful skin is what you're looking for, collagen could help. Collagen may improve hydration and skin elasticity, and may even help your skin heal faster from the inside, out. Since collagen plays a key role in wrinkle prevention, supplementing with a collagen peptide powder may support anti-aging efforts.
How to use collagen…
You've probably already spotted collagen products at your local wellness market – from powders that dissolve in liquid, to bars, to protein shakes there's plenty to choose from, from a variety of sources.
Powdered collagen, usually labeled 'collagen peptides', either beef or marine, are typically the easiest and most budget-friendly option to use because they mix easily into hot or cold drinks, like coffee and smoothies. Add a scoop to your morning mug of coffee and blend it up with some coconut butter for a filling morning latte, or add to your favorite smoothie, or simply a glass of water for a good-for-you start to your day.
As collagen becomes more popular, you may discover a variety of flavored creamers and drink mixes available as well — just as it's important to test out different brands of collagen to discover which one works best for you, testing out these flavored drink and even bars may help you find the right collagen vehicle for you. Variety is the spice of life, after all, even when it comes to collagen.
Our Favorite Brands
From gelatin to collagen creamer, here are a few of our favorite high-quality brands, pictured above.
Vital Proteins Collagen Peptides
Vital Proteins Coconut Collagen Creamer
Vital Proteins Vanilla Collagen Creamer
Primal Kitchen Chocolate Coconut Collagen Fuel
Dr. Axe Multi Collagen Protein Powder
Do you use collagen in your diet? Share with our community by tagging @Avocadomattress or #AvocadoGreenMagazine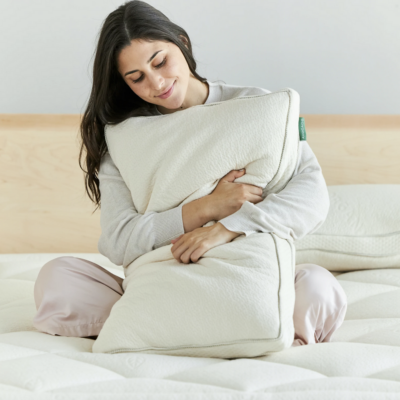 Shop Pillows
The Essential Organic Pillow Collection
Gentle, breathable, non-toxic support.
Buy Now