Food waste is a problem that has garnered widespread international attention. As images of dumpsters full of pristine food surface across social media, people are looking for answers to the growing problem of commercial food waste.
When WeFood opened its doors last year, they weren't expecting the crowds that lined up around the block to shop there. More than just a store that offers discounted foods, WeFood is a Danish grocery store selling expired foods, and keeping them out of the landfills.
WeFood is run entirely by volunteers, and uses its profits to fund anti-poverty and public health initiatives around the world. Rather than focusing on being a discount social aid store, WeFood has built its following on the premise that it just makes good sense to use food that's still edible, and shopping there has become a social statement.
Logistically, running a store like WeFood entirely on the power of volunteers can be challenging. The store has struggled to keep its shelves stocked with food, thanks to its popularity. While surplus food abounds, coordinating pickup between volunteers and stores has proven to be a formidable task.
In addition to offering expired foods to their customers, WeFood provides gently used clothes in their recycling stores, or sends unwearables away to be recycled into new fibers. They even have programs that allow contributors to donate goats and chickens to poorer families to help them more readily sustain themselves!
Tackling the Food Waste Problem
WeFood addresses a problem that is unbelievable to behold — food, being thrown out by the dumpster full, every single day. It's a practice grocery stores engage in, and one that's gotten the attention of the French government.
Last year, the French government passed a law making it illegal for grocery stores to dispose of unsold food. In addition, it requires some of the largest chains to donate unsold foods to charities or farms, where they can be composted.
It's an incredible step in the fight against food waste, and around the world, private businesses are answering the call from consumers to put a stop to these wasteful practices.
Stores similar to WeFood have popped up all around North America and Europe, including Daily Table, started by the former president of Trader Joe's.
What You Can Do to Help
Organizations like WeFood typically have the largest need for volunteers and monetary donations. Overseeing and distributing goods is a huge task, and they need all hands on deck to manage the costs and time commitment required to keep the gears turning.
You can help by making a donation, or if you live in the area, offering your time to help this store stay stocked with foods that would otherwise wind up in the trash.
What are some things you're doing to reduce food waste? Tell us on Facebook or Instagram, and tag us at @AvocadoMattress of #AvocadoGreenMagazine.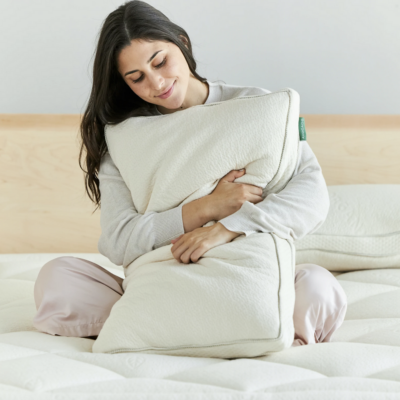 Shop Pillows
The Essential Organic Pillow Collection
Gentle, breathable, non-toxic support.
Buy Now