The holidays are all about indulgence — huge tables filled with food, day-drinking, and plenty of gift-giving and merriment to make lasting memories with our friends and family.
For vegans, it can be a challenging time to be a dinner guest. This time of year offers nothing, if not variety, but most holiday dishes are traditionally made with copious amounts of dairy, eggs and meat.
Whether you're bringing a dish to someone's dinner (to ensure you actually have something to eat under the guise of being a gracious guest) or hosting your own holiday feast, there are PLENTY of incredible, mouth-watering dishes.
Trust me, these recipes may even have the omnivores in your life side-eyeing your plate over their helping of turkey.
Vegan Main Courses
Hosting a Thanksgiving or holiday dinner this year? Make the main course DAZZLE with one of these incredible vegan recipes.
Vegan "Venison" with Cranberry and Red Wine Sauce
That's right, there's even a vegan version of venison by Meet the Shannons! This recipe calls for either seitan or Gardein Beefless Tips in place of actual venison, and covered in this lush red wine sauce, I doubt your guests will even notice.
Stuffed Roasted Butternut Squash
Butternut squash has a decadent flavor all its own, but stuff it with walnuts, dried fruits, vegetables, and rice, (courtesy of It Doesn't Taste Like Chicken) and you have a main course that's both filling and fragrant!
Cauliflower Lentil Loaf
Reminiscent of meatloaf, this Cauliflower Lentil Loaf by Strength & Sunshine brings together cooked brown lentils and riced cauliflower to mimic the texture of the classic American entree. Pro tip: Add some smoked paprika to the glaze if you're not a fan of liquid smoke.
Pecan and Mushroom Wellington
This vegan mushroom-stuffed pastry by Delightful Vegans is beautiful and filling and sure to be the center of attention in any spread — just make sure you have vegan breadcrumbs on hand for the filling.
Vegan Spinach Lasagna
With cashew mozzarella and fresh spinach, this Vegan Spinach Lasagna by Veganosity has all of the creamy goodness of traditional lasagna, with none of the dairy or meat. Looking to add a bit more to it? Add a layer of pumpkin puree or sliced mushrooms!
Vegan Sides
Who says omnivores get all the fun? These recipes are chicken stock and cruelty-free, and chock full of nutrients you never dreamed you could pack into a holiday meal.
Christmas Tree Salad
Okay, seriously, how cute is this Christmas Tree Salad by Healthy Happy Life.com? Topped with a sprouted grain toast star and adorned with fresh pomegranate seeds, gala apples, and grapes, this salad is festive, beautiful, and incredibly healthy.
Vegan Thanksgiving Stuffing
Stuffing is usually made with chicken stock to soften the bread chunks, but this Thanksgiving Stuffing by Well and Full instead uses millet and vegetable stock for a rich, earthy flavor that doesn't disappoint. Add to the presentation by serving it in cooked pumpkins!
Maple Balsamic Brussels Sprouts
I personally adore these tiny green cabbages, and this Maple Balsamic Brussels Sprouts with Hazelnuts and Rosemary recipe by My Darling Vegan? Noooommm. Far from boring, this recipe includes toasted hazelnuts in a tangy maple balsamic glaze that is healthy, colorful, and absolutely delicious.
Vegan Green Bean Casserole
Replacing the typically creamy base of this Thanksgiving classic is a homemade cashew cream instead, with all the fried onion goodness your inner nostalgic requires. Try this Vegan Green Bean Casserole by Hummusapien and you won't regret it.
Vegan Sweet Potato Rolls
I say just make every course some version of sweet potatoes, but if you're a normal human being just looking for a healthy, vegan alternative to soft freshly baked rolls, well, these amazing Vegan Sweet Potato Rolls by the Curious Chickpea work for that too.
Vegan Desserts
Oh sure, butter and cream might make up half of a traditional holiday spread, but that doesn't mean vegans can't get their sugar rush on, too. Check out these recipes that'll have you popping buttons just as effectively as their traditional counterparts.
Vegan Chocolate Truffles
Are you a candy-making fool around the holidays? Go nuts with this Vegan Chocolate Truffles recipe by My Darling Vegan — it's 100% vegan, super simple, and just requires a little chocolate dipping finesse to produce giftable candies.
Dairy-Free Christmas Pudding
If you want to bring them some figgy pudding this holiday season, this recipe Dairy-Free Christmas Pudding by Fave Healthy Recipes is pretty darned close, and is totally vegan-friendly (just make sure you use a vegan bread). A beautiful, traditional Christmas recipe, it's a great one to bring to gatherings!
Gingerbread Cakes
Swoooon. These little Gingerbread Cakes by VeganYumYum are adorable, full of flavor, and use Tofutti cream cheese for a creamy frosting you'd never guess was missing actual dairy.
Vegan Pumpkin Cheesecake
I don't know much, but I know that chocolate + pumpkin is pretty much the greatest thing on this planet of Earth. This Vegan Pumpkin Cheesecake recipe by Karissa's Vegan Kitchen is freakishly decadent and perfect for a dessert hors d'oeuvre platter.
Vegan Mini Pecan Pies
The addition of coconut sugar and maple syrup to these adorable Vegan Mini Pecan Pies by Yummy Mummy Kitchen seals the deal on their deliciousness so much, you might need to be rolled to your car when the meal's over.
Vegan Drinks
Whether for adults or kids, there are SO many adorable drink recipes out there that are perfect for serving over the holidays. Peppermint garnishes and cinnamon swizzle sticks abound, so be sure to have the perfect glassware available for your handiwork.
Vegan Eggnog
So easy, so delicious, and so very eggless, this Vegan Eggnog recipe by Isa Chandra even has a surprising secret ingredient to add to its rich decadence most of your guests would never guess! Serve it with or without rum (but come on, anything's better with rum).
Chocolate Peppermint Martini
Beautiful, elegant, and oh so chocolatey, these Chocolate Peppermint Martinis by Vegan Food Addict scream holiday festivity with their inside voice. Add a rim of crushed peppermint candies and a candy cane swizzle stick to really take it over the top.
Vegan Gingerbread Maple Latte
A perfect Christmas morning pick me up, these Vegan Gingerbread Maple Lattes by Cook with Manali are creamy, frothy, and dairy-free. Make a big batch to serve out of a thermos for the day so nobody has to do without.
Rose Wine Slushies
This looks like a summer recipe, but add in some frozen pomegranate, and you have a festive Rose Wine Slushie (courtesy of North South Blonde) you can justify making a blender full of while your family drives you nuts. Bottoms up!
Super Creamy Vegan Hot Chocolate
A perfect treat for everyone, make this Super Creamy Vegan Hot Chocolate by Veggie and the Beast in a big batch to take with you for your Christmas tree cutting. Top it with some freshly made coconut cream, or sprinkle some vegan marshmallows on top (like these from Dandies)!
Do you have an amazing, must-try vegan recipe you love to make over the holidays? Share it with us on Facebook or Instagram, and be sure to tag us in the post — @AvocadoMattress or #AvocadoGreenMagazine.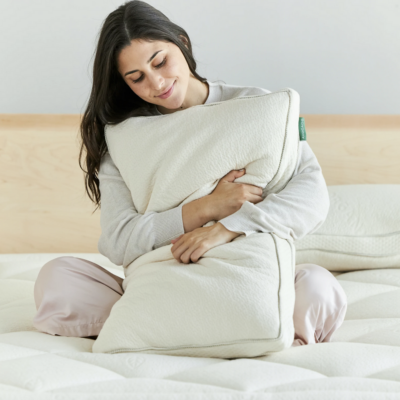 Shop Pillows
The Essential Organic Pillow Collection
Gentle, breathable, non-toxic support.
Buy Now