A few years ago, I was subscribed to this awesome subscription box for outdoorsy people and got this crazy inflatable lantern/solar cell phone charger in it. It's a Luminaid lantern and portable solar-powered cell phone charger.
Over the years, it's gone with me to the mountains, on camping trips, hunting, on perilous journeys in the dark through blizzards—and all that time, I've never roughed it up enough to break it.
Whether you're camping for more than a few days, backpacking through the wilderness, or just really, really freaking forgetful like me, these lanterns are a total lifesaver.
These solar–powered cell phone chargers are genius, eco-friendly, and as at-home on the trails as they are in your bedroom window.
The Best Solar Cell Phone Charger I've Ever Seen
Luminaid makes solar-powered lanterns and cell phone chargers that fully charge a cell phone in less than four hours with nothing but solar power. On low light mode, these lanterns/charging stations can charge devices for up to 100 hours on a single charge.
We've carried our Luminaid lanterns through a lot. Through it all, it's lasted being squashed in a moving box, dropped behind a desk, drooled on by a baby, and all kinds of abuse and neglect.
These lanterns are tough, smart, easy to use, and officially a staple both under the sink and in my camping gear.
Fourteen hours of sunlight fully charges a lantern by Luminaid. You get 150 lumens of light, a cell phone charger, and a lantern that's lightweight enough to hang directly from your tent roof (without weighing things down).
SHOP LUMINAID SOLAR CELL PHONE CHARGERS
Luminaid Gives Light to People Who Need It Most
I've been a fan of these lanterns for years, but I love this company for more than just their sweet solar-powered cell phone chargers.
I love this company because they don't just make great gear, they literally build a brighter world.
Luminaid has a mission to bring light to impoverished communities around the world, and I didn't know how big of a deal it was until I got educated on their website.
In the United States, flipping a light switch isn't that big of a deal, but in others parts of the world, it's a privilege reserved for developed nations. In undeveloped nations or in areas where natural disaster has wiped out electrical grids and infrastructure, life goes on—often in the dark.
Families feed their children in the dark, relying on candles and oil lanterns to light their work. There are hazards with not being able to see your surroundings that put these people at risk, along with the increased risk of fire from using open flames indoors as a source of light.
Luminaid uses their business as a force for good, providing light to places who have fallen into darkness. You can help them by sponsoring a light for a fraction of the retail cost and provide one of their lanterns or phone chargers to people in need.
Have you ever used a solar-powered lantern or cell phone charger? What did you think? Tell us about your adventure on Facebook or Instagram, and tag us in the post! @AvocadoMattress and @LuminAID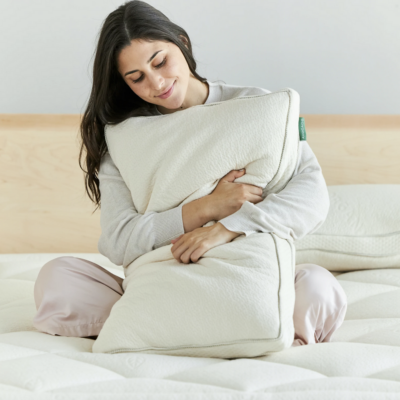 Shop Pillows
The Essential Organic Pillow Collection
Gentle, breathable, non-toxic support.
Buy Now