Whether you're kicking gluten because of a dietary preference or a health condition, you know it's tough to satisfy sweet cravings when you want something other than fruit to nosh on.
The gluten-free crowd is onto something though, and these meal plans are worth sticking to if they work with your body chemistry. Reducing or eliminating gluten from your diet can be tremendously beneficial for your gut health, reducing your levels of candida bacteria, eliminating breakouts, bloat, and even allergy symptoms.
Whatever your goal in the quest for gluten-free, there's no need to deprive yourself — the interweb is FULL of talented bakers that refuse to compromise, and we've rounded up the sweetest of their recipes here for you.
Flourless Brownie Cookies
If you like chocolate on your chocolate with a side of chocolate, these brownie cookies are what you need. Go completely overboard with some chocolate chips, and if you're not keen on the cornstarch, just sub in arrowroot powder instead.
Gluten-Free Fudge Brownies
The Bakerita's gluten-free fudge brownie recipe is exactly what you need for a late night treat — add some coconut milk ice cream and make it the real deal. If you're dairy free, sub in Enjoy Life's dairy free chocolate chips instead.
Gluten-Free Strawberry Oatmeal Bars
I don't know why dessert is socially acceptable to eat for breakfast, and I don't care — less questions, more syrup, please. These strawberry oatmeal bars are reminiscent of a homemade version of the fruit-filled bars you get from the store, but 50 times better.
As suggested in the recipe, grab a bag of Bob's Red Mill Gluten-Free Flour Blend to save yourself from buying 6 different kinds of gluten-free flour.
Buckeye Brownies
Any midwesterner will tell you, buckeyes are the bee's knees. Chocolate and peanut butter is a combination anyone can get on board with, but put it in a brownie, and you best be wearing your stretchy pants.
If you're like me and prefer to avoid canola oil but aren't crazy about working with solid coconut oil, sub in grapeseed oil instead. It's liquid, has a mild flavor you won't even notice, and is safe for high-heat cooking.
Apple Rose Tart with Maple Custard and Walnut Crust
Gluten-free goes gourmet in this apple tart that is just, wow. Curling apple peels into roses is no doubt a bit of a time-consuming art, so make sure to give yourself a couple of hours for this one.
The baker suggests warming the apple slices in the microwave to soften them before rolling so they don't split on you — a step you definitely don't want to skip.
Gluten-Free White Cake
White cake with sprinkles speaks to the birthday-cake-craving kid in all of us, and being on a gluten-free diet does NOT mean you have to miss out. This white cake requires several different flours, so make sure you shop ahead (or test with Bob's Red Mill's Gluten-Free blend).
Gluten-Free Salted Caramel Cupcakes
If you don't like salt and caramel together, then we can't be friends. These cupcakes are little doses of heaven frosted in the most buttery caramel frosting you've ever seen with just a sprinkle of high quality sea salt and all of the oh my gosh you need in a dessert.
Temperature is going to be everything with a frosting like this, so don't skip any steps (no matter how much you're drooling). Soften the butter first, and let your cupcakes cool completely before you frost them. If your house gets hot this time of year, store these in the refrigerator to keep the frosting from melting.
What's your favorite gluten-free guilty pleasure? Show us your favorite desserts on Facebook or Instagram and tag us in the post, @AvocadoMattress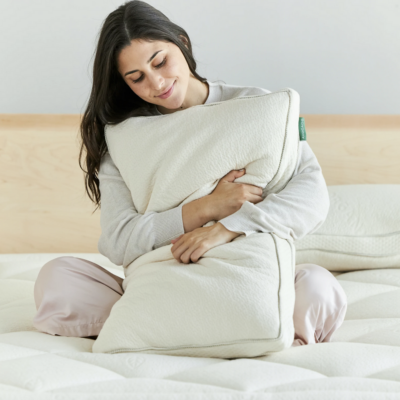 Shop Pillows
The Essential Organic Pillow Collection
Gentle, breathable, non-toxic support.
Buy Now