A great cup of coffee can be hard to come by, especially when you're on the road.
We all know chain shops leave much to be desired, and when we're out of our element in different parts of the world, we can't fall back on old favorites – where's your corner coffee shop when you need it?! What would you do for the perfect cup of coffee? How far would you travel? For most of us, it's about as far as our kitchen. But for pro-snowboarder and founder of Pacific Crest Coffee Ralph Backstrom, finding great coffee while he trekked across the globe for his career was what led him to fine-tune his home roasting and brewing skills, which up until that point had simply been a hobby that he dabbled in. 
Introduced to the world of coffee roasting and home brewing in 2009 by his late brother, Arne Backstrom, a professional freeskier, with the gift of an Aeropress and a pound of green coffee beans, it wasn't until Arne's passing a year later that Ralph began his roasting experiments in earnest, in part a way to feel closer to his brother. Moving from roasting his beans in a pot (a process that led to some not-so-great roasts) to using Arne's stovetop Whirly-Pop popcorn popper (a favorite tool among home roasters) — Ralph's home-roasted coffee began to improve.
As Ralph's snowboarding career took off, so did his roasting skills. Soon, he was packing his own beans and brewing equipment as he traveled the world for competitions and film trips from Japan to Alaska, Greenland to Europe, and in 2016 he began selling his own nitro cold brew coffee to a food truck at the base of Squaw Valley Resort in California. Demand for Ralph's coffee increased from Tahoe-based restaurants and markets. Like many side hustles that hint at the potential of becoming full-fledged businesses, balancing the hobby he was so passionate about, with his career in snowboarding, proved challenging. 
During this time, Ralph connected with Travis Ganong, one of America's fastest downhill ski racers and an avid coffee drinker. Ganong had used coffee as an integral aspect of his training and racing routine — and often popped by Ralph's Squaw Valley home to drink his unrivaled cold brew. It was during these visits that an idea formed to use their sponsorship dollars to officially launch the business, and as Ralph's snowboarding career slowed down, Pacific Crest Coffee Co. was born, with Travis as co-founder.
While Travis is still a full-time ski racer, on any given day you'll find Ralph taking on any number of tasks in the Truckee headquarters of Pacific Crest Coffee Co. — from barista to roaster to managing the marketing side of the business. What sets the coffee apart from other roasters out there? With a focus on sustainability and thoughtful sourcing practices, customers know they're getting the best possible coffee from people who are really, really passionate about it. And with their subscription service, anyone can enjoy the perfect cup of coffee wherever they are, at home or further afield. 
Are you a coffee drinker? Share your tips for the perfect cup with us by tagging @AvocadoMattress and #AvocadoGreenMagazine!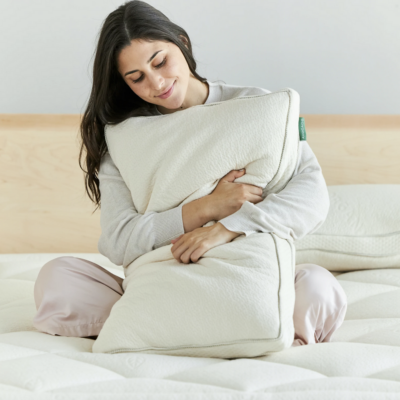 Shop Pillows
The Essential Organic Pillow Collection
Gentle, breathable, non-toxic support.
Buy Now