Today's recipe is courtesy of Jessica Murnane, author of the One Part Plant cookbook, and it might be the only granola recipe you'll ever need. Simple to make, perfectly crunchy, and just sweet enough — it makes for an effortless yet elegant plant-based breakfast.
Jessica Murnane is also the creator of the One Part Plant movement (an initiative to get everyone on this planet to start eating one plant-based meal each day), host of the One Part Podcast (where she brings tough questions to inspiring people), and founder of Know Your Endo (an endometriosis education and awareness platform). You also may have seen her contributions on Bon Appétit, Goop, Shape Magazine, The Kitchn, Mind Body Green, The Coveteur, Food 52, and PopSugar. She currently lives in Charleston, South Carolina, with her husband, son, and lots of palm trees.

Her cookbook,
One Part Plant
is full of amazing, vibrant, delicious plant-based recipes with the approachable ethos of starting one meal at a time. Her writing is super informative and bursting with doable tips — but still entertaining enough to read in bed.
Try the granola recipe below, which will make you a believer, and then go get her cookbook. (Personal favorites so far: French Toast Sandwich with Cardamom Syrup, Saag Plant-neer, and Chocolate Hazelnut Crispies.)
Crunchy Chunky Granola
Recipe by Jessica Murnane from One Part Plant Cookbook
Makes 4-6 servings
It was the Nature Valley Bar that started my love affair with granola. They were so crunchy they'd nearly break your teeth, but it didn't matter because they were the perfect combination of salty and sweet (and came two to a pack!). I wanted my little boy Sid to experience the joy of salty and sweet granola, but with way less sugar (and I also didn't want to break the few teeth he had). This is the recipe I came up with. He eats it with a bowl of rice milk as a breakfast treat and I love using it as a topping for smoothie bowls.
Ingredients
1 cup raw walnuts
1 cup rolled oats
1/4 teaspoon sea salt
1/4 cup unsweetened flaked or shredded coconut
1/4 cup real maple syrup
2 teaspoons vanilla extract
1/4 cup coconut oil, melted
Directions
Preheat the oven to 350 degrees and line a rimmed baking sheet with parchment paper.
In a food processor, pulse the walnuts until they are broken up, but not to a fine meal—you still want chunks. Add the oats and salt and pulse 10 to 15 times to break up the oats a bit; again, you want to make sure a lot of the oats are still intact.
Transfer the oat mixture into a medium bowl and stir in the coconut, maple syrup, and vanilla until combined. Add the coconut oil and give it another couple of stirs.
Press the mixture onto the prepared baking sheet. You want to make sure to spread it as evenly as you can, keeping the mixture together and not creating big holes where you see the parchment showing through (this will create the chunkiness).
Bake for 12 to 15 minutes, until the edges are slightly browned. Remove the pan from the oven and let it cool for at least 15 minutes. Don't touch it! After the 15 minutes are up, break up the granola with your hands into whatever size chunks you love. Store it in an airtight container for two to three weeks.
Keep up with Jessica at JessicaMurnane.com, on Facebook, or Instagram.
Photo credit: Nicole Franzen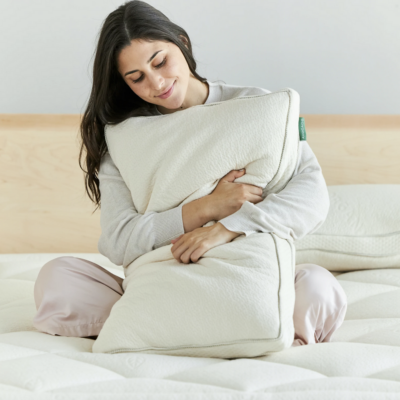 Shop Pillows
The Essential Organic Pillow Collection
Gentle, breathable, non-toxic support.
Buy Now