It's a pretty startling, but not surprising reality: over one-third of children under the age of 18 in the United States are overweight or obese. We don't know exactly all of the reasons for this epidemic just yet, but we do know how to help – with better nutrition and more movement. And Wellness in the Schools is doing just that. They see the time that children spend at school (about 12,000 hours between kindergarten and high school graduation) as the perfect opportunity to begin forming wellness habits.
Wellness in the Schools (WITS) is a national non-profit that teaches kids healthy habits to learn and live better with a noble vision: to end childhood obesity.

"We partner with public schools to provide nutrition and fitness education, healthy scratch-cooked meals and active recess periods. Our approach improves student outcomes and drives systemic, long-term change, shifting school cultures."
WITS began in 2005, in one New York City classroom, and has grown to host programs in more than 120 public schools across the U.S. To date, they've cooked over 11 million school meals and have led more than 54,000 hours of play.
Their holistic approach encompasses three areas: nutrition, active play, and growing and gardening food.
Feeding Kids Real Food
WITS works within public schools to help feed kids "real food" through their WITS Café program. Their chefs work with school cafeterias to completely recharge their offering from the menu to training staff and educating kids. They focus on implementing "from scratch" cooking, healthy recipes made from unprocessed ingredients, access to water, and expanding salad bars. Throughout the year they will even send chefs to prepare interactive meals at lunch time to help get the kids excited and involved. Their Chefs also lead WITS Labs, seasonal culinary and nutrition education classes for students. In the Labs, students prepare the simple, affordable, and healthy recipes that they will then experience at lunch.

"The sessions introduce students to the importance of healthy eating and seasonal ingredients, inspiring them to share their newly acquired knowledge with their families. Programs like these have been shown to positively influence children's food preferences and behaviors, according to recent studies."
In addition, WITS Bits are 20-minute in-classroom lesson that use hands-on demonstrations to teach basic nutrition, such as "eat the rainbow" and how to avoid "sugar overload."
Get Your Kids Cooking
The quickest way to overcome picky, disinterested eaters at dinnertime is to get them involved in the process. Here's a quick and easy fall recipe from WITS to cook with your kids.
Flatbread Pizza or Pizza Salad
Ingredients
6-8 ripe tomatoes, cored, seeded/chopped (approx. 3 cups chopped)
1/2 tsp salt
1 clove garlic, minced
3/4 cup mozzarella, shredded or cubed
2 Tbsp fresh basil, thinly sliced
1-2 Tbsp olive oil (optional)
6 6-inch flatbreads
Instructions
In a large bowl, sprinkle tomatoes with salt, stir and allow to stand for 5-10 minutes. Stir in garlic.
For pizza:
Divide tomato sauce between flatbreads.
Add mozzarella and basil. Cook in preheated 375° oven until cheese is melted and flatbread is warmed through, about 8-10 minutes.
For salad:
Cut or tear flatbread into bite-sized pieces.
Optional:
Arrange flatbread in a single layer on a cookie sheet; toast in preheated 375° oven just until heated through. Toss bread with olive oil. Stir bread into tomato sauce. Add mozzarella and basil. Season to taste with salt and additional olive oil, if desired.
Support Wellness in the Schools
This month we are proud to serve as a giving partner for WITS, who is also a member of 1% for the Planet. There are many ways to get involved in helping to end childhood obesity. Whether you are interested in bringing WITS to your own school, donating to their cause, or volunteering — every effort matters. You can also keep up with WITS by following them on Facebook, Instagram, or Twitter.
Do you cook with your kids? What are your favorite ways to teach them about healthy nutrition and movement? Continue the conversation on Facebook or Instagram with @AvocadoMattress or #AvocadoGreenMagazine.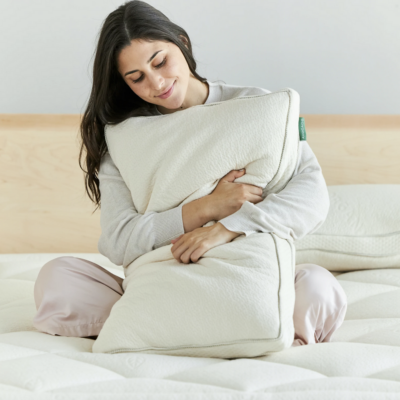 Shop Pillows
The Essential Organic Pillow Collection
Gentle, breathable, non-toxic support.
Buy Now