Everyone loves flowers. While yes, it's nice to gift that special someone a little trinket to show how much they mean to you, you'd be hard-pressed to find anyone who doesn't love being surprised with a big bouquet of blooms on their celebratory day.
Whether your loved one swoons for sunflowers or raves about roses, the language of flowers is one that transcends words. So even when you don't know what to say, flowers say it all (coming from someone notoriously tongue-tied when it comes to filling out greeting cards).
Picking up any old bouquet from the florist or your local market may seem straightforward enough (though Martha S. may advise you to maybe consider putting in a bit more effort — it's for mom, after all), what you may not realize is those supermarket florals — and even the flowers provided by your local florist — could come with a dark side.
What's the problem with conventional flowers? Turns out, a lot. According to The Bouqs, every 1 in 3 stems in the conventional flower market go to waste. In fact, it's estimated that nearly 40% of cut flowers end up in the trash. That's a lot of wasted effort for the growers and the florists, not to mention wasted materials used to grow them, fuel used to transport the blooms and all the materials used to package them. Only to have nearly half of all cut flowers end up in a landfill. On top of that, most flower farming is outsourced to farms paying below minimum wages to workers in poor conditions. Similar to that of fast fashion, the floral market is one that creates a great deal of waste, both organic and chemical, and puts the very people hired to cultivate the flowers at risk. You could say it's a market ripe for the picking (sorry, had to).
A Botanical Alternative
Lucky for us, recently there's been an uptick in eco-conscious alternatives to the standard bouquets ordered up through 1-800-you-know-what and floral market giants that start with F and end with D. Floral upstarts that have identified the very real need for flowers cultivated and harvested with empathy for the Earth and the people tasked with growing and collecting them. As consumers demand transparency in food, decor and fashion, it only makes sense that floral providers would be soon to follow.
Ready to find the perfect source for all the graduations and birthdays on your list? Check out these three floral companies shaking up the game.
#1 — The Bouqs
You may remember this floral start-up from their appearance on Shark Tank. Sadly the Sharks missed out on their chance to fund this farm-to-table floral brand back in 2014 – but that setback didn't stop The Bouqs from blooming (in fact, the team went back on the show early this year to share what they'd learned and how they'd flourished). The Bouqs works directly with local florists and vetted partner farms from around the world to cut back on the waste created by traditional floral companies. Flowers are cut from the farm the day you order (farmers only cut what they sell), then sent to your local artisan florist for assembly. Once the flowers are received by your florist, they're typically ready within a couple of hours, meaning your gorgeous bouquet is farm fresh, better for the Earth and better for the farmers, too. No cheesy teddy bears or neon vases in sight – you can even sign up for a subscription to enjoy fresh flowers all year.
#2 — Bloom2Bloom
Founded by friends Ren and Whit, Bloom2Bloom was founded to make the flower buying experience, in a word, better. Lifting the veil on where your flowers are grown and by whom, Bloom2Bloom partners with U.S. farms and growers to guarantee super fresh flowers, with bouquets made right there on the farm. Flowers are typically picked one to two days in advance (sometimes there's even a little dirt on 'em), then shipped directly to you, cutting out the middleman. The flowers available through Bloom2Bloom vary by growing season, meaning you may not always be guaranteed the flower of your choice. But what it may occasionally lack in variety (hey, you can't force Mother Nature), Bloom2Bloom makes up for in social impact: A portion of every sale goes toward Wish Upon A Teen, a 501(c)(3) organization "dedicated to providing resources, time and opportunities to teenagers with severe life-limiting medical conditions."
#3 — Farmgirl Flowers
The farm girl behind Farmgirl Flowers, Christina Stembel grew up on a very real farm in rural Indiana. Now, as the founder of Farmgirl Flowers, she partners with family-run farms who pay living wages and avoid harmful chemicals to provide transparent sources for the gorgeous blooms found on her site (really, you can learn about her growers — all of them). On top of that, Farmgirl Flowers works to further reduce waste by eschewing the traditional cellophane, using recycled burlap sourced from local roasters to wrap the flowers instead. With a what-you-see-is-what-you-get philosophy and super quick ordering times, Farmgirl Flowers delivers gorgeous bouquets you can feel good about.
What are you gifting for Mother's Day? Share with us on Instagram or Facebook by tagging us with @AvocadoMattress or #AvocadoGreenMagazine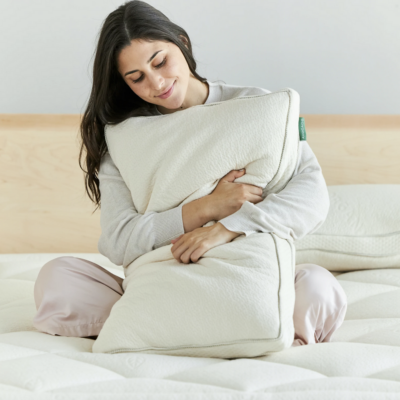 Shop Pillows
The Essential Organic Pillow Collection
Gentle, breathable, non-toxic support.
Buy Now