The electronics industry is one that doesn't get a sustainability facelift very often. The necessity of the materials used to create computers and smartphones often means that there's little room for sourcing cleaner or more ethical materials that still get the job done.
The challenges of creating sustainable products in the electronics industry are complex and varied, given the technical nature and highly specific requirements of the components needed. But as more transparency comes to the industry revealing practices that put both people and planet in harm's way, more companies are stepping up and asking, "What can we do differently?"
Human Rights and Workers' Health
The raw materials needed for several electronic components are metals extracted from far-flung regions. Elemental materials like copper, aluminum, and silicon are mined by workers who often lack basic protective gear, and as a result suffer from health problems from the dust associated with these mines.
Respiratory ailments and cancers are common among the workers, including lung cancer, tuberculosis, and bronchitis.
Still more concerning are the issues of human rights violations and supporting conflicts in war-torn regions with the mining of these minerals. Many advocacy groups, like the Enough Project, are calling for supply chain transparency, in an effort to empower consumers to avoid supporting companies inadvertently financing wars and violence through purchase of materials in these regions.
Through the Enough Project's #DemandtheSupply feature you can learn more about companies who are actively working towards supply chain transparency, and to protect the lives of the people caught in the middle of the conflicts financed by the demand for raw materials for electronics.
The Impact on Our Planet
Housing of many electronics, particularly speakers, are by and large plastic, which is a direct product of the petroleum industry. What isn't plastic is often silicon, and even these materials can often be traced back to mines that pollute and put worker health and rights at risk.
The problem with mining metals for electronics lies primarily in the waste created. Gaping holes in the planet expose otherwise sealed and contained toxic minerals like mercury, and cyanide waste accumulates, contaminating nearby water sources during rains.
The manufacturing process for electronics is one of the most notoriously wasteful in the world, and with materials that are difficult (and often hazardous) to recycle, companies and consumers alike are searching for alternatives that keep technology moving forward, without compromising the safety of people and planet.
The Movement, the Music: Meet House of Marley
Built on the principles that fabled reggae legend Bob Marley embodied — a love of music, people, and nature — House of Marley was born.
Over the years, this company has rapidly begun to change the way music-lovers see their favorite accessories, swapping materials for biodegradable and sustainably-sourced options that never do the Marley family name the disservice of compromising sound quality.
The results are beautiful speakers, headphones, and turntables that are innovating with sustainable materials, while maintaining the mellow, voluminous sound audiophiles crave.
Sustainable Materials
Forget plastic faceplates and polyester speaker fabric — House of Marley gives music gear an update, while drastically reducing the use of petroleum-based plastics in their products. Bamboo housings, and speakers designed with their recycled hemp, plastic, and PET REWIND™ fabric give these products a stunning look that's organic and modern, and a sound that's unexpectedly baller.
Addressing the issues surrounding mined materials, House of Marley even uses recycled aluminum and silicon in their products, reducing the dependence on mining, without compromising comfort and functionality in products like earphones and speakers.
The coolest thing about of House of Marley is that this is a company who recognizes the importance of high-performance audio, but has managed to do it with sustainable materials. Featured in their product line are also these sustainable materials that dramatically lessen the impacts of their manufacturing processes:
Recycled paper — Used in product packaging
Wood composite — More durable than wood, and less energy-intensive to engineer into products
FSC®-certified Wood — Guaranteed to be sourced from sustainably managed forests
Stainless steel — 100% recyclable, durable, and minimal environmental impact
Leather — Biodegradable and durable
Recycled plastics — Used in packaging trays and speaker and headphone housings
Recycled PET — Primarily made from recycled plastic bottles, used in REWIND™ fabric
Organic cork — Renewable, biodegradable, and natural
Organic cotton — Used as a component in their REWIND™ fabric, uses significantly less water to farm, and no pesticides or herbicides
Planting Trees
In addition to their crazy cool commitment to sustainable materials, the House of Marley plants one tree for every product they sell, as part of their Project Marley initiative. With a percentage of their sales supporting OneTreePlanted.org, House of Marley is working to clean up the air and re-green a planet who has seen its forests devastated by the impacts of industry.
Peace, Love, Music & Trees
The soul of and spirit of Bob Marley's music lives on in the turntables and speakers crafted from materials that are saving the planet. With companies like House of Marley taking initiative to clean up the planet by presenting sustainable alternatives to products — let's face it — we just can't live without, the world gets a little greener.
Product We Love
The Get Together Mini Portable Bluetooth Speaker
House of Marley was nice enough to send me a Get Together Mini Portable Bluetooth Speaker to try for myself, and I gotta say, I'm in love.
First of all, don't let that dainty bamboo faceplate fool you — this thing is STOUT. It's bigger than I expected, which I love — it sits on the vintage table in my living room like it's a little piece of furniture on its own, and it looks freaking gorgeous.
The speaker comes with four different international plug adapters, so it's great for nomads. There's also the standard USB charging cable, and it can even act as a charger for your cell phone.
The sound is surprisingly voluminous for a portable speaker. We played everything from reggae to instrumentals on it, and in every case, the sound was crisp, clear, and oh-so smooth. Pairing is easy and hassle-free, and the charge carried me through an afternoon and evening of jamming, with plenty of juice to spare in the morning.
More than anything though, I can't get over how nice this thing is for the price point. At about $150, I wasn't expecting anything nearly this swanky, but it has a great sound, looks fantastic, and is made of bamboo, REWIND recycled fabric, and recycled plastic bottles.
I'm in love, and sorry husband — I'm not sharing.
Ready to try something from House of Marley for yourself? Avocado Green Magazine readers — take 15% off + FREE SHIPPING on any product with code MARLEYGREEN15! Valid through February 26th, 2018. Cannot be combined with other offers.
What's your favorite Bob Marley song? Tell us on Facebook or Instagram, and tag us in the post! @AvocadoMattress or #AvocadoGreenMagazine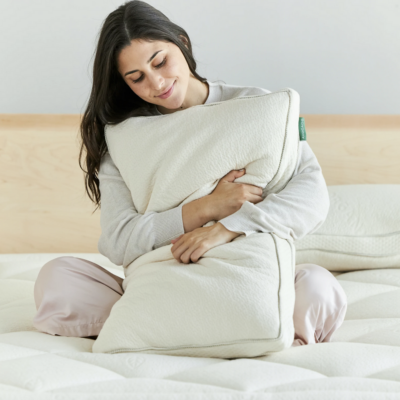 Shop Pillows
The Essential Organic Pillow Collection
Gentle, breathable, non-toxic support.
Buy Now