If you're someone with a sweet tooth, you know the struggle is real when it comes to balancing your love for sweets with your love for maintaining a healthy, balanced lifestyle. A simple stroll down the baking aisle at your local market can feel like a battleground, with brightly-colored boxes of cakes, cookies and treats calling for your undivided attention to their chocolaty goodness.
What's not so good about these tasty treats? The preservatives, processed white sugar and vegetable oils they're often packed with. And while the real, home-baked thing may be well deserved from time to time, if you're also avoiding gluten, dairy, processed sugar and the laundry list of inflammation-causing ingredients that often lurk in sweet, sugary bites, the time and energy it takes to make something compliant isn't always feasible (or affordable).
Besides avoiding the baking aisle altogether (did you know the outer aisles of the grocery store are generally the healthiest?), keeping a few simple, whole food recipes in your back pocket for those days or nights when you're just craving something sweet is a great strategy for dodging the fake stuff. Raw food desserts don't all have to taste like bird food (unless you want them to)! With the right ingredients you can whip up something that only tastes indulgent; on the DL, you're supporting skin wellbeing, gut health, steady energy levels, and more.

Take these easy raw brownies for example. They whip up in about 20 minutes and can be sliced into bars, rolled into bites, or chopped into squares as big or as small as you please. Top 'em with coconut flake and almond butter, as shown in the recipe below, or add sliced strawberries, or a dollop of whipped coconut milk, or even a scoop of your favorite non-dairy ice cream or greek yogurt. The combinations? Endless. The guilt? Non-existent. These brownies are only filled with the good stuff.
Raw dates, packed with magnesium and vitamins K and A.
Walnuts, loaded with healthy fats.
Raw cacao, for mood-boosting antioxidant properties.
Cinnamon, for a digestive boost.
Ready to meet your new go-to treat? Grab the recipe below.
Raw Date Brownies
Ingredients:
2 cups pitted Medjool dates
1/4 cup walnuts (or a mix of walnuts and cashews)
1/4 cup unsweetened shredded coconut
4-5 tbsp raw cacao (or cocoa) powder
2 tsp vanilla extract
Pinch or two fine Himalayan pink salt
Optional: Pinch of cinnamon and/or nutmeg
Optional topping: Almond butter, extra unsweetened shredded coconut
Tools:
Parchment paper
Loaf pan
Sharp knife
Directions:
STEP 1
Put the dates in a small bowl and cover with warm water. Allow to soak for 10 minutes.
STEP 2
While the dates are soaking, combine walnuts, coconut, cacao powder, salt, and vanilla in a food processor. Pulse until the nuts are finely chopped.
STEP 3
Remove the dates from the water, pressing out any excess liquid (it's fine for a little extra to linger). Add the dates to the walnut mixture and pulse to combine. Your mixture should start to come together fairly quickly and stick together when pinched. If too dry, add a bit of water, if too crumbly, add more cacao powder.
STEP 4
Line the loaf pan with parchment and press the brownie "batter" evenly into the dish. If the batter sticks to your hands, rub a bit of coconut oil between your fingers. Note: you can also make batter into bon-bons by rolling it between your palms. Do what feels right.
STEP 5
Place the pan in the fridge and allow to set for 30 minutes. Listen to a podcast, read a book. Paint your masterpiece. Once set, remove the pan from the fridge and use a sharp knife to carefully slice brownies into squares or bars. Store in a sealed container in the fridge until ready to serve.
TO SERVE
Top with extra shredded coconut and/or a drizzle of almond butter. Maybe even a dollop of your favorite unsweetened coconut yogurt, too, or a scoop of non-dairy vanilla ice cream. It's dessert, after all — go wild.
Do you have a favorite raw or paleo recipe? Share it with us on Instagram or Facebook by tagging us with @AvocadoMattress or #AvocadoGreenMagazine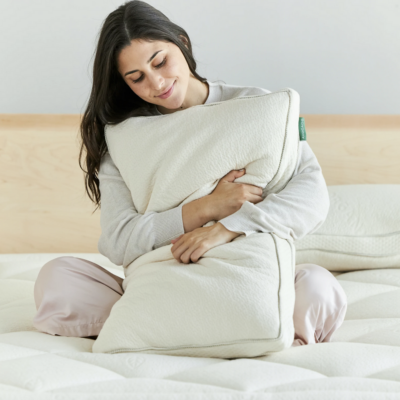 Shop Pillows
The Essential Organic Pillow Collection
Gentle, breathable, non-toxic support.
Buy Now