As Thanksgiving comes into view, another "holiday" looms ever closer… Black Friday. Over the past several years, Black Friday has slowly grown from its humble beginning as THE sale day of the year to a month-long extravaganza, nearly eclipsing Thanksgiving all together. Why is it called "Black Friday"?
It might surprise you to learn that, originally, the Friday after Thanksgiving was dubbed "Black Friday" by the Philadelphia Police Department not to describe positive profit gains by businesses but in reaction to the all-out mayhem caused by holiday sale shoppers. Apparently, the sight of frantic shoppers wasn't any better back in the '60s when it was coined as it is today. Eventually the name's origins were deemed a PR problem and the alternative story we all know today was adopted. Black Friday? That's the day when businesses "in the red" finally turn a profit thanks to all those shoppers and go "in the black".
A small alternative
While many large businesses have extended their Black Friday deals to run all month long, it's not uncommon for true Black Friday fans to head out to the mall as soon as the last Thanksgiving dessert is enjoyed and the dishes are done — yes, the major sales start that early. While it may be hard to turn down a great deal, Black Friday has larger implications for the employees of these businesses, who are required to report to work on the holiday and at all hours of the night. When you think about it, the concept of black Friday seems crazy (especially when most things can be purchased online these days — hel-looo Cyber Monday!), but thankfully, an alternative to the Black Friday rush popped up just a few years ago and it's one just about anyone can get behind: Small Business Saturday.
What is Small Business Saturday?
Founded by American Express in 2010, Small Business Saturday takes place the Saturday after Thanksgiving and the day after Black Friday. On Small Business Saturday, shoppers are encouraged to "Shop Small" by supporting the local and small businesses they love. The shops right outside their doors, in their communities, and even online. Why is Small Business Saturday important? Think of it as a reminder to support the independent businesses that make your town or city unique, and provide a handmade or independent alternative to the big box stores — online and IRL. By shopping locally and supporting independent businesses, you're literally helping your neighbor, teacher, and friend thrive while ensuring the economic health of where you live On Small Business Saturday, shoppers are encouraged to "Shop Small" by supporting the local and small businesses they love. and you get a great gift to give in the process! It's a win-win-win! Ready to Shop Small this holiday season? Below we've rounded up a few ideas for planning out your Small Business Saturday holiday shopping list.
Your Community
The absolute best way to support small businesses on Small Business Saturday? Shop local! Keep your community thriving by patronizing the cafes, boutiques, eateries, and markets that make your community unique. Shopping locally not only supports small businesses, the wellbeing of your local economy, and you as you search for the perfect gift, it's also a great way to connect with your neighbors and people within your town or city. Keep an eye out for the Shop Small insignia on sandwich boards and in windows to see if a business is participating, but be sure to visit the ones who aren't displaying it too!
Etsy
Live on a remote island? In the middle of the woods with no small shops to be seen for miles around? Or perhaps you're just looking to round out your to-gift list… have no fear, Etsy is here! Purveyor of handmade and vintage goods since 2005, Etsy is the place to go if you're in need of a hand-stamped leather wallet, watercolor portrait of your favorite cat, or you're looking for the perfect vintage velvet dress to wear to the company holiday party. Etsy is pretty much one-stop shopping for everyone in the family, from handmade stocking stuffers to Pinterest-worthy tabletop decor.
Get Crafty
Shopping small doesn't have to mean shopping in stores and craft fairs don't have to mean doilies and glitter. Check out local listings for juried craft fairs and holiday bazaars to connect with makers in person and learn about their wares. These events often include local food and drink and are the perfect kick-off to the holiday season. What's better than shopping while you sip something warm and festive?
Hit up the archives
Looking for an eco-friendly gift from a small business? Check out our archives to discover incredible companies working to make positive changes in the world!
Where are you shopping on Small Business Saturday? Share with our community by tagging us on social with @AvocadoMattress and #AvocadoGreenMagazine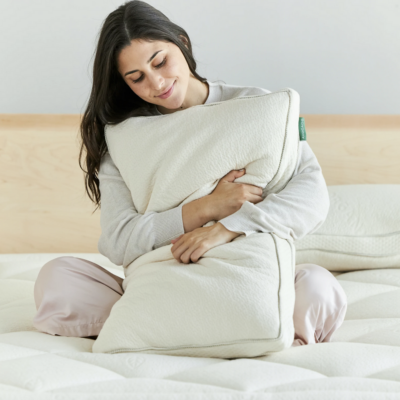 Shop Pillows
The Essential Organic Pillow Collection
Gentle, breathable, non-toxic support.
Buy Now