Sticking to a paleo diet can be challenging in a world of fast food and complex carbohydrates, but Christmas is OUR TIME. Nothing brings out the creativity of a paleo baker like the holiday season, and these recipes are proof that just because you're missing the flour doesn't mean you're missing out on anything.
Get your apron on, pour some wine, and drag out the coconut flour — it's time to bake some paleo Christmas cookies.
Paleo Buckeyes
You can never, ever go wrong with peanut butter and chocolate, and these little paleo buckeyes are way too easy to make to miss out on. If you don't have a double boiler to melt the chocolate, don't sweat it. As long as you watch it really closely and stir it over low heat, you shouldn't scorch it. If in doubt, add a ½ teaspoon of coconut oil to give you a wider margin for error.
Paleo/Vegan Jam Thumbprint Cookies
You might have to get creative with the jam used in these cookies to make them truly paleo (the baker, Rachel, has a GREAT recipe for paleo strawberry rhubarb jam), but it's worth the trouble. Colorful and satisfying to make, try using a baking stone to get these baked evenly without scorching them.
Paleo/Vegan Gingerbread Cookies
Ain't no party like a gingerbread party 'cause a gingerbread party don't STOP! If you have an afternoon to spend with your kids, this recipe is a great way to do it, with ingredients you can feel great about. The decorating part can be tricky to keep paleo, but there are some great paleo frosting recipes out there, and you can always use dried fruits and nuts instead of candies.
Paleo Chocolate Mint Balls
These little gems are absolutely perfect for filling up a tin and sending to friends and family, and with a smell that's oh-so-minty fresh, they won't last long. Make sure you get the real peppermint extract for these cookies — trust me, they're worth it.
Maple Vanilla Bean Meringues
Meringues are neat little cookies that are actually piped and hardened foamy sweetness. They can be made a in wide variety of colors and flavors, and are great for snacking on shamelessly before a big meal. This combination of fresh vanilla and maple syrup might make it hard for you to save room for dinner though, so snack cautiously.
Paleo/Vegan Salted Caramel Thumbprint Cookies
I don't care who you are, I don't care where you're from, salt and caramel belong together. This recipe is paleo, guilt-free, and I'll take it. Tasting a lot like a Twix bar when they come out, these little gems might be too gooey and delicious for sending to relatives, so it's my professional recommendation that you eat them all yourself.
BAKE THE SALTED CARAMEL THUMBPRINTS
Paleo Gingersnaps
Gingersnaps are one seriously underrated cookie. Not only are they spicey and delicious, but when I'm feeling a bit under the weather, I tell myself there's ginger in them, so they count as medicine (my logic is undeniable). These paleo gingersnaps are rolled in coconut sugar, and the combination is absolutely sublime.
Paleo Cutout Sugar Cookies
Just because you're working the paleo program doesn't mean you and your kids can't still make those sugar-coated memories the rest of the world does. This paleo sugar cookie recipe is perfect for getting creative with kids in the kitchen (just make sure you put the coconut milk in the fridge the night before).
Paleo/Vegan Pecan Pie Fudge
Insanely simple and packed with everything you love about pecan pie — minus the processed sugar — this recipe is the perfect excuse to break out your silicone baking molds. Be careful toasting your pecans though — it takes a while for a pan to get hot enough to start the process, but once it begins, they can burn quickly.
Paleo Pumpkin Caramel Pecan Fudge Bars w/ Cookie Crust
I'm sorry, did you get all of that? Pumpkin + Caramel + Pecans + Fudge + Cookies = Me never fitting into these pants again.
This bar recipe is everything we ever dreamed of in a holiday baking recipe, and somehow, it's still paleo. The name of the game with this paleo recipe is coconut, so be sure you have everything on the list before you get too committed to eating a pan of them tonight. Also, see the chef's special notes at the bottom of the recipe, because, hint, they are super duper important.
BAKE THE PUMPKIN CARAMEL FUDGE BARS
Paleo Coconut Oil Fudge
Making fudge is that impossible feat you're supposed to overcome every holiday season that paleo people thought they got a free pass on — and they were right. So much easier than a conventional fudge recipe and still insanely delicious, this paleo fudge is 100% processed sugar free and melt in your mouth amazing.
What are you baking today? Tell us on Facebook or Instagram and tag us in the post! @AvocadoMattress or #AvocadoGreenMagazine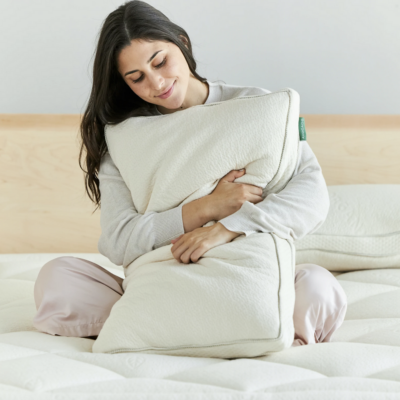 Shop Pillows
The Essential Organic Pillow Collection
Gentle, breathable, non-toxic support.
Buy Now