I'm a multi-faceted woman with a CRAZY amount of interests, and hey, I'm hard to shop for. If there's one thing I can get into though, it's any gift that's made mindfully. From sustainable materials to non-toxic ingredients, this list is full of some of the coolest gifts out there that ladies of all kinds are bound to love.
Annmarie Skincare
For the woman that never buys this stuff for herself (hello, that's me), Annmarie skincare is made from high-quality natural ingredients, and their products are INCREDIBLY effective. Non-greasy and smelling oh-so-good, she'll love you for putting these goodies in her stocking.
Get her a bottle of something amazing (hint: their Herbal Facial Oil is AMAZING), or treat her to one of Annmarie's stellar gift sets.
Honeybee Gardens Makeup
Makeup is hard to buy for other people, especially when they're picky about what they put on their skin. Honeybee Gardens uses natural ingredients you can feel good about and creates effective cosmetics that are surprisingly affordable.
Their monthly subscription Buzz Box is chock full of goodies and only $27/month, but they also have some adorable gift sets for face, body, and hair if you're not sure what colors and tones she prefers.
Avocado Green Pillows
I don't know a person alive that doesn't want some insanely squishy new pillows. Pillows at Avocado Green are encased in a 100% organic cotton cover, free of nasties like flame retardant chemicals, and filled with a combination of latex ribbons and silky kapok fiber. Oh yes, swoon. Give her the beauty rest she deserves.
Ecojot Journals and Planners
A great journal is hard to come by, but one made from sustainably sourced materials and post-consumer content? I didn't even know they existed until I stumbled upon this incredible company, Ecojot. They specialize in making some seriously adorable journals and planners, all printed on post-consumer recycled materials with vegetable based inks.
The planner has officially made a comeback, so don't be shy about gifting her one just in time for the new year.
Pacifica Solid Perfumes
Pacifica makes a variety of perfumes, from spray to roll on to solid, but these little pucks are perfect for the cool weather and melt right into your skin for long-lasting scent. Vegan and made with natural ingredients, these lush scents are paraben-free and make some seriously great stocking stuffers.
Beeswax Candles by Beeswax Co.
I'm hopelessly in love with this little family-owned beeswax candle company who makes all of their 100% natural beeswax candles by hand. Free from artificial fragrances, dyes, and petroleum-based products, these candles are made from locally harvested beeswax, and they're oh-so-sweet to smell.
You can't go wrong with any of their candles, but I particularly love their pine cone beeswax candle!
Essential Oils + Diffuser by Mountain Rose Herbs
Essential oils can be a highly personal choice, so this is a tricky one, but an assortment of high-quality oils and a great diffuser makes an incredible gift. I highly recommend Mountain Rose Herbs for essential oils — they carry a wide variety of high-quality, certified organic essential oils, and their product descriptions are rich with information on how to use them. If you're not sure where to start, their sampler kits make great gifts.
As far as diffusers go, everyone has their opinions on which ones are the best, but this Wood and Glass Aromatherapy Nebulizer with LED Mood Lighting is on my Christmas list because it's 100% plastic-free — none of those plastic chemicals get leached into the air as it works.
Audiobook Subscription with Audible
Women are some fantastic multi-tasking creatures, and if there's one gift that caters to that primal skill and the desire to cut back on our consumption of resources, it's audiobooks. Gifting someone an audiobook subscription is pretty much the coolest thing you can do this holiday season.
Audible has a feature that allows you to gift memberships to recipients, from three to 12 months in duration.
Organic Pajamas from PACT
I don't care who you are, it is AWESOME to get pajamas for the holidays, especially when they're made from 100% organic cotton. Gift some from PACT that are hopelessly comfy and crafted from sustainable materials you can feel good about gifting.
Luva Huva Ethical Lingerie
If she's that kind of friend, you can't go wrong with this insanely gorgeous lingerie from Luva Huva. Many of their products are made with materials like hemp and organic cotton, and they even recycle trimmings from their manufacturing process.
Recycled Wool and Nylon Beanie by Patagonia
I never get sick of talking about how great Patagonia is. Aside from using materials like ethically sourced down and recycled polyester, this company frequently backs environmental initiatives that get it done, son. This cable knit pom beanie is hopelessly adorable and made with recycled wool and nylon — Patagonia does it again.
House of Marley Portable Bluetooth Speakers
Bluetooth speakers are a girl's best friend, don't listen to the diamond commercials. This set from The House of Marley is made with their signature Rewind fabric (made from recycled organic cotton, hemp, and PET) and a bamboo faceplate. It looks so organic, you'd never guess it was one of the most ballin' speakers on the market.
Ethical Jewelry from Bashford Jewelry
Okay, so diamonds might not be a girl's best friend, but it definitely doesn't hurt if they're conflict-free. Bashford Jewelry is an incredible company that ensures their materials aren't putting people in harm's way, and even recycles precious metals to cut down on the environmental impacts of mining.
Corature Crossbody Bag by Corature
Cork is a material that's highly sustainable because it can be harvested over and over again, without actually harming the tree. Corature makes a variety of bags and wallets from this eco-friendly material, but this crossbody bag is particularly great for stashing more than just cash.
Is there something on your list you didn't see here? Tell us what it is on Facebook or Instagram and tag us in the post! @AvocadoGreenMagazine or #AvocadoGreenMagazine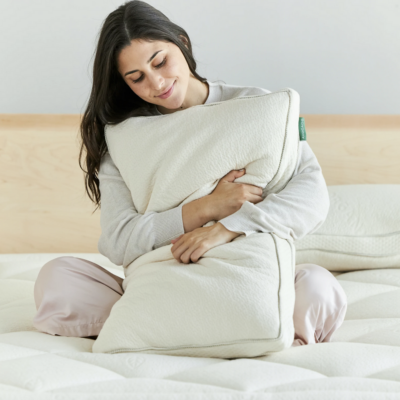 Shop Pillows
The Essential Organic Pillow Collection
Gentle, breathable, non-toxic support.
Buy Now