The month of major holidays is finally here, and along with those long shopping lists for gifts and ingredients, we're willing to bet you're staring down a calendar choc full of parties, potlucks and gatherings, too. With Hanukkah, Christmas, New Year's Eve and more on the docket, December is the month for gathering with family, friends and colleagues to celebrate the season, and you're likely in need of a gift or two to thank your gracious hosts throughout the month.
Whether you're staying with family on Christmas Eve or attending a Hanukkah party hosted by a friend or co-worker (or any other possible holiday event) it's customary to bring along a small token of your appreciation for your host and/or hostess. Along with sending in your RSVP in a timely manner and arriving on time (no, it's not actually fashionable to be late), bringing a small gift for your host/s shows good manners and demonstrates your appreciation for their time spent organizing the soiree and/or opening their home to you. It's simply good manners. But the question remains: what to bring?
Adding one (or several) more gifts to your holiday shopping list doesn't have to be stressful, remember the size and cost of the gift is insignificant, what matters is that you've considered what they'd appreciate. Today we're sharing some ideas for the perfect eco-friendly gifts for the holiday host or hostess, read on to make your holiday shopping just a little bit easier:
Eco-Friendly Flowers
If you're attending an event as a +1 or perhaps don't know your hosts well enough to know exactly what they love, flowers are always the perfect answer for what to bring. Keep them earth-friendly by ordering a seasonal bouquet from a planet-minded company like The Bouqs, which delivers freshly picked flowers from sustainable farms. Keep the bouquet modest (no need to bring along a huge centerpiece) and avoid anything too seasonal – like a wreath or mini tree – to ensure the arrangement is appropriate for your hosts.
Biodynamic Wine
A fresh trend in wine we can totally get behind? Wine made from organic and biodynamic grapes. A bottle of an eco-friendly wine, such as the options offered by Frey Vineyards, wrapped in beautiful packaging is an easy and tasty way to thank dinner party hosts. Of course, you'd never want to gift alcohol to a host or hostess that doesn't partake, so just be sure to ask around if you're unsure. Etiquette-wise, remember that when you bring food or drink as a gift to an event, it may not be served (it's a gift after all), so a gift of wine or food should be wrapped nicely and brought along with any additional potluck offerings.
Eco-friendly Water Pitcher
Staying for a weekend or a few days? Bring your hosts something they'll use time and time again and will improve their daily lives: a filtering water pitcher or water bottle (if bringing a water bottle be sure to purchase two for a host and hostess couple). These options from Soma are sleek and chic, and the perfect way to say "thank you".
View this post on Instagram
Reusable Wrap with Local Honey
Help your hosts cut waste while gifting them something delicious by wrapping up a gift of reusable beeswax cloth, like Bees Wrap, paired with a local product, such as honey, cheese or maple syrup. This pairing is perfect if you're well-acquainted with your hosts because you can tailor the pairing to suit their tastes – do they love bread? Fancy cheeses? Tie it all up with a bow and they'll enjoy your offering all season long.
View this post on Instagram
Eco-minded Cookbook
Do your hosts love to cook? Are they passionate vegetarians or perhaps a grill master? The gift of a cookbook could be the perfect way to inspire and delight this holiday season. Food writer Mark Bittman's catalogue of cookbooks offers something for nearly every type of host, from veg-friendly to baking. Consider wrapping up How to Cook Everything or How to Cook Everything Vegetarian as a holiday offering to your gracious host/ess.
After your stay or visit, always be sure to send off a thoughtfully written thank you note (whether you brought a gift or not) to thank your host or hostess for their hospitality!
What are you bringing as a host or hostess gift for the holidays? Let us know by tagging us on social with @AvocadoMattress and #AvocadoGreenMagazine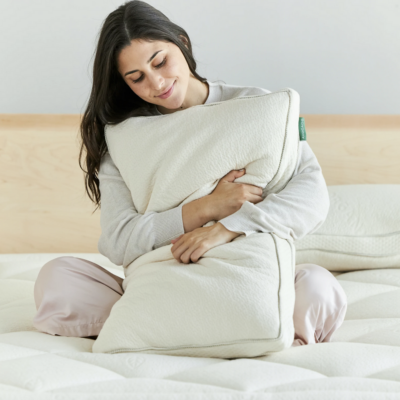 Shop Pillows
The Essential Organic Pillow Collection
Gentle, breathable, non-toxic support.
Buy Now