Mother's Day is right around the corner, and we're determined to make it a good one. Keeping up the momentum of Earth Day, here's a perfect green gift guide for mom that's all pampering and all planet.
Handmade Beeswax Candles
Skip the artificial fragrances and petroleum-based wax this year for a candle that's made ethically and sustainably by hand right here in the US. This family-owned business makes some of the most deliciously sweet smelling beeswax candles in the biz, all with heirloom tools handed down.
Their 3-inch beeswax pillar candles are handcrafted and perfect for moms!
Use coupon code EcoBees to get 15% off!
Conflict-Free Jewelry from Rare Earth Jewelry
Diamonds and precious metals often come at a painful cost that consumers never see — environmental damage, human rights violations, and even funding wars.
This conflict-free jewelry line from Rare Earth isn't just beautiful, it's ethically and conscientiously made with materials sourced from conflict-free zones. If you plan on going big for the mom in your life this Mother's Day, there's no better way than with diamonds you can feel good about.
Mighty Fix Subscription Box
This brilliant take on the subscription box craze gives mom a chance to try eco-friendly products she otherwise might never have stumbled upon. It's a great way to start building better habits — without getting accused of being preachy.
Peace by Chocolate
This incredible chocolate company had me at local honey, but there's more to the story than just fantastic ingredients and craftsmanship. Peace by Chocolate is a company started by a family of Syrian refugees, forced from their home by violence and relocated to Canada.
With the overwhelming support of the surrounding community, they were able to rebuild their family's chocolate business. Their story is enough to bring Mom to tears, but it's okay — you brought chocolate.
Natural Skin Care Gift Sets
Everyone knows moms are great at pampering everybody but themselves, so put her first with some incredible natural skin care products this Mother's Day. I LOVE Annmarie Gianni's line — their fruit serum is nothing short of a miracle worker, and they make solutions that are great for any kind of skin.
Take 10% off any full-priced product May 4th-June 4th using coupon code ASCLOVE10! *Not valid on sample kits or gift certificates.
Bambeco Eco Home Shopping Spree
Everyone has that one store that gets them into trouble, and for me, it's Bambeco. This shop is FULL of gorgeous home essentials and decor items, all made with eco-friendly materials. My advice? Just get a gift certificate and let her go nuts.
Eco-Friendly Pillows by Avocado Green
If there's one thing any mom could use more of, it's sleep. Make it easy for her with eco-friendly pillows she'll sink into and never want to come out of. Made with an organic cotton case and hopelessly fluffy ribbons of all natural latex, our pillows are mom-tested and approved.
Plastic-Free Essential Oil Diffuser by Aromis
Essential oil diffusers are all the rage right now, but ironically, very few are made with anything but plastic. Given that these devices are specifically designed to aerate tiny molecules, it's important to find one that isn't going to spit out plastic trace chemicals with your lavender oil.
This diffuser from Aromis is beautiful, works like a charm, and is made with wood and glass, so you never have to worry.
Organic Flowers and Houseplants from Etsy
The commercial flower industry is a deceptively unsustainable one. On the surface, you have beautiful flowers, and what could possibly be amiss there? But getting those vibrant colors in such uniformity and consistency requires tons of agricultural engineering and chemicals.
It's hard to find fresh cut organic flowers, even these days, but Etsy is a TREASURE TROVE of sustainably grown plants. Potted flowers are no exception
Ella + Mila Non-Toxic Nail Polish
If mom can't go two weeks without getting her nails done, at least get her a few bottles of this non-toxic nail polish to take to the salon with her next time. Ella + Mila's "7-Free" nail polish is made without the toxic chemicals found in conventional formulas while still delivering the mega color mom is going to love.
Health & Nutrition Coaching
What's better than the gift of health and well-being? Give mom the ability to carve time out for herself with a customized coaching program, created just for her. Book an Initial Consultation with our favorite Holistic Health Coach Sara McGlothlin, or go all the way with a complete package.
What are you getting your mom for Mother's Day? Tell us on Facebook or Instagram and share the inspiration! @AvocadoMattress or #AvocadoGreenMagazine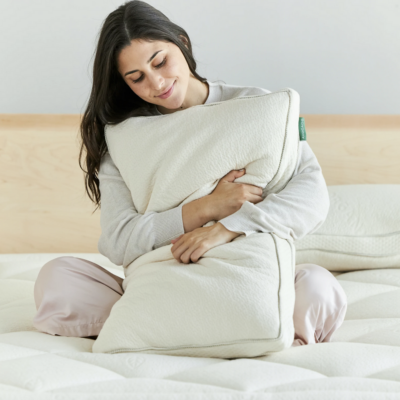 Shop Pillows
The Essential Organic Pillow Collection
Gentle, breathable, non-toxic support.
Buy Now