Adapt: to become accustomed to new conditions. It's a word we're all familiar with, even if we don't use it in conversation all that often. When we wake, our bodies must adapt to the chilly morning air as we emerge from a cozy bed. We adapt as we hop into the car and head to the office, and we adapt when we return home at the end of a long day. These are all clear examples of the daily adaptation we undergo, but those external factors are really just a tiny snapshot of the bigger picture. Internally, our bodies are combatting much, much more.
A Daily Onslaught
Sleep (or lack thereof), unhealthful food, alcohol, life events, a frenzied work schedule… these are all things that can actually put our bodies through an intense amount of stress, whether we realize it or not. And that stress can cause a whole host of issues, from inflammation, to weakened immunity to trouble sleeping, stress can even cause cardiovascular issues. But despite how rampant chronic stress is, only about 30% of Americans take the time to discuss stress management techniques with their healthcare provider.
Managing Stress
So, how do we deal with this chronic stress? Techniques, like a daily meditation practice, breathing exercises, and going to bed and waking up at the same time every day are great places to start, but to help your body recover from the days, weeks, months, and in many cases, years of chronic stress, there's a whole class of superfoods that can help in a major way.
Enter the Adaptogen
Adaptogens are naturally occurring substances that work with the body in a non-specific way to help it, well… adapt!
Adaptogens come from plants, but that doesn't mean all plants are adaptogens.
To be considered an adaptogen, a plant must meet some strict criteria:
The plant must be considered generally safe, non-habit forming, and non-toxic.
The plant must work with the body to normalize systems and bring balance.
It should help a variety of systems, having a non-specific but beneficial effect.
While the name may make them sound exotic, some of your favorite plants and spices are, in fact, adaptogens, including ginger, turmeric, and cinnamon. These adaptogens work with the body to help it readjust after a stressful event (or lifetime), helping to normalize hormone function, lower cortisol (the stress hormone), and realign sleep patterns (among other functions).
While a plant must have a non-specific effect to be considered an adaptogen, most adaptogens have been used for thousands of years to assist the body in adjusting certain areas.
Reishi
Reishi, an adaptogenic functional mushroom, can support winding down at the end of the day and may help you work towards more restful sleep.
Ashwagandha
Ashwagandha, a root, could help balance stress levels throughout the day.
Rhodiola
Rhodiola, a flowering plant, could support metabolic functions.
Pine pollen, which is indeed the pollen of pine trees, has been used in Traditional Chinese medicine to support stamina and overall vigor.
Ginger
Ginger, which is a root, can support digestion and may help the body with inflammation.
Turmeric, a root, may support immune function and fight inflammation.
Astragalus
Astragalus, another root, is a powerful immune builder and is excellent to take during the cold winter months.
While some are tasty on their own, like ginger, vanilla, and cinnamon, it's no coincidence that most adaptogens feature strong scents and bitter flavors. It's believed that, thousands of years ago, bitterness was sought out when a person was feeling under the weather. Lucky for us, now using adaptogens to support wellbeing is easier than ever, with no need to dig up a root or collect pine pollen. Most are available in powdered form and mix easily into smoothies, coffees and teas!
When to Use Them
Our bodies have different needs throughout the year, this is especially true for those of us living with four distinct seasons and drastically varying temperatures (looking at you, New England… hello -20˚f winters and 80+˚f summers!). Which means, the adaptogens that may help us in the winter may not be as effective when the weather warms.
Adaptogens should be switched out from time to time depending on your body's needs, the weather, and how you may be feeling. Loved one or coworker down with the flu? Astragalus and turmeric could support immune function and stave off sniffles and sneezes. Trouble sleeping or feeling drowsy when you wake? Along with ensuring you're sleeping on a supportive mattress, reishi could support restful, better quality sleep. I bought mine from Sun Potion.
The latte recipe below is a great starting place for experimenting with these fascinating substances. Included are stress-regulating ashwagandha and metabolic-hugging rhodiola, but these adaptogens can easily be switched out to suit your needs. The inclusion of ghee and coconut oil not only provides brain-loving essential fatty acids, but assists the body in absorbing all the nutrients this mix has to offer.
Ready to get started on your adaptogenic journey?
Adaptogenic Latte
Ingredients:
8 oz. strong hot coffee
1 tbsp ghee (or coconut butter)
1 tbsp coconut oil
2 tbsp collagen peptides
1 tbsp tocotrienols (rice bran solubles)
1 tsp cacao powder
1 tsp ashwagandha
½ tsp rhodiola
Directions:
Combine all ingredients in a high speed blender – make sure the lid is locked tight! Blend on high for 30 seconds until frothy. Pour into a mug. Enjoy!
Do you use adaptogens? Share with us on Instagram or Facebook with @AvocadoMattress or #AvocadoGreenMagazine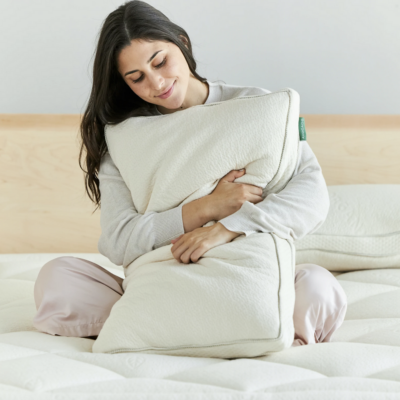 Shop Pillows
The Essential Organic Pillow Collection
Gentle, breathable, non-toxic support.
Buy Now