The traditional outdoor and environmental movements have long excluded Black Americans. These 10 activists are trying to change that.
Humans are happier and healthier when they spend time outside. We know this. But historically, the core outdoor recreation and environmental movements have been marred by anti-Black and anti-Indigenous discrimination.
The protest movements in response to the killing of George Floyd need to galvanize this country to work through the many historical inequities that pervade the country, including those that persist in the outdoors. These are a few of the leaders who are making that happen.
#1 — Leah Thomas
Also known as @greengrilleah, Leah Thomas is an intersectional environmentalism activist. In a recent viral post, she wrote, "Social justice cannot wait. It is not an optional 'add-on' to environmentalism. It is unfair to opt in and out of caring about racial injustices when many of us cannot. These injustices are happening to our parents, our children, our family and our friends. I'm calling on the environmentalist community to stand in solidarity with the black lives matter movement and with Black, Indigenous + POC communities impacted daily by both social and environmental injustice."
#2 — Rue Mapp
Called one of the most influential Black Americans in the country, Rue Mapp has made it her mission to diversify the leaders of the outdoor community by founding Outdoor Afro. What was started as a blog in 2009 has flourished into a national organization led by nearly 90 volunteers who are making outdoor recreation and conservation inclusive for all. We are so inspired by their work in sharing and defending public lands. For the month of June, one percent of all Avocado sales will go toward this awesome organization.
#3 — Robert Horton
St. Louis native, Robert Horton, or better known as "Rob Veggies" devotes his time to increasing access to healthy foods in food deserts all around the United States, creating safe spaces for those across all ages, cultures, and income by engaging in conversations around civic responsibility. He is the founder of Trap Garden.
#4 — Chelsea Murphy
As a mother of two girls, Chelsea Murphy's story is a tale for mountain mamas everywhere. She strives to live sustainably and intentionally while raising her children to love all things outdoors. We are inspired by her ability to uplift other black, brown, and indigenous voices in the outdoor community to help dismantle white supremacy. You can find her on Instagram @she_colorsnature.
#5 — Danielle Williams
Founded and led by Danielle Williams, Melanin Base Camp is a leading media publication focused on people of color paving the way in outdoor recreation. If you're searching for inspiring nature essays, the next best gear, along with Black, Indigenous, and people of color you should be getting to know, check out MBC.
#6 — Tyrhee Moore
Led by Tyrhee Moore, Soul Trak Outdoors invites growing kids and young adults to explore the great outdoors. The D.C-based nonprofit hosts monthly events around their local area to connect, engage, and facilitate hands-on experiences for curious minds. You can find him on Instagram @tyrhee.morre.
#7 — Kenya & Michelle Jackon-Saulters
Laughing with someone who understands us makes us feel something special. For many of us, making new friends can seem daunting, but Kenya and Michelle Jackson-Saulters have created The Outdoor Journal Tour to bring women together to help reconnect with themselves and experience newfound energy through meditation and nature.
#8 — Tiffany Tharpe & Michelle Race
Tiffany Tharpe and Michelle Race are two powerful forces of nature, and in 2017, they decided it was time to expand their presence by starting Black Girls Trekkin'. Together, they invite all women of color, LGBTQ+, the disabled, and anyone who has ever felt out of place to traverse the trails of SoCal with them. One of their leading principles states, "Everyone belongs outside and should have the ability to connect with the outdoors in their own way."
#9 — Ron Griswell
An outdoor educator and guide, Ron believes nature and being outdoors has the power to help people be their best selves. To share that passion, he founded a nonprofit to encourage outdoor recreation at Historically Black Colleges/Universities (called HBCUs Outside).
#10 — Latasha Dunston
Latasha Dunston is an artist, hiker, road tripper, and all around nature lover. Her illustrations tell an adventurers' story and we continue to be inspired by her creativity. "My love of the outdoors is a vital part of my identity," shares Dunston, "and I try and share that passion with as many as I can to help show that the outdoors is for everyone!"
Who's inspiring you? Share with us on social @AvocadoMattress.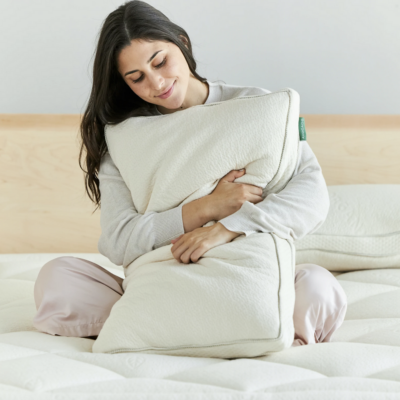 Shop Pillows
The Essential Organic Pillow Collection
Gentle, breathable, non-toxic support.
Buy Now