Laura Baross is our favorite New York-based sustainability blogger and interior designer on a mission to zero waste. We love her fresh vibe and eco-conscious designs. Today she's sharing how she got started and some of her favorite ways to get started living a more sustainable lifestyle.
How would you describe yourself and what you do?
I'm a creative soul with passion for sustainable living and functional interior design. I started my journey to zero waste soon after moving to New York. The more I researched the more I learned about amazing people, brands and organizations doing social good. I came across alarming news but also found inspiring tips, picked up new habits, adjusted my values and set new goals for my career.
How did you get into sustainability and zero waste?
Years have passed from the moment I first realized something isn't right with our consumer society, to the point when I understood that there is a way I can contribute to a more sustainable future. Living a life with less waste doesn't happen overnight. It requires lifestyle changes and dedication on many levels. Patience and understanding of myself as well as people around me is what helped me get through this transitioning. Finding ways to communicate this message on my personal social media as well as sharing knowledge about green interiors through my company — Design w Care, make me really happy.
Why is sustainability so important to you? How do you think it affects design?
Sustainable design improves the quality of everyone's life. We seek to minimize waste and reduce our carbon footprint by rethinking single-use plastic, creating spaces that benefit our clients and the Earth. When we design, we selectively source materials, finishes and pieces from environmentally conscious brands that align with our values and mission for a greener tomorrow. We are able to design with respect to our planet, without sacrificing beautiful aesthetics, so the outcome gives us the best of both worlds!
What do you think common myths about going "zero waste" are?
"Zero waste is not affordable." Think about all the plastic water bottles you don't have to buy if you carry a water bottle with you? How about all those unnecessary impulse buys that you didn't even end up using? Zero waste actually saves you money, because some of the main principles is buying less and reusing what you have.
"Zero waste is not achievable." Zero waste is definitely achievable, but the key is you have to approach it realistically for yourself. You will have mess ups, you will accidentally find yourself with a plastic straw, but that's okay! It's all about living more consciously and making small lifestyle changes that will eventually become eco-friendly habits.
What are your 5 top tips for newbies looking to make a sustainable impact?
At Design w Care we created our 5 rules of sustainable interior design that we follow for each and every project:
#1 — Repurpose
Be creative by taking things you already own and give them a new use! Not every project requires a full renovation. Sometimes all you need to add is a throw pillow or a fresh paint job to give your room a new look.
#2 — Reduce
Less is always more! Embrace minimalism and avoid cluttering you space. Think about what you really need and what brings you joy. Clutter can make you feel stressed out and disorganized, so the best thing to do is bring in positive and clear energy flow.
#3 — Reuse
Choose pre-loved pieces instead of buying new. Not only does this avoid more things filling up our landfills, but it also adds a unique look and character to your room. There are so many great treasures waiting for you in your local vintage store and secondhand shops!
#4 — Redo
If all else falls short of your needs, shop sustainable. Look for plastic alternatives and brands that are transparent about their manufacturing practices.
#5 — Recycle
Resell and donate items that you don't use anymore to prevent your things from polluting the planet. One man's trash is another's man's treasure and you never know who might need something you don't want anymore.
Any eco-friendly design brands you love?
Some of my favorite brands are Fireclay Tile which make beautiful recycled tile, Elvis & Kresse rugs made out of upcycled fire hoses, Colorhouse paint which is non-VOC and of course Avocado Green Mattress! Many of these are available at our shop and we are so lucky to have partnered with such amazing brands that make sustainable design possible!
What are your tips for anyone looking to start a career based on their passion?
Just Start. Always dream big and set your goals high to stay motivated. Keep in mind that ways to get close to your dreams might be different from your expectations. This should never stop you, just be flexible. You don't have to quit your day job right away in order to be successful. Try to dedicate as much time to your passion as possible and see if it's actually something you really want to be doing. If yes, there will be ups and downs following your path but you won't care, because you'll be on a mission. Face any problem, reconsider another option and adjust to new circumstances. If you really mean it and if you have good intentions, the universe will help you!
What are your non-negotiables for health?
Here are my top 5 that includes both mental and physical health, which are equally important in my opinion: Loving and supporting environment. Clean drinking water. Nutrient rich food. Quality sleep. Daily movement of any kind — I really wish we didn't have to be tied to our chairs for 8 hours a day.
Keep up with Laura at her website or follow her on Instagram.
View this post on Instagram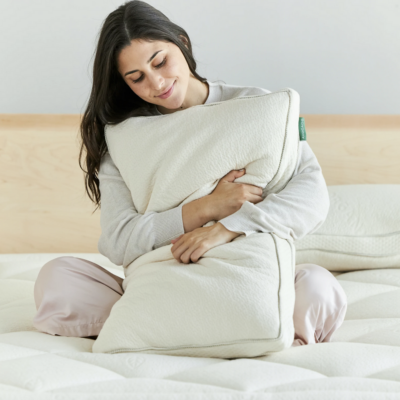 Shop Pillows
The Essential Organic Pillow Collection
Gentle, breathable, non-toxic support.
Buy Now