Through its partnership with Vet Strong, Avocado supports America's veterans with mattress and pillow donations.
It was 1973 and Le Nguyen was flying over Central Vietnam as an anti-communist ally when his helicopter was shot down by enemy forces. Unable to escape through the dense Vietnamese jungle, Le found himself a prisoner of war for the next several years before being rescued by American forces. Soon after, Le and his family, including 3 small children, escaped on a small wooden fishing boat filled with other refugees and ultimately settled in Los Angeles.
While Le's experiences are unique to him, there are millions of untold stories among our veterans. Every year, approximately 180,000 Americans enlist for active duty, and the United States currently has over 1.3 million individuals serving within various branches of the Armed Forces. After serving their county, transitioning back to civilian life can often be a challenge.
At Avocado, we're trying to address one of the many complex needs of veterans by providing these individuals with access to a good night's sleep. To do so, we have partnered with nonprofit organizations across the country who help us do what's right with our returned products so they don't end up in landfills (a common practice in the industry) and instead make it to their clients in need. Our partners address a wide range of societal issues, but some of our closest relationships have come from veteran organizations. Vet Strong and Operation Once in a Lifetime in Texas, Support the Troops in Florida, and Patriots and Paws in California, are some of our primary partners who exclusively support the veteran community.
One of our Sustainability Advocates has helped develop and deepen these relationships.
"There is nothing more rewarding than helping the men and women who have fought for this country," she says. "I have seen firsthand the many hardships that follow them beyond their service. Giving them the comfort of a new mattress or pillow is the least we can do for the sacrifice that they have made. While a mattress or pillow may seem small to some, the impact that these products can have on one's livelihood, self-esteem, and overall mental health is life-changing."
The organizations and clients themselves have been blown away by the effectiveness of the program, too.
"Being homeless was a horrible horrible feeling, especially with mental illness, it's like triple the horror," says a veteran who experienced homelessness until he received support from VetStrong and a mattress from Avocado. "The bed is beautiful, beautiful sheets, and from the bottom of my heart, I thank you guys very much. I can't say thank you enough in my heart."
Helping veterans excel in life is part of the fabric that makes an Avocado Mattress and remains close to our heart. Upon arriving in Los Angeles in 1987, Le opened a mattress manufacturing facility that would one day become Brentwood Home and later merge with Avocado Mattress to operate under one parent company, Avocado Green Brands, as sister subsidiaries.
"We feel proud to support the country and support those going through hardships," says Le Nguyen. "Anytime we have the chance, we support the people. Whether it's mattresses or money, we give away what's needed. We can never give back enough because we know what it's like to go through hard times."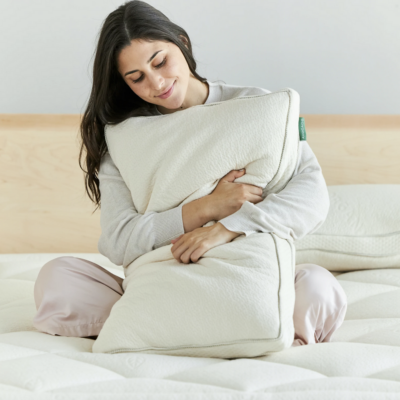 Shop Pillows
The Essential Organic Pillow Collection
Gentle, breathable, non-toxic support.
Buy Now