It's like Ulta for crunchy chicks. Meet the online store that's changing the face of the beauty shop with clean products conscious babes can get behind.
It's no longer weird to be the person standing in the grocery store reading a label (AWESOME), but cosmetics labels are another story.
Somewhere between personal care and what you eat, the FDA stops caring as much. As a result, cosmetics companies are not required by law to disclose their ingredients. Despite our skin's ability to absorb as much as 80% of what we put on it, you can put pretty much anything that doesn't cause a chemical burn in a personal care product.
Ultimately, the result of an industry built with little to no transparency is a whole lot of people with a whole lot of wacky skin problems who have a SERIOUSLY hard time pinpointing what's causing their problems.
CLEAN BEAUTY TO THE RESCUE
Thankfully, clean beauty companies have risen to the challenge, and now the internet is FULL of options for everything from natural foundation formulas to plant-based anti-aging serums.
Simpler formulas with hypoallergenic ingredients and — better yet — full disclosure on what's in every bottle is becoming the new standard. But the best part?
As the market gets FLOODED with options, the formulas just keep getting better. Watery foundations are being replaced with fuller coverage formulas, and skincare lines that skip the petroleum-based ingredients are ousting toxic competitors with firmer, healthier skin.
YOUR PORES ARE TRYING TO TELL YOU SOMETHING
The reality is that our skin is like a barometer for toxic exposure. From our diet to our sleep patterns, nearly EVERYTHING can trigger a skin problem if it gets out of whack.
Enlarged pores can be a sign of an external problem having to do with skincare, but they can also be related to hormonal imbalances. Patchy, irritated skin can be traced back to food allergies or to an issue with your detergent.
The list goes on, and between all of it, it can be tough to isolate the one variable that's causing your skin to fight back.
Interestingly though, a body overwhelmed by toxins, like heavy metals and artificial fragrances, reacts with a lot of really common symptoms:
Inflammation
Enlarged Pores
Patchy Redness
Sensitivity
And while we're certainly not doctors, we think there's something to be said for the process of elimination.
Clean beauty makes healthy, clear skin easier — period.
FOLLAIN IS THE CLEAN BEAUTY STORE YOU'VE BEEN WAITING FOR
The hardest part about shopping for clean beauty products isn't really finding them, it's buying them from eight different places. Luckily, the founders of Follain saw the opportunity to create a store just for people concerned with cleaner personal care.
Tara Foley founded Follain in 2013 in pursuit of a cleaner beauty routine. After blogging and sharing content with her peers about her concerns with what was in her personal care products, Tara took a leap of faith. Leaving her corporate job, she explored the world of clean beauty, even moving to France at one point to live on a lavender farm (seriously). The experience was eye-opening, and the result was Follain — the only beauty retailer that sells exclusively clean products.
The people over at Follain were nice enough to send me a box of goodies to try, and I dug right in to see what it was like.
Here's What I loved
THIS MAKEUP POUCH
They stashed my small beauty products into this little pouch, and I've decided it's my new travel makeup bag. A sturdy gold zipper, my favorite shade of forest green, and complete with crunchy chick wit, it's become a staple in my travel bags.
REFILLABLE EVERYTHING SOAP
Best of all, it's actually tough enough to de-grease my dishes before they hit the dishwasher, something I wasn't expecting. And of course, these bottles can actually be refilled at Follain store locations.
URSA MAJOR GOLDEN HOUR RECOVERY CREAM
My pores get super big and cranky if I put too much oil on them, so I always tread lightly when it comes to moisturizers. That said, this formula by Ursa Major was the perfect daily hydrator — just heavy enough to plump up my skin for the day, but light enough for everyday use.
It's lightweight and not terribly greasy, but a little goes a long way. I have the smaller-sized container, and I anticipate it lasting me at least two months.
OSEA OCEAN CLEANSER
I REALLY loved this cleanser. It's super mild, doesn't make me feel like I'm killing my skin, and smells great. The light touch approach to cleansing is perfect for people that don't wear any oil-based makeup.
That said, I'm a concealer-wearing kind of girl, and this is not a makeup removing cleanser — you'll want to do your oil wash first to remove makeup, and then follow with this to freshen your skin.
INDIE LEE COQ-10 TONER
This toner is like splashing cool water on your face in the morning, only without the wet bangs drama. It's insanely refreshing and cooling, but mild enough that I wasn't terrified of getting it too close to my eyes — I never experienced any burning at all, and it made my pores look great.
If you want to start a clean beauty routine but don't know where to start, start with Follain.
What are your clean beauty routine must-haves? Tell us and Follain on social media, and tag us in the post! @AvocadoMattress and @ShopFollain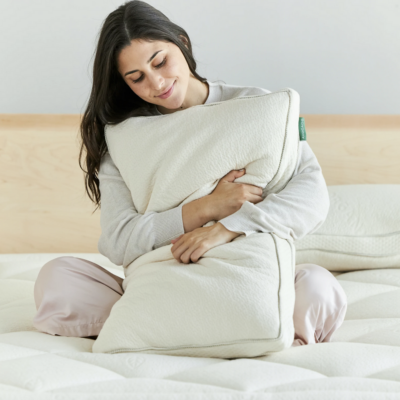 Shop Pillows
The Essential Organic Pillow Collection
Gentle, breathable, non-toxic support.
Buy Now