The lovely lady behind Sweet Potato Soul, Jenné Claiborne, creates amazingly nourishing and busy-mom approved recipes. Although she may have grown up a picky eater, she has always loved letting her imagination run free in the kitchen.
Her love for clean eating has blossomed into an inspiring career where she gets to wear many hats. Not only is she a vegan chef, but also a health coach and cooking instructor. Go Jenné! She's ready to share the joy that comes with healthy eating with her easy-to-make vegan recipes. And as she likes to say, "They are all made with a generous sprinkle of soul."
We got the chance to catch up with Jenné to chat about her new cookbook and share our all-time favorite recipes (that also happen to be perfect for squash season)! Follow along to learn how you can perfect a dish made the ever-so-stringy, low-carb vegetable, spaghetti squash!
What You'll Need:
1 medium spaghetti squash
¼ cup white wine or veggie broth
2 shallots, diced
10 oz baby bella mushrooms, thinly sliced
1 cup plain unsweetened soy milk (or other non-dairy milk)
1 tablespoon arrowroot powder or cornstarch
½ cup nutritional yeast
1 teaspoon onion powder
½ teaspoon garlic powder
1-2 tablespoons fresh lemon juice
1½ teaspoon sea salt
Get Cooking:
Preheat oven to 375°
Cut the spaghetti squash in half, lengthwise, then remove the seeds with a spoon.
Rub one teaspoon of oil on the inside of the squash and place on a baking dish. Roast for 45 minutes or until tender.
To make your sauce pour the wine into a skillet, and bring it to a simmer on medium heat.
Add the shallots, and sauté in the wine until tender.
Add the mushrooms, and a pinch of salt. Cook until the mushrooms are tender, about 8 minutes.
Pour the soy milk into a small bowl, and add the arrowroot powder. Stir well to break up any clumps.
Pour it over the mushrooms, and immediately add the nutritional yeast, onion powder, garlic powder, lemon juice, and salt.
Stir it all together on medium-low heat as the sauce thickens. Season to taste with more lemon or salt.
Once the squash is tender use a fork to comb the flesh into "noodles"
Place the squash noodles into the alfredo sauce and stir well. If it has thickened before you have a chance to add the squash, add more soy milk to thin.
Serve with red chili flakes, black pepper, and fresh parsley.
Et voilá! You have yourself a hearty meal to enjoy and also celebrate the fact that fall is finally here! Oh, and you can also use an Instant Pot to cut your cooking time in half if you'd like.
Huge thank you to the sweet potato soul for sharing this lovely recipe with us and check out her new cookbook for other fun and creative meat and dairy-free recipes!
Share your favorite plant-based recipes with us on social @AvocadoMattress and give Jenné a follow @SweetPotatoSoul for more insta-worthy and scrumptious dishes and desserts!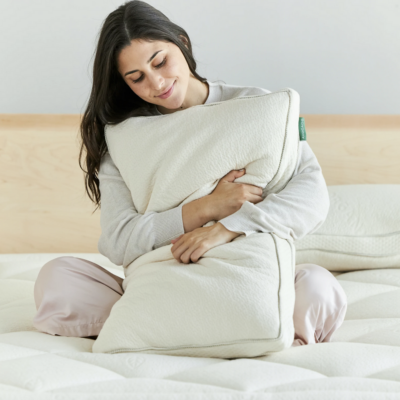 Shop Pillows
The Essential Organic Pillow Collection
Gentle, breathable, non-toxic support.
Buy Now