Some of the biggest brands in the world have joined forces to try a new solution to single-use packaging, and you won't believe who is on the list.
If there's one thing I know about people, it's that most of them are just trying to get by, they're doing the best they can.
So when trash piles up due to single-use consumables, the very worst and LEAST productive thing we can do as a society is shame people and throw our hands in the air in exasperation. The very BEST thing we can do is look at the current solutions and work to understand why they're not working.

THE KEY TO CHANGE: MEETING CONSUMERS WHERE THEY ARE
The reality is that recycling has never been particularly convenient, and now, it's becoming a shrinking option altogether. With more raw materials than we have demand for and the world's biggest buyer of recyclables closing its ports to more trash, the almost-easy solution of recycling is becoming a band-aid to a much bigger problem.

As the world grapples with more garbage than it knows what to do with, the reality becomes clear:

We need solutions that are as convenient as they are effective.
MEET LOOP
Tom Szaky has been making waves in the movement for zero waste. His recycle-everything waste platform Terracycle has become famous for taking almost every waste stream known to man and creating custom processes for breaking it down and reintegrating it back into the supply chain.

Loop is Szaky's latest brainchild, and it's a whopper.

For over a year, some of the largest manufacturers of consumer products in the world have been working with Tom Szaky and his team to develop Loop, a new zero-waste store that delivers everyday products from household names directly to your door.
Last year, Greenpeace cited 10 companies who were responsible for flooding the planet with the most throwaway plastic. Eight of those companies are now part of Loop, comprising a full list of brands committed to zero waste convenience:
Haagen Dazs
Pantene
Tide
Crest
Clorox
Oral-B
Cascade
Gillette
Venus
Febreze
Dove
Axe
Degree
The Body Shop
Ren Clean Skincare
Love beauty And Planet
Seventh Generation
Nature's Path Organic
Hidden Valley
Hellmann's
Greenhouse
Burlap & Barrel Single Original Spices
Preserve
Teva Deli
Fell
HOW LOOP WORKS
Loop is an online store containing your typical staple products — shampoo, toothpaste, ice cream, and more. In partnership with TerraCycle, the world's biggest brands have developed a unique reusable packaging line that is designed to last for over 100 uses.

Here's how it works:

You place an order with Loop.
UPS delivers it directly to your door in a reusable container.
You use the product, then throw the empty container (you don't even have to wash it) into the shipping container and notify UPS.
The empty packages are sent to a sanitizing facility and then reintroduced to the supply chain.
The crazy part? Costs are similar to existing products — you just pay a refundable container deposit.

Even with the shipping required for the system, Loop estimates this program reduces carbon emissions by as much as 75%.

The program launches this spring in New York and Paris as part of a pilot program. If it's successful, well, who knows where this could wind up next.

Are you in? Show some support for Loop by sharing this article on Facebook or Instagram to spread the word! @AvocadoMattress and @LoopStore_US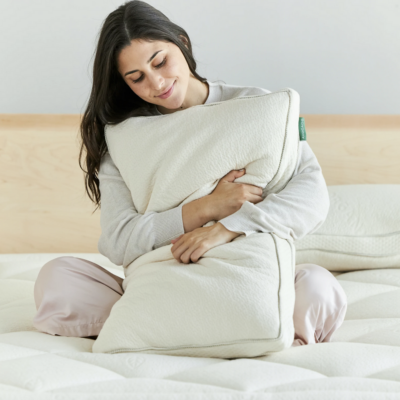 Shop Pillows
The Essential Organic Pillow Collection
Gentle, breathable, non-toxic support.
Buy Now