Travel is an adventure. A wild ride into the unknown, where new experiences await and life gets just a little spicier.
Or it's just a business trip, I guess.
Hotels can be some of the most challenging places to get a decent night's sleep at a time when high-quality rest is of the utmost importance. Late flights, early meetings, and too much fast food already compound the stresses of a hectic day on the go, and when you can't sink into those deep REM cycles of sleep, your body seeks its revenge.
Decreased mental focus, increased irritability and mood swings coupled with a brain that is just not on its A-game is no way to spend a trip — so get the most out of your travels by getting the most out of time spent hitting the hay.
#1 — Book a Quiet Hotel Room
Hotels are noisy places with notoriously thin walls, constantly aflutter with activity. Elevators, foot traffic, housekeeping, ice machines, kids screaming in the pool, the baby down the hall — it's no wonder people never get a good night's sleep in one.
You can't tell the whole hotel to keep it down, but you can tell the concierge that you want a room that is peaceful. Ask for one on the top floor that's well away from elevators, ice machines, and housekeeping supply closets, and make sure it's not overlooking a pool or patio area.
#2 — Don't Forget the Sign
Travelers know the road is a school of hard knocks, and one of the hardest knocks of them all is the sharp rap on your door at 6 a.m. from housekeeping when you forgot to put out the "Do Not Disturb" sign.
#3 — Stick to Your Routine
If you have any kind of routine at home for bed, your body knows when to get sleepy. Help your brain out by keeping things familiar, and do things as close as possible to the same when you travel as you do when you're home, right down to your bedtime yoga routine.
#4 — Set the Mood
Sleep doesn't happen in brightly lit, warm rooms. Get your room into a tranquil state at least 30 minutes before you plan to go to sleep for the night:
Dim the lights
Turn up the AC (set it in the 60s)
Turn off any electronic devices (repeat: OFF. Use the alarm clock instead.)
Roll up a towel to put at the base of the door
Turn on some white noise
Get your eye mask ready
#5 — Bring Your Own Pillow
As a firm pillow-loving sleeper, I know I have a hard time sleeping in hotels because everything is always so darn soft. The pillows in particular drive me insane all night, so I try to remember to bring my own.
Even if your preference is for big squishy pillows, having your own pillow (or even just the pillowcase) is a great way to trick your subconscious past the foreign surroundings and into a comfortable state of familiarity. Your well rested neck will thank you the next day. In need a of a good, non-toxic pillow? Check these out.
#6 — Woo Yourself to Sleep
For some, sleep is a delicate dance. And if that's you, you're going to have to make it an experience. Don't just brush your teeth and kill the lights — spend a solid hour getting yourself ready for sleep.
Take a warm bath with a chamomile bath bag and soak for a bit, letting the aromatherapy work its calming magic. Sit down with a glass of wine after and a relaxing read. Then, before you finally turn in, empty your brain out into a notebook to calm your mind for sleep.
# 7 — Just Get an Airbnb
Truth time — I never stay in hotels anymore if I can avoid it. It's lovely having a continental breakfast and all, but in the end, I need privacy to sleep really well.
If this is you, seriously start looking into Airbnb for travel accommodations instead of hotels. While there are homes that offer rooms for rent, there are many whole house/apartment rentals that are comfortable, private, and affordable.
Feeling particularly antisocial? Go my favorite route and book a US Forest Service cabin instead (just be prepared to haul in your own water in some cases).
Do you struggle with sleeping in hotels? Did we miss anything? Continue the conversation on Facebook and Instagram with @AvocadoMattress or #avocadomattress.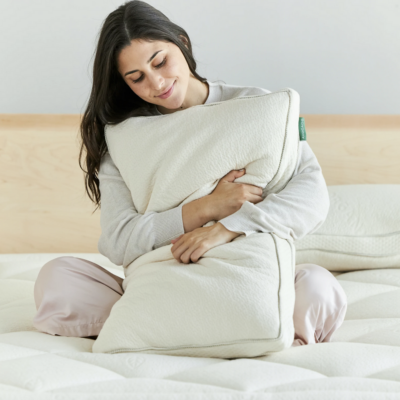 Shop Pillows
The Essential Organic Pillow Collection
Gentle, breathable, non-toxic support.
Buy Now