Summer is nearly here and if you're anything like me, you've got the beach on your mind. And breezy summer fabrics. And sunny afternoons spent al fresco. And… scrubbing away that dull winter skin? After months of hot showers and dry heat, your skin is probably feeling parched, dry and flakey. Even if you sip plenty of water throughout the cold winter months, the low humidity paired with dry heat (hello wood stoves and radiators) can suck moisture from the skin, leaving it in dire need of moisture by the time warm weather arrives.
But slathering on oils and moisturizers may not be enough. Why? Because when dry skin cells aren't sloughed away with an exfoliant (like a scrub or dry brush), they can prevent your moisturizer from properly soaking in, making them less effective. Essentially, they act as a barrier.
What to Do?
Exfoliate! Proper exfoliation can help remove dead skin cells so moisturizers and oils can do their job, soaking in and aiding in hydration to reveal summer-ready skin. While there are plenty of scrubs available at your local beauty supply store and pharmacy, many contain synthetics and artificial fragrances and colors. Some even contain alcohol. Why are these bad? These additives could irritate skin, especially those with sensitive skin. And the addition of alcohol could dry out skin even more!
Thankfully, learning how to make your own body scrub takes about two minutes – about the same amount of time it takes to add sugar or salt to a jar, add some extras and stir with oil. Easy right? The best part (besides saving yourself a whole lot of $$$)? Once you make your own scrub once, you'll never go back to store-bought again.
The Best Body Scrub for Summer
So, what makes a great body scrub? It starts with the right base. Fine sugar, like classic white baking sugar, or salt is a great choice because it's not too rough and will be gentle on skin – too coarse and you could risk harming skin. Then, choose your oil. A skin-friendly oil, like sweet almond oil, fractionated coconut oil or jojoba oil, emulsifies the scrub and adds moisture while you're in the shower.
Last step? Choose your add-ins. You could just stick with sugar and oil, or add all-natural essential oils or — my favorite — coffee grounds. Why add coffee grounds to a body scrub? Besides adding extra scrubbing power, the caffeine in coffee could stimulate blood flow to the skin. This could temporarily have a smoothing effect, making it perfect to use before you head to the beach!
This recipe is also a great way to use up spent coffee grounds and white sugar you may no longer use. Throw in a recycled glass jar (the one shown in these photos used to contain ghee), and ¾ of what you've made is recycled. Ready to get started? Grab the recipe below!
DIY Coffee Scrub
Materials:
½ cup coffee grounds (can be previously brewed. If using previously brewed grounds, allow to dry completely before mixing)
1 cup fine white sugar or salt
½ cup oil of choice (sweet almond oil, jojoba oil, fractionated coconut oil… or a mixture)
16 oz. Mason jar or similar jar with lid, large enough to fit ingredients
Optional: 1 tsp cinnamon
Step 1
Combine coffee grounds, sugar, and cinnamon (if using) in the jar, add lid, and shake to combine.
Step 2
Remove the lid from the jar and add the oil. Use a spoon to stir so the coffee ground mixture is saturated. If it's too oily, add more sugar until it's the consistency you desire. Store in a cool, dry place, away from sunlight until ready to use!

To Use
This scrub is messy, so I recommend standing in your tub while you scrub. Dampen skin, then use small amounts of the scrub and scrub in circular motions on arms, legs and torso (Pro tip: it's also great for your bum!). Rinse. The coffee may leave behind a residue, this is normal and it goes away with some soap.
Note
Because caffeine can be absorbed through the skin, it's recommended to use this scrub in the morning – unless you like being up all night!
What are your smooth skin tips for summer? Share with us on Instagram or Facebook by tagging us with @AvocadoMattress or #AvocadoGreenMagazine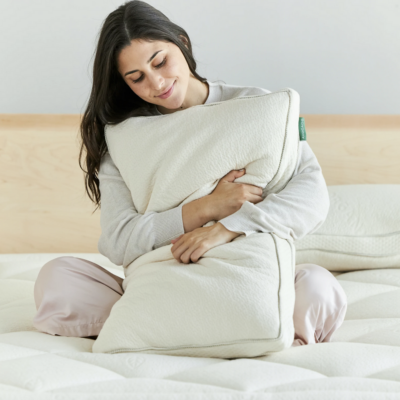 Shop Pillows
The Essential Organic Pillow Collection
Gentle, breathable, non-toxic support.
Buy Now