Drugstore deodorant is boring next to Myro. Put this cute little thing in your gym bag, and refill it every single month.
The world is woke now, and the people have spoken: we are sick of companies putting weird crap in our personal care products.
Parabens.
Aluminum.
Petroleum.
(I mean, what the what?)
Photo courtesy of Myro
Shelf stable and gloriously cheap though they may be, conventional deodorants with these kinds of ingredients have been linked to all sorts of health problems. Scientists are finding a suspicious correlation between cancerous lymph nodes in the armpit area, and neuroscientists are discovering a strong link between diseases like Alzheimer's and aluminum buildup.
Not. Cool.
But what is cool is that the market has responded, and there are now so many freaking natural deodorants out there, the hardest question you have to ask is which one you want to try next.
Photo courtesy of Myro
What's Different About Myro
I was the guinea pig on our big deodorant roundup, but that was before I knew about Myro. I haven't had a chance to give this cute little tube a try, but I'm loving what I'm seeing so far.
Baddie free — Myro checks all the boxes on the 'don't-put-that-junk-in-my-deodorant' list. It's completely free of aluminum and parabens.
Baking soda free — Baking soda may be natural, but it doesn't always get along with an armpit. Myro's formula leaves it out.
100% natural fragrances — Myro's scents are extra awesome because they actually continue to release over time (don't ask me how).
Natural barley powder for dry pits — New, weird, genius. Freshly powdered pits, anyone?
Refillable case — Not only does Myro send you refills for the same plastic case, but that case even uses 50% less plastic than your conventional stick of deodorant.
Photo courtesy of Myro
Good Vibes, Great Pits
Myro's an extra cool deodorant company because they also have a 100% any-reason-you-want money-back guarantee. Their Better Vibes Guarantee means that if you and Myro don't get along, you get your cash back and that spot back on your bathroom counter.
Photo courtesy of Myro
Did you use it? Did you love it? Tell us what you thought about Myro on Facebook or Instagram, and tag us in the post! @AvocadoMattress and @ItsMyMyro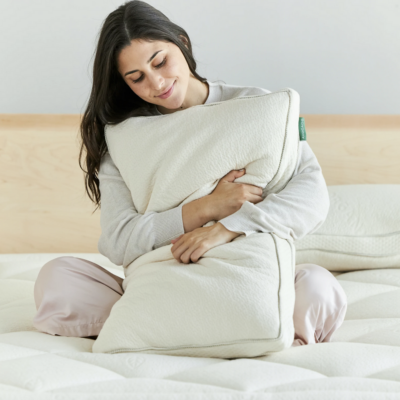 Shop Pillows
The Essential Organic Pillow Collection
Gentle, breathable, non-toxic support.
Buy Now