The reason why electronics wear out so quickly isn't an innocent one. Meet the company that's trying to tackle the electronic waste epidemic, one recycled plastic charger at a time.
As the world gloms on to the newest iPhone, e-waste surges as the fastest growing waste stream on the planet. All around us, old, outmoded electronics are being cast aside, filling landfills, sitting on the roadside, and gathering dust in forgotten supply sheds. It's a worldwide problem and one that's growing at an alarming pace.
Electronics can be recycled (check your local listings), but most people are troubled with the inconvenience of doing it. What doesn't spend five years in a junk drawer often gets thrown away, where it will never decompose. In just five years, the rate at which consumers have had to replace household appliances more than doubled. Of those obsolete electronics and appliances, it is estimated that only 29% get recycled. E-waste accounts for 2% of our overall waste and a whopping 70% of our toxic waste.
Why Electronics Die — Understanding Planned Obsolescence
Planned obsolescence is often to blame for the explosion of electronic waste. The idea behind planned obsolescence is to create a product that will inevitably need to be replaced to keep consumers buying at engineered times.
It's not about designing a product to last, it's about capitalism — and milking consumers for as much money as they can. The idea isn't a new one, but in light of the e-waste epidemic, it's enough to incite a riot — or a really bright idea.
Tech for Good: Meet Nimble
When I first spoke with Kevin Malinowski, the co-founder of Nimble, I was in awe of the product line itself. The materials they're using are sustainable, their packaging is plastic-free, and I couldn't help but notice just how good everything looked. It felt a little too good to be true. But after a few of their products arrived at my doorstep, I was convinced: these tech products are better, more durable, and can help with our massive e-waste problem.
Nimble's devices are noticeably sturdy, with a tight, clean design that looks slick sitting on my desk, but that I don't have to treat like glass when it's shoved in my laptop bag on my way to the office.
The wireless charger pad is coated in organic hemp and made with recycled plastic bottles and plant-based bioplastics. What's really nice is that this charger works with my iPhone and my nanny's Android phone. I keep it on the kitchen counter so we can charge up during the day between kitchen dance parties and FaceTime with our moms.
Their cases are light but durable and made from 100% recycled plastic bottles — and their chargers are truly one of a kind.
The One-for-One Mission Behind Nimble
These aren't throwaway electronic accessories, but if and when the time comes, Nimble has truly thought it through. Their products are all designed to be easily recyclable, with no toxic solvents or dyes to complicate the process or create hazardous waste byproducts. But why this brand is so remarkable is that Nimble is on a mission to end e-waste and become e-waste neutral by 2022.
If you're getting a new charger, something might need to happen to your old one. That's why with every purchase, Nimble is sending a mailer envelope and a link to a free prepaid shipping label.
Why?
So you can clear out your old electronics and recycle them — for free. For every one device sold by Nimble, they're recycling a full pound of electronics for their customers.
Be a Part of a Better Design
Nimble was founded by the minds who did marketing for some of the largest consumer electronics brands in the world, so they get that great design can't be the cost of a more sustainable case.
That's why Nimble has designed products that work well, last long, and do a great job cleaning up the planet at the same time. Together, their team has recycled more than 600 pounds of e-waste from their customers alone. They have also used countless recycled plastic bottles making their electronics accessories line and pledged to donate 1% of their profits to environmental causes through 1% For the Planet.
Why manufacturers design products that are built to die is no financial mystery, but with Nimble, you can turn the table by supporting a brand that takes responsibility for the full life cycle of the products it creates.
How many old electronics do you have in your house you can recycle with a Nimble mailer? Show us your pile on Facebook or Instagram and tag us in the post! @AvocadoMattress and @nimbleforgood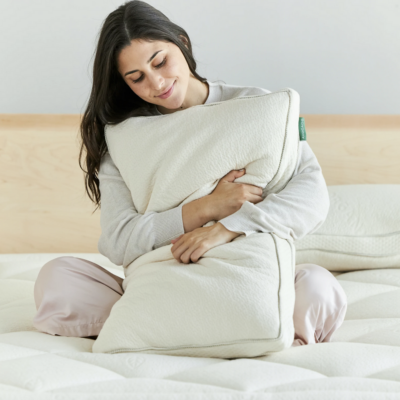 Shop Pillows
The Essential Organic Pillow Collection
Gentle, breathable, non-toxic support.
Buy Now