In honor of World Chocolate Day, we're diving into the benefits of one of our favorite "superfoods" — raw cacao. Unlike cocoa powder, which is heavily processed, cacao powder retains much higher concentrations (nearly four times) the antioxidants and flavanols typically attributed to dark chocolate. In fact, when compared by weight, cacao has more antioxidant flavonoids than blueberries, red wine, or green tea. Cacao is high in magnesium, calcium, and iron. It is also good source of monousaturated fat, fiber, natural carbohydrates and protein.
Consumption of cacao powder has been linked to:
While most of us don't need an excuse to eat chocolate, we're giving you one today with a recipe loaded with the good stuff and without any of the bad stuff (no refined sugar here!) Other ideas for using cacao powder? Blend it up in a smoothie, mix it into oatmeal, or try this amazing looking raw brownie recipe!
Coconut Oil Chocolate
Ingredients
1/4 cup Cacao Powder
1/2 cup Extra Virgin Coconut Oil (melted)
Up to 1/4 cup Maple Syrup
Optional add-ins: natural peanut butter, almond butter or cashew butter, nuts or seeds, goji berries, sliced bananas, cacao nibs, sea salt
Directions
In a large mixing bowl, combine melted coconut oil, cacao powder, and maple syrup. Whisk until no clumps remain and mixture begins to thicken. Don't let it sit too long as it will continue to thicken.
Using a spatula, scoop mixture out of bowl and into a loaf pan lined with parchment paper.
Stir in optional add-ins. My favorite combinations are a few spoonfuls of peanut butter and fresh thinly-sliced bananas or a mix of pistachios, pecans and hazelnuts with goji berries. If using nuts, sprinkle on top and use spatula to press into mixture.
Set in freezer until solid — this won't take long! (Typically 10-20 minutes.)
Remove from freezer, slice into chunks and keep in a tightly-sealed container in the freezer for the perfect afternoon or after-dinner treat.
Show us your creations by tagging us @avocadomattress on Instagram or Facebook or with #avocadomattress.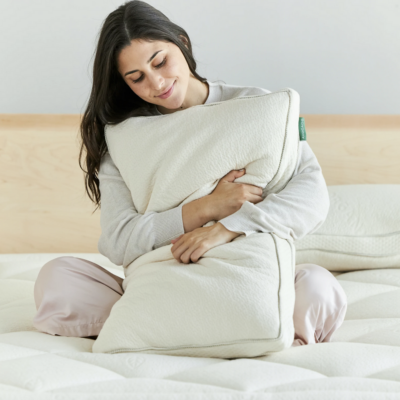 Shop Pillows
The Essential Organic Pillow Collection
Gentle, breathable, non-toxic support.
Buy Now