More than 16,000 park staff are currently furloughed, leaving only a skeleton crew to protect more than 80 million acres of the National Park System. In the wake of the ongoing government shutdown, disturbing reports of vandalism, littering and looting have been occurred at some of the nation's most prized public lands. Despite limited park staff in place to man gates and maintain the safety of both the grounds and visitors, more than half of America's national parks remain open to the public.
In Joshua Tree National Park in California, reports of illegal off-roading in sensitive landscapes and the cutting of the namesake Joshua Trees have surfaced, As damage to our most previous protected private lands continues amid political negotiations in the White House, the question remains:
Just what is the US government thinking?
Parks Are Open — and Vulnerable
Our January giving partner, the National Parks Conservation Association, has denounced the decision by government officials to keep parks open without adequate staff stating that it's "not only dangerous, it violates the Organic Act," a law that was put into place more than 100 years ago to ensure the National Parks Service preserved the scenery and natural and cultural resources of the nation's most treasured lands.
NPCA's President and CEO, Theresa Pierno, released a statement saying, "In Joshua Tree alone, there have been reports of cut down Joshua Trees, overflowing trash and human waste, and illegal off-road activity on fragile wilderness areas. It's clear that without adequate staff, our natural resources cannot be properly protected."
What the NPCA Is Doing
Amid the standstill in Washington, organizations like the NPCA continue to advocate for the closure of parks until a funding agreement is reached that fully reopens our parks with adequate staff, for the sake of their protection.
"NPCA does not want to see parks close, but it is reckless to operate parks without staff to oversee safety and operations, protect sensitive resources, and provide visitor services."
NPCA is also advising those who choose to visit parks during the government shutdown to plan their visits extra carefully, given the lack of staff, and to pack in reusable goods instead of disposables that could contribute to the current trash problem in many of our parks.
Citizens Are Stepping Up
Though NPCA cautions the public that volunteering could pose liability and safety issues, many individuals and organizations in the local communities have nonetheless taken matters into their own hands, banding together to protect and clean up national parks while politicians argue in Washington.
In Yellowstone National Park, area residents have united to pick up trash, empty receptacles, and clean and restock the bathroom facilities in the park. Organizers are bringing meals to support volunteers as well as gas cards to thank them for their efforts.
If the government shutdown continues, the volunteers plan to keep coming back to do what the US government won't right now.
Has a national park in your area been affected by the government shutdown? Spread awareness and tag us in your story on social media — @AvocadoGreenMagazine and @NationalParks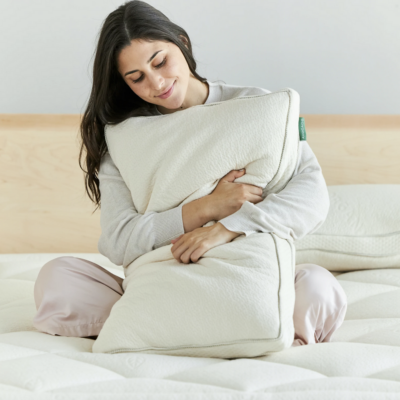 Shop Pillows
The Essential Organic Pillow Collection
Gentle, breathable, non-toxic support.
Buy Now