Who says you can't love the beach and live in Wisconsin? For those landlocked in the United States, it can be challenging to support clean ocean initiatives when the only view you have of the surf is on vacation. Short of collecting trash while you're vacationing in the Keys, all that's left to do is make a donation to a great cause.
It's awesome, it's worthwhile, and it's definitely something, but for many it's not nearly as satisfying as getting your toes in the sand and actually doing something.
Luckily, somebody out there has felt the same way. If you were born inland, but your heart lives at the beach, read on — there's more you can do to protect our world's oceans.
An Initiative for Land-Locked: Meet the Inland Ocean Coalition
When I spoke with Vicki Goldstein, founder of the Inland Ocean Coalition, I was reminded of how my toddler excitedly talks about the bouncy house place in the mall.
She spoke of her passion for the ocean with the same childlike exuberance and enthusiasm as my toddler did about inflatable bouncy castles, and her joy was infectious.
"The ocean gets that kind of response from people, it's intoxicating, it's magic. You look at those waves, deep into those dark, churning waters, and you lose yourself to the rhythm of the earth. We can't see the tectonic plates moving beneath our feet, we can't truly feel the heartbeat of this planet until we've seen the ocean, pulsating with the rhythm and lifeblood of our planet."
Vicki felt that passion so strongly, when she had to move inland to Colorado for her husband's work, she couldn't stop protecting the ocean. She looked everywhere for inland initiatives for ocean protection, but none existed at that time.
Created for people like Vicki who won't let their geographic location stop them from stepping up for the planet's oceans, she created the Inland Ocean Coalition to bring passionate people together to make real change, even at the heart of the country.
"Do you have to see the ocean to protect it? Absolutely not!" says Vicki excitedly.
How You Can Support Our Oceans Wherever You Live
#1 — Start a Local Chapter
The Inland Ocean Coalition operates sort of like a franchise. There's a central hub in Boulder, CO, with smaller chapters started by everyday people all over the US and now even in Canada.
Vicki tells me that anybody can start a chapter, and that the time commitment is as flexible as you are — you do what you can, when you can. For a $200 yearly fee, members can establish their own local Inland Ocean Coalition chapter and use it to network and organize community events with likeminded people in their area.
Chapter leaders get everything they need from the central hub — their website and all of the marketing materials are taken care of. All they need to do is set up and manage the social pages.
Chapter leaders are encouraged to build their own teams to distribute the workload and make the most of their efforts in getting the word out. Some organize fun events just to stimulate awareness in the chapters, and others put together volunteer days to clean up local aquatic ecosystems.
#2 — Organize a Local Cleanup
In addition to building awareness around the problems the world's ocean faces, the Inland Ocean Coalition reminds everyone that almost all bodies of water, at some point or another, wind up back in the ocean — cleaning up your local creeks, rivers, and even protecting the local water table helps.
#3 — Push Back Against Straws
Plastic waste is a major issue in the world's oceans, and one in ten pieces of beach litter are plastic straws. The Inland Ocean Coalition's Suck the Straws Out campaign provides business owners with stickers for their windows when they ban straws and provides educational materials on the issue.
Talk to your favorite local restaurants about making the switch with nothing but love, and tell them they'll have your support if they decide to ditch plastic straws for good.
If you've just gotta have straws in your life, keep paper or stainless steel straws with you in your car, purse, and silverware drawer, and skip the plastic ones at the drive-thru window.
#4 — Stop Using Toxic Lawn Care Products
Lawn care products have ingredients that are incredibly harmful to aquatic life in them, and eventually wind up washing down to the water table where they're carried out to sea.
Switch to non-toxic lawn care products, like compost tea for fertilizer and white vinegar for weed killer, and you'll be making a difference right from your own backyard.
#5 — Say No to Toxic Sunscreen
Sunscreen is a surprising culprit of ocean pollution, and one that's getting the attention it deserves. Not only are the chemicals in sunscreens damaging to marine life and reefs, but they're also very easily absorbed by your skin.
Even if you don't swim in the ocean with an inorganic sunscreen, these chemicals get absorbed into your skin and are actually found in your urine, eventually re-entering the water table that way.
Thankfully, there are a lot of really great sunscreen brands out there to choose from that use ocean-safe ingredients — check out our list of Eco-Friendly Sunscreen Brands to find the brand that's perfect for you.
Landlubbers Unite
The ocean is a powerful force of nature, and its health is critical to sustaining life on Earth. Scientists estimate that by 2050, there will be more plastic than fish in the world's oceans.
These bodies of water are more even than marine life and stunning ecosystems — the oceans are responsible for producing 70% of the world's oxygen. Without them, without the plant life they support, there is no future for us.
"Ocean health is not just a coastal issue, it's everyone's issue."
All over the world, good people are taking a stand and having the ocean's back. The outlook looks bleak, but in the face of passionate changemakers like the Inland Ocean Coalition, the battle is far from over, and the tides are changing.
Don't let being landlocked hold you back — join the Inland Ocean Coalition and take action for the ocean.
SUPPORT INLAND OCEAN COALITION
Do you live inland? Tell us what you do to protect the ocean from your own backyard on Facebook or Instagram, and tag us in the post! @AvocadoGreenMagazine and @ColoradoOcean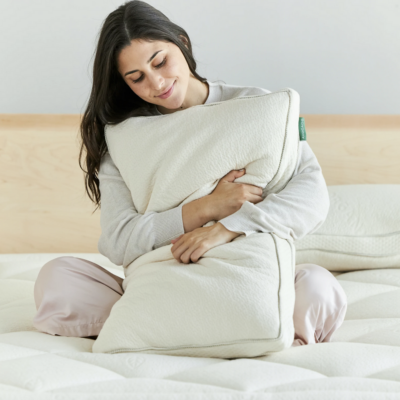 Shop Pillows
The Essential Organic Pillow Collection
Gentle, breathable, non-toxic support.
Buy Now