Shopping sustainable brands, we're some of the most discerning customers out there. We want to know the companies we support with our money are ones who stand for real ethics and values, from production to advertising.
One company has decided that the beautiful faces used to promote brands should represent more than an image. Together, they're pairing passionate advocates with companies that need a face to represent them.
What Does an Ethical Talent Agency Do?
The world of modeling and talent scouting is probably the last place most people would expect to find passionate advocates for positive change, but that's exactly what Role Models Management agency is doing.
Using a combination of beauty and personal passion, Role Models works with models who are driven passionately by causes that are near and dear to their hearts, from veganism to women's rights. Together, they pair models with companies driven by powerful ethics to create partnerships that go beyond a runway walk.
More Than a Pretty Face: The Models Behind the Magic
The models of Role Models Management are stunning — everything you'd expect and more from an agency pairing visually striking people with products who need someone to showcase them.
But they're so much more than that.
Varying from fashion models to MMA fighters, even to ballet dancers, the models of this agency bring a personal passion and story to an industry built on surface beauty.
Says co-founder Anne Bengtsson, "Mission #1 is to represent role models. In our minds, that's someone who is a positive influence and inspiration to others in his or her field of passion."
Each model's biography tells a unique story of who they are as a person. Clicking through their social media feeds, you can see that these are people are every bit as real as the people they're marketing to — people who care about the planet and the people on it.
"We've had submissions that are gorgeous, but then when it comes to the bio, things fall flat. Sometimes we ask people to come back and really give it some thought, then come back. If the passion isn't there though, we can't bring them on. We need to know what they're about, because we don't just hire models."
The Power of Beauty and Social Influence
The idea behind Role Models Management from a marketing perspective is that the model represents more than just how a dress falls — they represent the ethos of the company.
Social media influencers have given way to a whole new kind of thought leadership, and founders Anne Therese and Val intend to make the most of it for the companies they work with.
"There are some big brands out there trying to make some big waves, recycling ocean waste, vegan fashion brands. We want to connect them with models who can authentically represent their brand and the values of their brand."
"The world needs to know that there are companies out there working really hard for change."
The models at Role Models Management are expected to rock a runway just as much as they do their social media channels. If they're not particularly well-versed, but still very passionate about some causes, Role Models Management offers them a bit of coaching on how they can use their social media presence to attract followers for the passions that drive them, as well as gain attention for the work they're doing with like-minded companies.
Changing the Business With Passion and Diversity
Going beyond even their stunning work with models with purpose and ethical companies, Role Models Management strives for talent that's as diverse as audiences are demanding today.
"When we cast people, we notice, they are looking for real people. People want to feel like they can connect to the person on their screen. We're representing not so much just models, but real people with a story," says Anne Therese.
Her and her partner Val went into this business to do more than connect beautiful faces with the big brands who need them, taking it a step further to empower the girls they work with.
"We so often run into girls who just have no idea what to charge, no idea what they want, and they waste so much time getting taken advantage of and wasting valuable career time on contracts that will never be there for them," says co-founder Val.
Together, with Val's business savvy and Anne Therese's passion for connection, the duo works with models to connect models with brands that support what drives their dreams, while simultaneously building lucrative careers.
Role Models isn't just looking for a certain size or body type, they're looking for real, beautiful people who represent real, beautiful people on the other side of the screen.
"We're trying to redefine what it's like to be a model. It's been very strictly defined for a long time, but beyond the size, we're trying to make it more about who they are behind the face," says Anne.
Modeling for Role Models
Because of the unique focus of their agency, Anne says Role Models Management has no trouble scouting talent for their clients.
"It's fun, a lot of people come to us because of who we are and what we represent, and they want to be a part of that."
If you're interested in modeling with Role Models Management, reach out to them, but be prepared to offer a bio and wear your heart on your sleeve — passion is a requirement.
"Don't send me your resume — I want to get to know you as a person. What makes you unique, why should a brand want to book you over someone else? The model has a voice, and we believe they have the power to give a more authentic voice to a brand with an ethos."
Had you heard of an ethical talent agency before? Do you think it's time for change in the modeling world? Share your thoughts on Instagram or Facebook by tagging @AvocadoMattress or #AvocadoGreenMagazine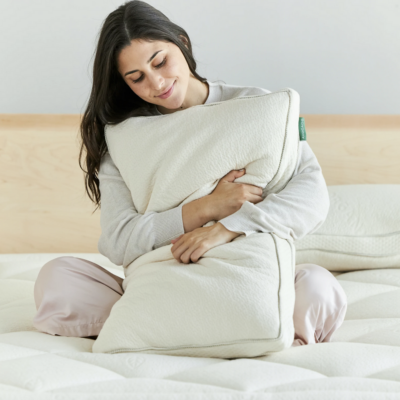 Shop Pillows
The Essential Organic Pillow Collection
Gentle, breathable, non-toxic support.
Buy Now